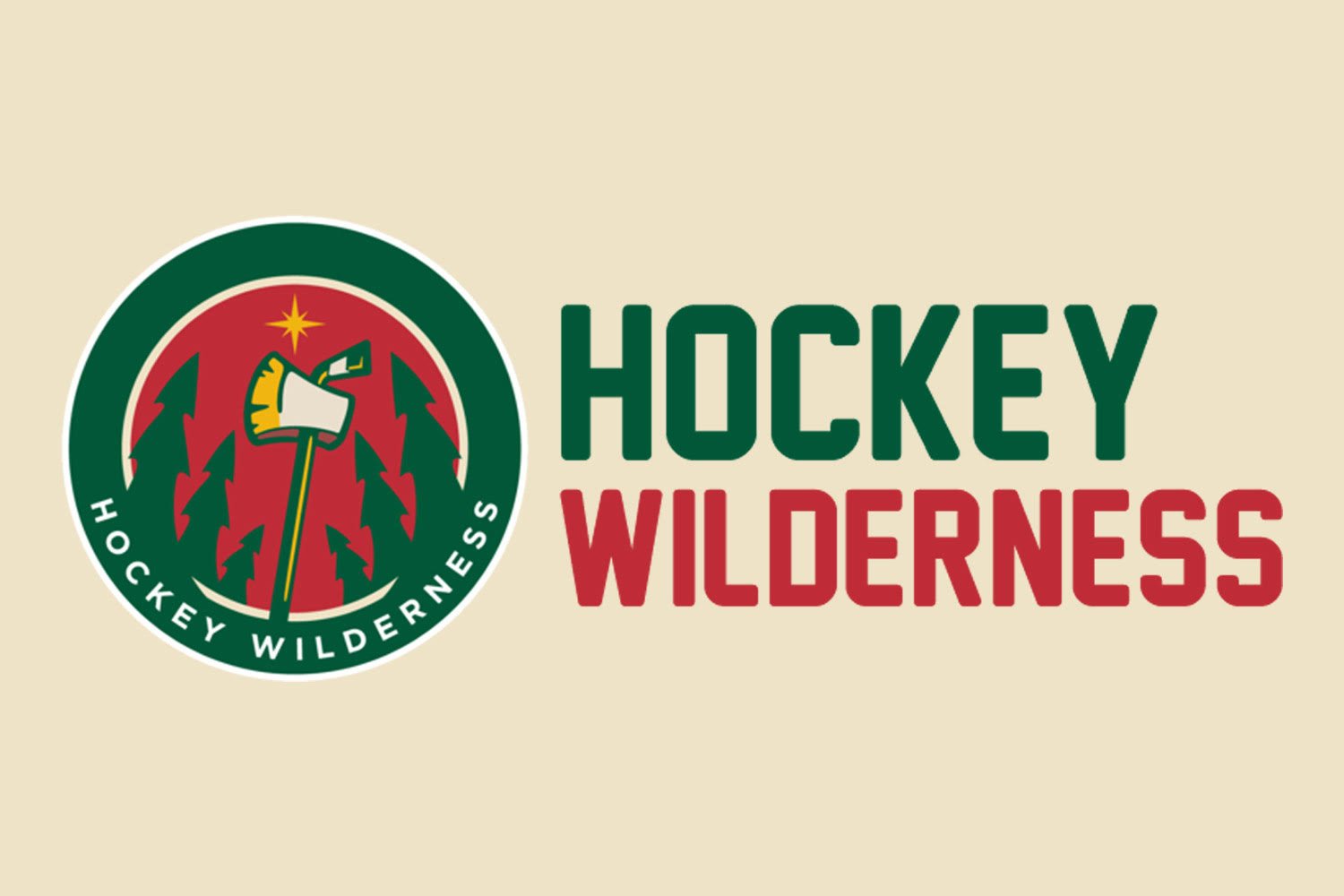 Team Green - The Offense
For those of you who attend the Development Camp at the X on Tuesday, this comes a "day late and a dollar short," but for those of you planning on attending Camp on Thursday, here's a better look at just who will be taking the ice for Team Green, who were victorious in the first scrimmage by a tally of 5-3.
When trying to put together just over forty profiles prior to camp starting, I tried getting information from scouts and coaches alike. As you might have guessed, some teams are willing to give up information, some don't respond at all, and others only speak French (thanks Google translate).
The Green offense is full of former draft picks for the Wild, some who have been enjoying success at their respective levels while some are not. Former Team USA captain, Luke Kunin, headlines the group as he looks to find his way onto Boudreau's roster sometime during the 2017-18 season. There are also some diamonds in the rough, namely Joël Teasdale, a projected top 100 North American skater who went undrafted in this year's draft.
Nobody from the 2014 draft class will be present, but there are guys like Avery Peterson who were drafted four years ago. Also of interest is newly-acquired Dante Salituro who comes over from Iowa's rival, the Cleveland Monsters, though he played the majority of last season in juniors with the London Knights in the O. Here's how the crew breaks down:
Draft Picks
Luke Kunin #67 (2016 - 1st round)
Nationality: American (Chesterfield, MO)
Contract status: 1st year of three-year ELC
Last Team: University of Wisconsin (Big Ten)/Iowa Wild (AHL)
What else is there to say about Luke Kunin other than he's Luke Kunin? He's got a gold medal from World Juniors where he was a captain, he was the first sophomore captain for the Badgers in over forty years, and I was personally present when he scored a hat trick in his Des Moines debut. He plays offense, and does it well. As far as guys in the professional system, he's the big cheese.
While the Wild have been beefing up their center depth, watch for how the coaches decide to use Kunin at camp. From Derek Lalonde's point of view, head coach of the Iowa Wild, Kunin represents a solid scoring presence from the wing as the team is trying to ease in him into the center position. Lalonde said to expect Kunin to break through on Boudreau's team as a winger if he gets the call up this season. The streaking speed will help.
At Wisconsin, he was a point producer, garnering a PPG of 1.09. He was in the top ten lists for goals (T-2nd, 22), assists (6th - 16), and overall points (T-7th - 38). Where he did not crack the top ten was in PIMs, but at WJCs he was the most penalized forward in the tournament. While in his limited time with the Iowa Wild last season, he nearly drew a penalty per night. His offense is there, his discipline on the ice might be something to keep an eye on.
Ivan Lodnia #53 (2017 - 3rd round)
Nationality: American (Los Angeles, CA)
Contract Status: Rights retained (NCAA - ineligible for contract)
Last Team: Erie Otters (OHL)
From Los Angeles via Novi, Michigan, Ivan Lodnia held his own on an Erie Otters club that won the OHL title and featured the Raddysh brothers, a Strome, and the O's leading scorer, Blackhawks-prospect Alex DeBrincat. What you're getting from the son of Ukrainian immigrants is a kid with a tremendous work ethic and a player to saw the opportunity and had the skill-set to play as an American in the OHL.
Minnesota already wrote a story on their website you should check out. The crux of it it is: he'll work hard to get where he needs to be and has the support structure to keep him mentally sound. As far as his skills outside of the cerebral realm, Winging it in Motown gave him the moniker of "Tomas Tatar, 2.0".
He played on a league-winning club for Kris Knoblauch, contributing 24 goals to the team's league high 319. He didn't make any top ten lists for the league, but it's kind of hard when there is Dylan Strome playing on a top line with two 100 point scorers. What he did provide was a balance of an eye for the net and an eye for his teammates. As a center, he also improved nearly 20 points from his previous season; once again at a rate nearly even in terms of goals scored and assists generated.
Center depth is always a good thing, and with Minnesota's first pick in 2017, they did alright in finding a guy who knows how to grind it out and work hard to achieve success. What might make Lodnia a better player than others is that he'll want it more.
Bryce Misley #58 (2017 - 4th round)
Nationality: Canadian
Contract Status: Rights retained (NCAA - ineligible for contract)
Last Team: Oakville Blades (OJHL)/Committed to the University of Vermont (ECAC)
Not very often are you seeing kids drafted out of the OJ, but Bryce Misley was thought highly enough to take a fourth round selection on. I'd like to ask Bryce about the decision to stay in the OJHL even after being drafted by the Peterburough Petes in the 6th round of the 2015 OHL draft. What could be an answer is a desire to earn a college degree, since the NCAA does not allow players to play major junior hockey before coming to play in the States.
Upon being drafted, Misley was quick to turn around and respond that he will be attending the University of Vermont to join the Catamounts looking to run the table in Hockey East following a 20-win season. He did average out 1.35 PPG in his final year with the Oakville Blades, but what Kevin Sneddon did see was a center that is 6'2", over 180 lbs who can grow to be an imposing force at the face-off dot. He has the size and apparently the skill to match, so we'll have to see how he fares against other Hockey East guys like Jordan Greenway and Brendan van Riemsdyk on Team White.
Brandon Duhaime #65 (2016 - 4th round)
(picture)
Nationality: American (Parkland, FL)
Contract Status: Rights retained (NCAA - ineligible for contract)
Last Team: Providence College (HE)
Unless somebody can best his shootout goal from Tuesday's camp, Brandon Duhaime has won the title of most beautiful goal of camp (he also added one in 5 on 5). If you could bottle up that sauce and sell it, I'd buy it at a state fair and slather it all over some ribs. Despite starting in the Sunshine state, he played in two different NCAA eligible junior leagues on three teams before getting an offer to play at Providence.
He was top 10 in scoring for the Friars, which was mostly composed of first year players, though ages ranged from 19 to 21 for these "freshmen". The Frairs finished the 2016-17 season fourth in Hockey East, but were seventh in the division in goals scored and second in goals allowed under Nathan Leaman.
I'd like to see what he does in 5-on-5 this coming Thursday, but I'd expect to see him head back to Providence for the next few years and see how high the Friars can go.
Avery Peterson #83 (2013 - 6th round)
Nationality: American (Grand Rapids, MN)
Contract Status: Rights retained (NCAA - not eligible for contract)
Last Team: Minnesota-Duluth (NCHC)
Avery Peterson had just 15 points at center for the Bulldogs last season; fourth amongst the national runner-up's centermen and tied with defenseman Carson Soucy. Yesterday his experience showed with his two assists, but where that point becomes moot is that he was a 2013 draft pick (also like Soucy). However, there might be some "between the ears" reason for the dip in his offensive numbers at the collegiate level.
After being named Minnesota's Mr. Hockey in 2014, he went to UNO (NCHC) on scholarship, but ultimately decided to finish his college career closer to home after his older brother was diagnosed with a terminal brain condition. He has a lot on his plate, professional hockey just being one of many courses. In freshman year with the Mavericks, he was the their 6th leading scorer; their fourth highest goal scorer on a 20-win team.
Peterson has opted to not seek another year of eligibility with the Bulldogs so he's essentially going all-in with the hopes of signing a professional contract. Working within the Wild organization would allow him the chance to play in his home state.
In the System
Gerald Mayhew #31
(picture)
Nationality: American (Wyandotte, MI)
Contract Status: Unsigned/Recently had an ATO with Iowa Wild
Last Team: Ferris State (WCHA)/Iowa Wild (AHL)
Gerald Mayhew came into Des Moines out of Ferris State and immediately made an impact on the Iowa Wild roster after playing four years of college hockey. He came in as a 24-year-old rookie, but while playing for the Bulldogs, he was the team's leading scorer in all but his first season. In the WCHA he was the points champ in 2014-15 and runner-up last year to another invitee, Mankato's Marc Michaelis (Team White).
What asked about a self-scouting report, he wasn't coy about size, which is a reoccurring theme at camp this year. What he did add for himself was an grinder attitude to get down to the dirty areas and play close-quarters hockey. The Wyandotte-native described his game as being modeled after Brett Hull, but maybe without the dropped knee shot.
Dante Salituro #45
Nationality: Canadian
Contract Status: 2nd year of three-year ELC
Last Team: London Knights (OHL)/Cleveland Monsters (AHL - Columbus Blue Jackets)
Ontario-native Dante Salituro joined the Wild organization following a trade that sent Jordan Schroeder to Columbus. He played with four different teams in three levels of hockey last season: London Knights (OHL), Norfolk Admirals (ECHL), Cincinnati Cyclones (ECHL), and the Cleveland Monsters (AHL - divsion rival of Iowa). What would excite people the most is the 1.28 PPG he put up with the Ottawa 67's back in 2015-16.
With the recent signings down the middle for the Wild organization, Salituro will have a lot of tough competition to break through, especially with guys like Justin Kloos, Sam Anas (played some center last year), and Zack Mitchell vying for time already. He could start the season with Minnesota's new ECHL partner, the Rapid City Rush, to start the season.
Sam Anas #48
Nationality: American (Potomac, MD)
Contract Status: 2nd year of two-year ELC
Last Team: Iowa Wild (AHL)
A guy who says he models his game after Peter Bondra, Sam Anas came out to Tuesday's camp in a big way scoring two goals. One on a penalty shot (they aren't doing power plays) and the second coming off a scoring opportunity that started in the defensive zone following a turnover, something he said Lalonde was happy about. He wants to be a consistent player, and this is the place to test that out.
In his first full year as a professional with the Iowa Wild, Anas contributed 28 points over 66 games, which was third best in terms of offensive point shares (1.68) and fourth in scoring. What he lacks in size, he makes up in speed and vision. There are also a bevvy of NHLers under 5'10" that have won or played in a Stanley Cup within the last five year and the Wild's own Jared Spurgeon stands at just 5'9" and 164 lbs.
He's played a few positions for the Iowa Wild, but where you're most likely going to see him next year is providing depth at the wing. It might be easy to overlook him when you had an Alex Tuch last year or a Jordan Greenway coming down the pipeline, but don't sleep on Anas. The Wild minor league staff said before camp that they were interested in seeing progression, and thus far Anas has met expectations.
Playing up North
Jack Walker #33
Nationality: American (Edina, MN)
Contract Status: Rights retained by Toronto Maple Leafs (2016 - 6th round)
Last Team: Victoria Royals (WHL)
With the hindsight of seeing him in the first scrimmage, Edina's Jack Walker is a lightning bolt. If you were excited to see #33 streak down the ice, you're not going to be seeing him do it within the Wild system. The Toronto Maple Leafs still have the rights to him, but he isn't under an ELC. Pension Plan Puppets had some thoughts on all of this yesterday.
Speaking with Victoria head coach Dan Price:
Price is high on the kid, and who wouldn't be? He has a definite two-way approach to the game and it showed yesterday. He broke up several passes with good stick work; you could argue that he was a step behind and that's why he was reaching with his stick so often, or you could take the stance that he uses his explosiveness to bait passers into creating situations where he can get a takeaway.
Speaking with Lalonde after practice yesterday, he echoed the same sentiments as Price:
This isn't Walker's first time at a Wild Development Camp either. He was around two seasons ago with the Wild prior to being drafted by the Leafs; he played with Toronto's development camp last year.
Joël Teasdale #62
Nationality: Canadian
Contract Status: Undrafted (2017)
Last Team: Blainville-Boisbriand Armada (QJMHL)
The 2017 came and went for Joël Teasdale and Minnesota was the team that came a calling for the 84th ranked North American skater for NHL central scouting. 31 teams passed on Teasdale, so it would be safe to assume that he comes to St. Paul with a chip on his shoulder and with something to prove. In speaking about Teasdale and his experience, Blainville-Boisbriand Armada assistant coach Daniel Jacob told me:
I've always liked that term: "swiss army knife," it's a great aphorism. As a coach, it is probably a term you like to hear as well. In just his second full season in the Q, Teasdale drastically improved his point production by 20 and his plus/minus by 15. While 47 points was a personal best, he was not able to crack the top ten lists for the QJMHL, something first overall pick Nico Hischier was barely able to do (10th in scoring with 86).
What Teasdale does have with playing for the Armada is a winning pedigree, as his team finished as runner-ups to the St. John's Sea Dogs. What may seem a shortcoming when comparing point totals around the league, it looks as if the Armada are predicated upon a team-first mentality as the Ste. Julie, PQ-native was second on a team in scoring that finished with the fourth-best record in the league. His 0.83 PPG in the playoffs wasn't bad either.
Earning a Degree
Leon Bristedt #85
Nationality: Swedish
Contract Status: Undrafted (NCAA - ineligible for contract)
Last Team: University of Minnesota (Big Ten)
Another Gopher teammate comes into camp ready to head into his senior season under Don Lucia. He had a top five goal finish for the Big Ten his sophomore season, but took a step back in both point and goal production in 2016-17 and also doubled how many penalties he drew. When compared to the Gophers roster, he still was a top five offensive contributor and was top ten as a freshman.
While he went undrafted, he saw international competition with Sweden's junior international team as early as 16 and was on the junior team for perennial Swedish League playoff contender, Linköpings HC. He still has one more year of eligibility at the U, so once again the big word is "opportunity". If he can get back to being a leading scorer in the Big Ten, he also has the opportunity earn an ATO in Des Moines.
Went to Prom Last Year
Sam Huff #80
(picture)
Nationality: American (Maple Grove, MN)
Contract Status: Undrafted (NCAA - ineligible for contract)
Last Team: Maple Grove High School/Committed to University of Minnesota
Along with Noah Ganske, Sam Huff's high school performance this last season as captain for Maple Grove earned this future Gopher an invite to this year's camp. What stands out the most? A 2.69 PPG average. He almost averaged a goal per game on his own. At the high school level, he's the "machine" so it will be exciting to see what he does in a Gopher uniform.
Again, the name of the game is opportunity both to learn and flash some skills. Unlike a lot of players in the United States, Huff didn't have to join the USHL or play long in the NAHL to be recruited for the NCAA level. He was a top 15 pick in the USHL draft by the Waterloo Black Hawks this year, but playing for Lucia might prove to be the better development move...plus he won't have to live in Waterloo.