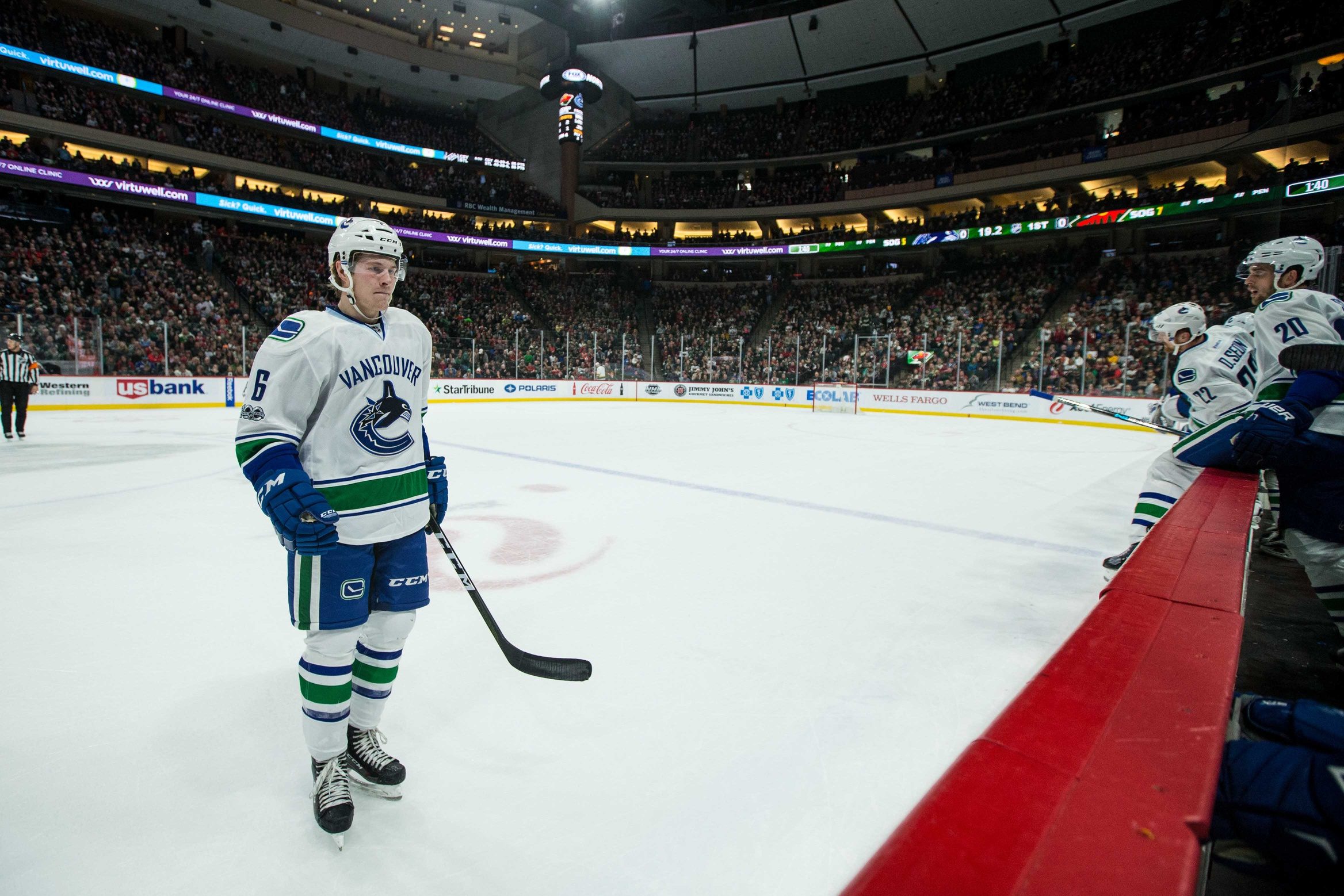 In this week's "32 Thoughts" column from Elliotte Friedman of Sportsnet, all eyes were on the Vancouver Canucks. The Canucks just traded Bo Horvat yesterday, and are entering a period where they're re-tooling their franchise. Friedman threw out this nugget while discussing Vancouver's future plans:
There are repeated rumblings linking Brock Boeser and [the] Minnesota [Wild], but the math doesn't make sense as things stand.
Boeser-to-Minnesota has been a dream of Wild fans since the Wild passed on him in the 2015 Draft to select Joel Eriksson Ek. So it's natural to think, now that he's on the trade block, a homecoming for the Burnsville native might be in order.
But this, of course, isn't merely the collective will of the State of Hockey trying to manifest Boeser coming home. Friedman's as plugged-in as anyone in hockey, so if he's hearing rumblings, there's probably something real there.
Now, quietly, despite quashing this round of rumors when they first started coming up earlier this season, Michael Russo and other The Athletic Insiders are leaving a door cracked for Boeser-to-Minnesota. From their Trade Deadline Big Board:
The Wild have talked to Vancouver about it, and Boeser returning to his home state would be a good story, but it doesn't sound like Minnesota feels it can make it work cap-wise unless the Canucks eat a significant portion of the contract.
That "unless" is big.
Boeser's contract carries an AAV of $6.65 million. Teams are allowed to retain up to 50% of a team's salary, so Vancouver does have the option to reduce that cap hit to $3.335 million, a much more reasonable freight for Minnesota to work with.
There is also the possibility to "launder" up to 50% of a player's cap hit by trading through a third team as an intermediary. In exchange for a pick, prospect, or player, a third team could take on another 25% of Boeser's AAV, potentially getting Minnesota Boeser at an effective cap hit as low as $1.663 million.
For as tough of a year as Boeser has had in Vancouver, the 25-year-old right-shot wing still has 30 points through 41 games this season. That'd be fifth on the Wild, behind Kirill Kaprizov (59 points), Mats Zuccarello (48), Joel Eriksson Ek (40), and Matt Boldy (36).
As 10K Rinks' Tony Abbott mentioned back in December, Boeser would be a perfect skilled wing to have opposite Boldy, who's struggling offensively in the wake of last summer's Kevin Fiala trade. Boldy's 5-on-5 production has sank from 29 points in 47 games last season, to just 12 through 48 games this year.
Meanwhile, Boeser is 24th in the NHL, scoring 2.55 points per hour at 5-on-5. That's good to have at a $6.65 million cap hit. It's even better at a discount.
Not only do Vancouver and Boeser appear headed for a split, but the Canucks also are heavily invested in wing players. Next year, they'll have center/wing 'tweener J.T. Miller ($8M), recently-signed Andrei Kuzemenko ($5.5M), and Connor Garland ($4.95M) on the books along with Boeser. Plus, they received winger Anthony Beauvillier ($4.15 million) in their deal for Horvat.
It's a numbers game, and Boeser's on the outside, with agent Ben Hankinson having permission to seek a trade since December.
If Minnesota can engineer a way to extract Boeser at a reduced salary, that lines up perfectly with their needs. Boeser can provide skill, but his contract might be more important. He has two years left on his deal after this year, and any salary retention would have to extend through the end of his deal.
This might increase the cost of salary retention, both for Vancouver and any potential third team. Still, the door is apparently open if they can find a way to reach an agreement that makes the money work. We'll be keeping our eyes on this situation at 10K Rinks.