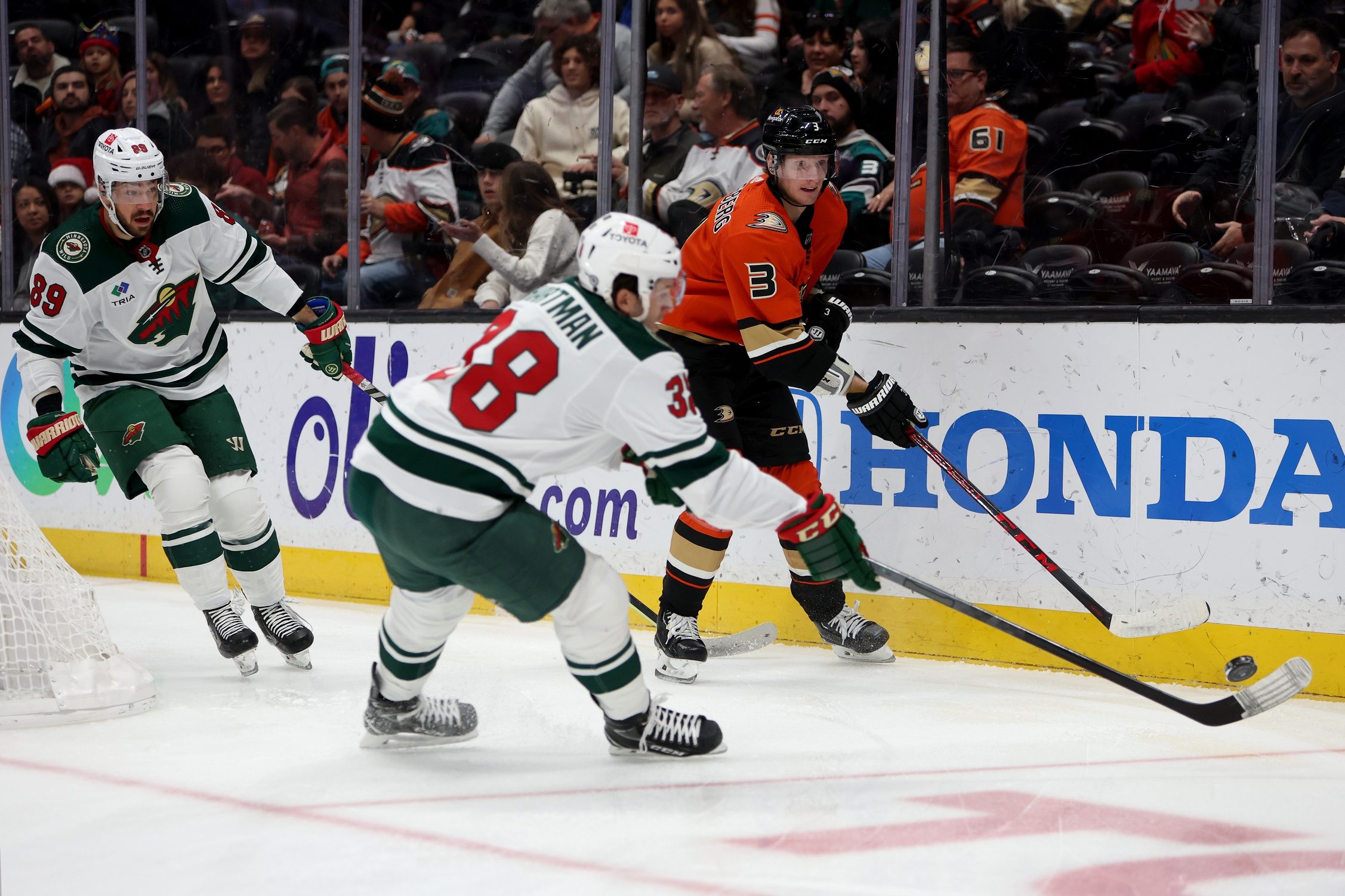 The Trade Deadline is around the corner on March 3. Bill Guerin has started to make moves… sort of. For a short period of time, Ryan O'Reilly wore the forest green until the Minnesota Wild dealt him in a three-way trade between the Toronto Maple Leafs and the St. Louis Blues. They also helped the Boston Bruins become more equipped for the Stanley Cup Playoffs by footing some of the bill for Dmitry Orlov. So we know that Guerin's going to be active at the deadline.
The Wild have the room to take on one more retained-salary contract this year, but shouldn't stop there. They have the money to help themselves, too. Here are six moves Minnesota can make to weaponize its cap space.
Minnesota lacks scoring middle-six forwards right now. While Mats Zuccarello and Kirill Kaprizov have carried this team's offense, it's time to make adjustments to inject more creativity and skill to the team.
The San Jose Sharks are reportedly showing interest in Jordan Greenway. Looks like the floodgates have released the Sharks, who've moved Timo Meier. Now that 6'1", 220-pound Meier is gone, San Jose has to be interested in getting more big forwards on its roster.
How can Guerin use this to improve his roster? Greenway carries a $3 million AAV for the next two years and Guerin wants to free up as much space as he can. He can do that by replacing that contract. Realistic targets are Alexander Barabanov, Evgeny Svechnikov, Oskar Lindblom. Perhaps Martin Kaut, a prospect in their system who the Colorado Avalanche drafted 16th overall in 2018?
Guerin would like to take on something that can be low-risk/high-reward which requires little responsibility of taking any money. Therefore, don't be surprised to see someone like Kaut coming back to Minnesota. Has played only 50 NHL games and probably isn't getting a raise over his current $863K cap hit.
Kaut is a right-shot winger who loves to shoot and answer questions later. He does a lot of the dirty work playing a North-South game who can help be a shutdown winger. Minnesota could get a young, cheap, controllable asset at Greenway's expense.
A Very Foligno Homecoming
The Buffalo Sabres are looking to make the playoffs for the first time since 2011. They could use some playoff-style forwards at the deadline to pair with their overwhelming amount of skilled young players. Wouldn't it be great to orchestrate a homecoming for Marcus Foligno? Buffalo has significantly more cap space than the Wild, now and in the future. Therefore, taking on Foligno at $3.1 million won't be a hassle for them.
The Sabers have a full roster and will need to trade a skater to make room for Foligno. Rasmus Asplund is Minnesota's ideal target. Asplund and Joel Eriksson Ek played together on Färjestad BK of the SHL, and familiarity is always a bonus. Asplund also offers versatility, playing both wing and center. When you think of what Freddy Gaudreau is for the Wild, that's the kind of thing Asplund brings to the mix. Perhaps he can show more upside? If he can become a good middle-six versatile forward who can help on the power play, that's a big help. And while Asplund is smaller than Foligno, he's is a fearless competitor.
Asplund will cost $825K, which is another low-cost options that will give Guerin fewer gray hairs when re-signing him. Asplund still has time to prove himself, but has played 164 games so far. The Sabres might think he's expendable and getting him for Foligno could help the Wild get younger and cheaper.
But Wait, Buffalo – There's More!
If Buffalo is loading up on veteran experience in their locker room, would they accept Matt Dumba to fire the team up? If the Sabres wanted to, they could easily absorb Dumba and Foligno. Instead of just weaponizing their own cap space, the Wild can weaponize Buffalo's.
That will require Guerin to take a skater in exchange for Dumba. Meaning Guerin could actually get something, and he should focus on Minnesota's blueline. Kale Clague is still trying to stay in Buffalo's lineup, but has seen more time in Rochester with the Americans in the AHL. At 24 years old with only 83 games of experience, Clague is a two-way defenseman who's shown some offensive punch in the minors. He could very well be Calen Addison's complementary partner, and for $750K, Minnesota can take a chance.
My Waiver Guy For Your Waiver Guy
We've focused on trades where Minnesota sheds salary, but let's go to one where they can take some on. Can the Wild get Jesse Puljujarvi at Sam Steel's expense? Puljujarvi will be a restricted free agent at the end of this year, but right now he's getting paid $3 million, so the Wild can fit his contract. And the Edmonton Oilers are desperate to get rid of Puljujarvi.
Now the Oilers can shore up its center depth and Minnesota can give Puljujarvi a change of scenery. While you aren't going to get explosive offense from Puljujarvi, he can very well flourish in a middle-six role with time on the second power play. At 5-on-5, Puljujarvi can play tough minutes with the skill to finish in tight spaces, even if he's more of a playmaker. It's worth a shot to get a big, right-shot winger.
We've talked about Kaprizov needing help at any chance he can get. However, Addison can get quite lonely as Guerin's top power play facilitator. And now, Jonas Brodin is on injured reserve. Therefore, the Wild can take a flier on John Klingberg from the Anaheim Ducks. Klingberg might be Brodin's international teammate for Sweden, but he's more of an equivalent to Dumba. He has his defensive woes but can quarterback a power play much better than either. He'd take the burden off of Addison and make the second power play unit harder to defend.
Klingberg was instrumental with the Dallas Stars in 2019-20 when they lost in the Stanley Cup Finals against the Tampa Bay Lightning. He registered 21 points in 26 playoff games. That's the perfect complement to Brodin and the insurance for if anything happens. With how bad his season's gone and his cap hit, it feels like he shouldn't cost more than a second-round pick. It'd certainly be better than spending a playoff run one injury away from Alex Goligoski in the Top-4.
The Big Fish
Why not save the best for last? The Wild have the ammo to go all-in on Jakob Chychrun – the defenseman that they don't have. The Wild might have traded for Marc-Andre Fleury and Jake Middleton last year, but they haven't made a true sacrifice yet. This is the time and Chychrun is the player.
Guerin can be more comfortable with dealing his 2023 first-round pick as that's going to be one of the highlight assets at the deadline. Guerin will likely have to part ways with a high-end prospect like Carson Lambos, because the Arizona Coyotes don't have a pipeline of defensemen like the Wild do. With Brock Faber and more on the way, this is where Guerin can be more comfortable dealing one of his top prospects.
Instead of another first round pick, what if Minnesota part ways with Jacob Middleton? Middleton is a fan favorite, but this is Chychrun we're talking about. While he's not as physical as Middleton, he has plenty of toughness and competitiveness to go with a sizable frame. Not to mention the scoring skill. You have a chance to extend him as well when his contract expires in two years. At age-24, he's a player you can still build around for years to come.
There are a lot of moves the Wild can make, and Minnesota's currently in a win-now situation. We didn't even list all the options for them to go and try to win multiple rounds. The Wild have cap space, draft plus prospect capital, and the need to make a real run. There's no excuse for inactivity in these next days.