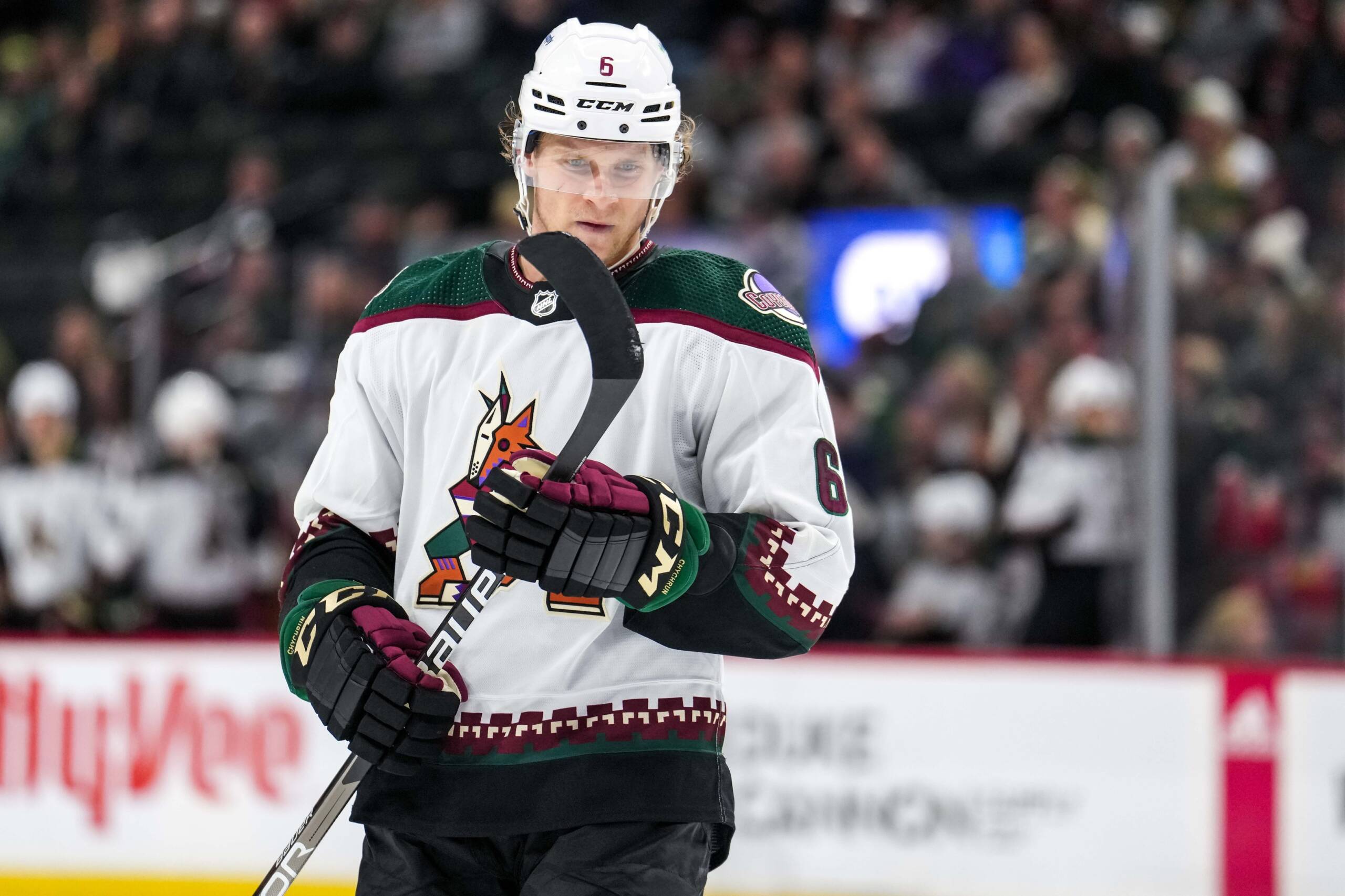 Earlier this week, the Hockey PDOcast, hosted by Sportsnet's Dimitri Filipovic, did their annual "Trades We'd Like to See" episode. While the moves Minnesota Wild made yesterday registered as disappointing, The Athletic's Thomas Drance outlined a move an ambitious Wild front office could make.
And hey, if Bill Guerin wants to take notes, this is still a move that the Wild have the ammo to pursue.
"I think Minnesota's been one of the more fascinating teams leading up to the deadline," Drance started. "Because they made that decision to buy out Ryan Suter and Zach Parise, they're sort of locked into this looming, absolutely debilitating two-year cap crunch after this season."
Get on with it! Tell us something we don't know!
"Meanwhile, the Arizona Coyotes obviously have had Jakob Chychrun widely available for so long, and they've clearly had an issue getting their price met, which is multiple first-round picks, plus more. If you're a team like the Wild, one thing about Chychrun that should appeal to him is that his deal is hyper-efficient. ... He's a first-pairing defenseman making $4.7 million, and his contract term is a match for the worst part of their cap crunch. So I think there's a fit here."
This is an appealing case for the Wild to get Chychrun, and one 10K Rinks made going back to last year. So what would Drance do to get this move done?
His proposal is as follows:
Minnesota gets:
Chychrun (Two years remaining, $4.6M AAV)

Center Travis Boyd (One year remaining, $1.75M AAV)

2023 Third-Round Pick (Latest between ARI, NYI, WSH)

2024 Third-Round Pick (Latest between ARI, COL, EDM)
Arizona gets:
2023 First-Round Pick (No. currently 22 overall)

2024 First-Round Pick (Unprotected)

Defenseman Daemon Hunt (ELC, currently AHL)

Another mid-round pick/prospect
Drance explains his logic. "If you're all in on finding players later in the draft, buying a fifth-round pick here and a fourth-round pick there, why not take that a step further and give the Coyotes the picks they want in the form of a trade down? If you're confident that you can find value later in the draft, this is the most extreme version of that, where you don't lose any aggregate draft equity, even if you lose expected player value."
Chychrun's would-be suitors are dropping out of the race. The Los Angeles Kings, long thought to be an ideal destination, acquired Vladislav Gavrikov last night. Teams are playing Chychen Chicken with the Coyotes hoping to get a lower price.
Can Minnesota swoop in, and is Drance's proposed deal enough?
If so, the Wild would absolutely need to take advantage. Minnesota has been so hesitant to part with draft and prospect capital under Guerin. It's easy to see why. With that capital, the Wild are producing Matt Boldy and Calen Addison, with high-upside players like Marco Rossi, Jesper Wallstedt, Brock Faber, Marat Khusnutdinov, and more waiting in the wings.
If they could keep those players, as well as 2021 and 2022 first-rounders Carson Lambos, Liam Öhgren, and Danila Yurov, they shouldn't blink at pulling the trigger.
Yes, 2023 looks to be a deep draft, but the Wild already have the deepest prospect pool in the league. They'll be turning out players over the next several years. They also have intriguing players who fall in the project category. If players like Hunter Haight, Servac Petrovsky, and David Spacek work out, they'll be arriving at around the same time as a 2023 or 2024 late first-rounder likely would. Two third-rounders also softens the blow for Minnesota.
But even if that doesn't happen and trading two firsts leads to a pipeline as empty as Gila River Arena... who cares? That's a problem for what? 2026? 2027? 2028? By then, the Wild will have the twin buyout albatrosses off their back and can address depth needs via free agency if they must.
In the meantime, Chychrun can enable Minnesota to contend, even in this awful situation they're in. Having Chychrun along with Jared Spurgeon and Jonas Brodin gives Minnesota such good options, both this year and for the net two. It all would start with the 1-2 punch of Chychrun and Spurgeon.
[caption id=attachment_145179" align="alignnone" width="1449]

Data courtesy of Evolving Hockey[/caption]
Both these players rate among the best all-around defensemen in the game, excelling at offense, defense, and transition. Minnesota has the option of having Chychrun own his own pairing, then pairing up Spurgeon and Brodin in a super-shutdown role. This is similar to how the Anaheim Ducks rode Chris Pronger and Scott Niedermayer to a Stanley Cup, with Brodin serving as their Francois Beauchemin.
Or Minnesota could do what Anaheim did in crunch-time situations with those two stars, and pair them together. After years of playing second fiddle to Ryan Suter, we know Spurgeon can play and excel with a partner who takes most of the touches. They can even stagger their Big Three so offenses never go a minute without facing a shutdown defender.
If the Wild can pull that off without sacrificing any prospect that is likely to contribute over the remainder of Kaprizov's contract, that's a no-brainer.
The one sticking point in Drance's proposal is getting Boyd back in the deal. It has less to do with Boyd as a player (though he's underwhelming) and more with his contract situation. Fitting Chychrun into the next two seasons will be hard enough, and Boyd's $1.75 million cap hit doesn't help at all.
As it is, Chychrun's cap hit will necessitate tough decisions. However, the Wild should have learned a lesson or two about how far pure depth gets you. You can have all the depth you want, but you're going to be in trouble if you don't have the stars to get you over.
So if Minnesota has to move depth pieces to squeeze Chychrun in, so be it. Marcus Foligno ($3.1 million) and Jordan Greenway ($3.0 million) are great luxuries to have when at their best. But if Brandon Duhaime, Mason Shaw, or Connor Dewar are pushing for those spots, does it make more sense to keep them at a cheaper price instead?
Chychrun would also create a lot more flexibility for the Wild to move money around. Jacob Middleton and Alex Goligoski make a combined $4.45 million, which almost fits Chychrun's cap hit exactly. Again, nice players, but they're depth pieces at price points a contending Minnesota team may not be able to afford.
But that's a problem for this summer, and the Wild showed last year in jettisoning Dmitry Kulikov and Cam Talbot that unexpected stuff can happen over the summer. Their worry needs to be solving the issue at hand: They need an impact player. If anything resembling Drance's road map to getting Chychrun is possible, the solution is Chychrun, and it's painfully obvious.