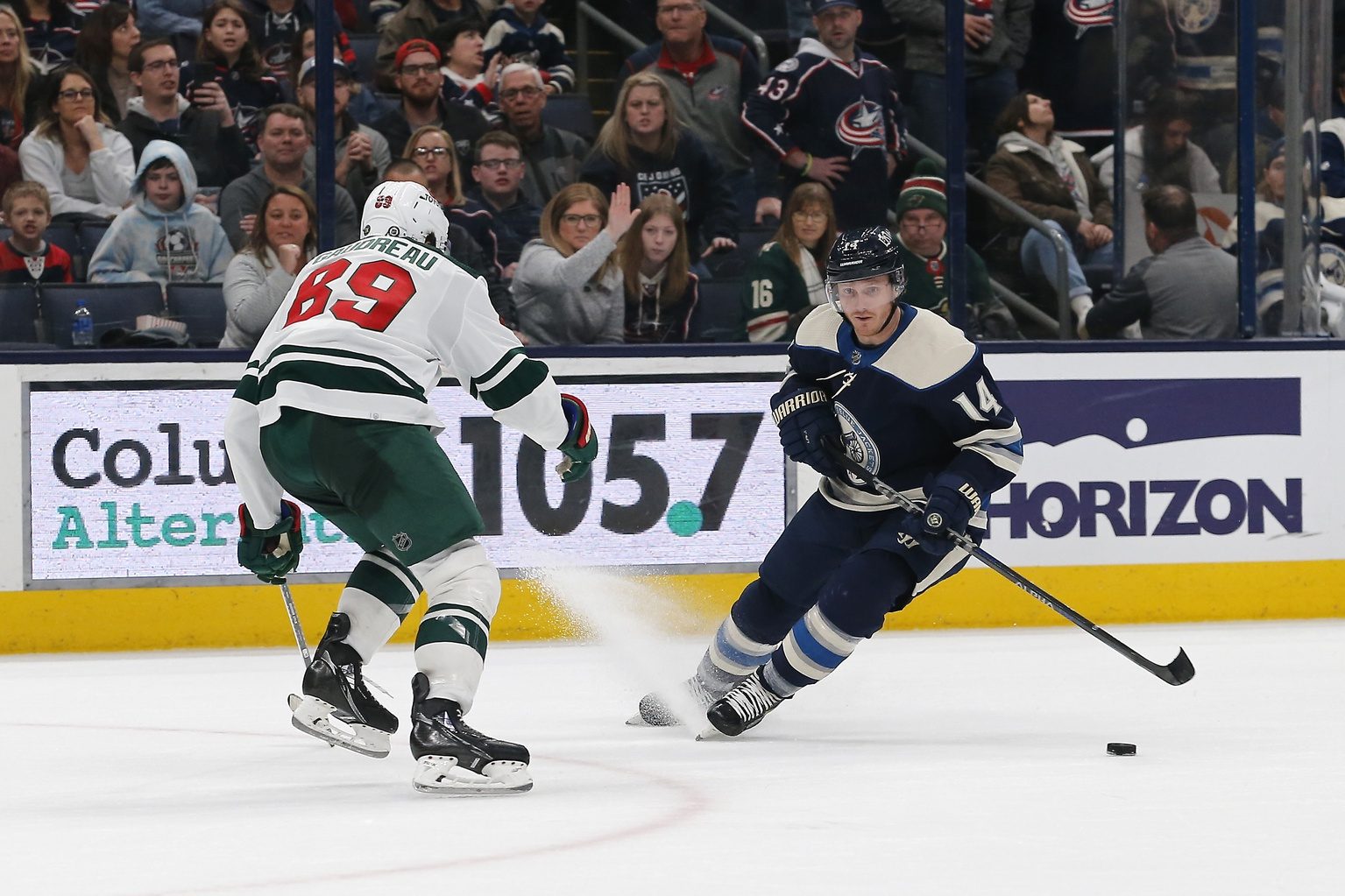 The Trade Deadline has come and gone and the Minnesota Wild are already reaping benefits from their moves. Marcus Johansson scored his first goal in (his second stint in) a Wild uniform Saturday night. John Klingberg picked up his second assist in Minnesota Sunday. Oskar Sundqvist has a pair of assists. The Wild are rocking a second-round pick because they traded Jordan Greenway.
It was very busy, and there's a lot to keep track of. But the biggest move for the playoffs might still be yet to come.
The Wild acquired Gustav Nyquist from the Columbus Blue Jackets for a 2023 fifth-round pick, the one they got serving as a broker in the Dmitry Orlov-to-Boston trade. The Blue Jackets retained half of Nyquist's salary, so the Wild only needed $654,000 in cap space to bring him over.
That's excellent news for the Wild, because while he had only 10 goals and 12 assists in 48 games for lowly Columbus, Nyquist is both a scorer and someone who can set up a good play. The low price tag combined with the production hint at a great bargain pickup for the playoffs.
There is one catch that comes with this trade. Nyquist is currently out of the lineup with a shoulder injury he sustained on January 25. While it was originally thought to be a season-ending injury, that outlook might have changed. Nyquist now expects to be healthy for the playoffs. If the 33-year-old can make a full recovery, he can boost the secondary scoring that the Wild are sorely lacking.
Looking back over several years, Nyquist has consistently put up points. Since he became a full-time NHL player in the 2014-15 season until this year, Nyquist averaged 21 goals and 52 points every 82 games. In no way will that replace the scoring rut Kevin Fiala left behind when he signed with the Los Angeles Kings last summer, but it should help.
And while Matt Boldy is suddenly looking revitalized next to Joel Eriksson Ek and Johansson, Nyquist provides insurance if that magic starts to fade. He also fits anywhere in a Top-6 role, if there is another injury to the lineup down the stretch.
Nyquist with Boldy feels like an intriguing match, if that spot should open up. Nyquist is quick and should match the speed Boldy plays at. He also has the playmaking skills to encourage Boldy to shoot the puck instead of endlessly passing it along.
In that small way, Nyquist can be like Fiala. One of the reasons that Boldy and Fiala played well together was that they encouraged each other to score. They were threats to both score and set up great opportunities for their linemates. Again, Boldy's shown signs of life since the trade deadline, but having Nyquist as an option to bring scoring back to Minnesota's second line doesn't hurt, either.
If his shoulder is healthy and he is fresh, Nyquist can also be a potential workhorse for the Wild. Nyquist is also used to playing 20 minutes or more if called upon. Nyquist played over 20 minutes a night in the 2019-20 playoffs, including a 45:41 marathon game against the Tampa Bay Lightning. And while he scored just two points in 10 games, the year before he put up 11 points in 20 games helping the San Jose Sharks to the Western Conference Finals.
That playoff experience is important, and Nyquist, along with the rest of the Wild's deadline acquisitions, brings 223 playoff games and three trips to the Stanley Cup Final between them. It cannot be understated how important that is for a young team. The pace is brutal and every game is intense, especially in the later stages of the playoffs. A veteran player knows how to take care of their body and prepare for the hectic pace.
One other way Nyquist will be good for the Wild team is his Swedish background. With an ever-growing group of Swedes, Minnesota is always excited to add one more. With Nyquist and three other battle-tested Swedes in the fold, the Swedish contingent of the Wild is up to six players. Having that many fellow countrymen on the team will hopefully help Nyquist settle in quickly.
Nyquist is lurking behind the scenes while the other deadline additions are contributing now, but that doesn't mean you should ignore him. He was a worthwhile gamble, as the Wild got a player with a track record for scoring for a minimal price. As long as Nyquist can heal up from his injury, meshing with the Saint Paul Swedes shouldn't be an issue, and Minnesota will have an ace up their sleeve this postseason.