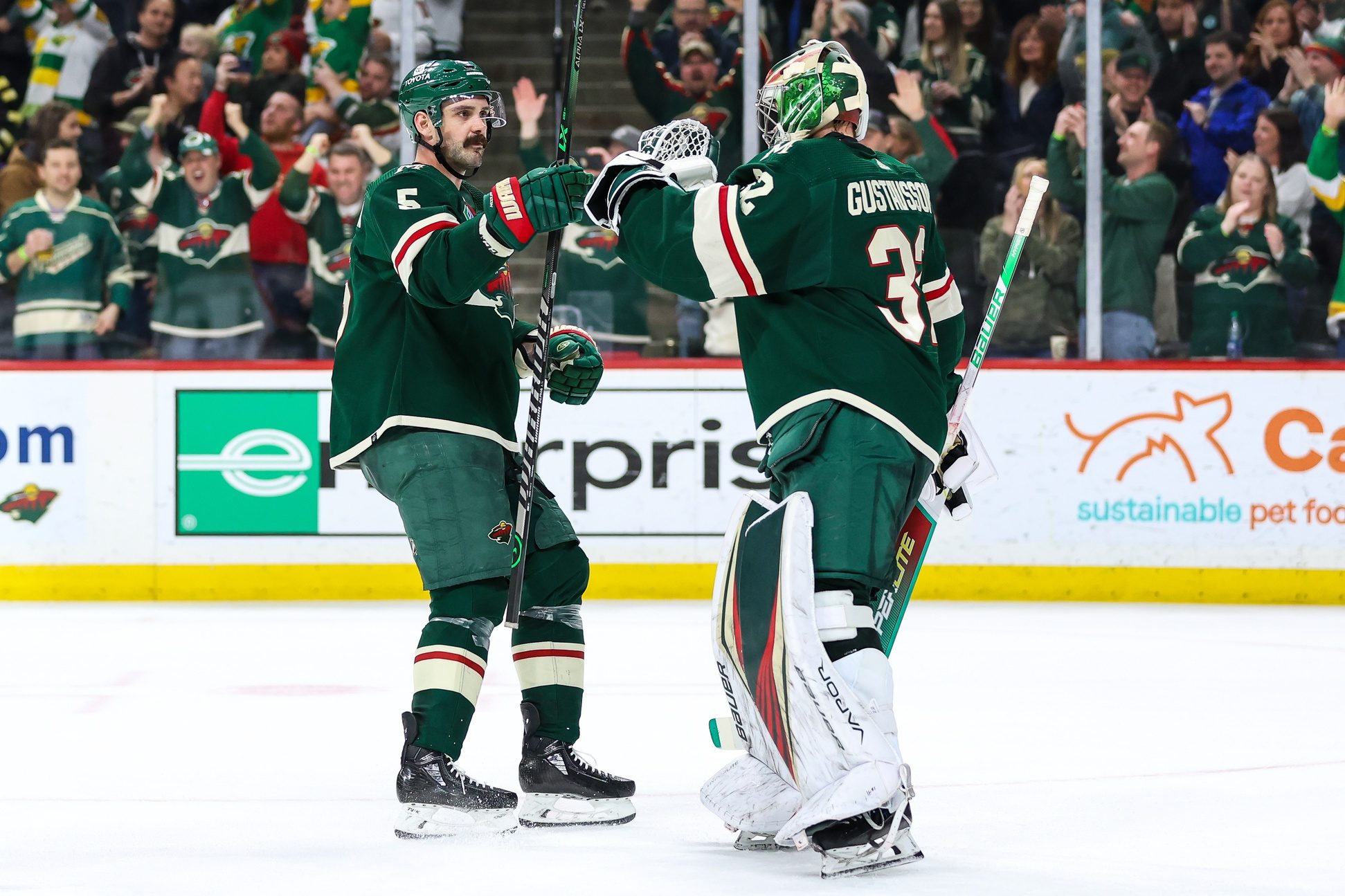 If I told you at the beginning of the season that a Minnesota Wild goaltender was going to have the second-best save percentage in the league, you'd naturally think it'd be future Hall of Famer Marc-Andre Fleury. Well, it's not. It's 24-year-old Swedish netminder Filip Gustavsson, and it's time for the Wild to start acting like it.
Both former Pittsburgh Penguins' draft picks have been solid this year. However, up until this weekend, Fleury has gotten the nod in the important matchups. Usually, it's been to Minnesota's detriment.
This problem really became prominent when the Wild had lost four of the last five and needed a win to halt their free fall out of the Western Conference. Fleury got the start in a pivotal game against the Colorado Avalanche and allowed three soft goals, wasting a solid effort by the Wild. Minnesota constantly applied pressure to the Avs and held Colorado without a shot for over 12 minutes. However, the shot that the Wild did eventually allow ended up in the back of the net,  leaving the Wild with their heads hung looking for answers.
Goals like this, in games as big as last Wednesday's, just can't go in.
Fleury has had a sub-.900 save percentage in the last month and a half. He's let up over double the goals as Gustavsson in only two more starts during that time.
Since coming over from Ottawa in the Cam Talbot trade, Gustavsson leads Fleury in every significant goalie statistic. He's top-ten in the NHL in goals saved above average (GSAA), while Fleury sits at 50th. Gustavsson has allowed two or fewer goals in 16 of 22 starts this season. He ranks second in the NHL with a 2.12 GAA this season and a .928 save percentage (min. 17 GP).
[caption id=attachment_144721" align="alignnone" width="1522]

Courtesy of Evolving Hockey[/caption]

 

Gustavsson stays calm and collected in the net. He's much more of a positional goaltender that lets shots hit him rather than playing with Fleury's quickness and flash. When he was asked about how he handles the success, Gustavsson

, "Ya know, I've been playing this game since I was five years old, and I just try to do the same thing over and over again."

 

The Wild get in front of shots in front of both goalies, and as a result, they're not letting many through. Minnesota is ninth-best in the league in Fenwick (shots + missed shots) against and shots against in total. That's a good sign for the defensive structure of the Wild. They are allowing their goalies to see and save the shots they are letting up.

 

 

Gustavsson has been on fire for the Wild. He's been rock solid and has explained how playing in front of the fans at the X makes it all worth it.

 

 

Gustavsson has been able to drag the Wild through these slow games recently. Until the Nashville Predators game, Minnesota had gone over 400 minutes straight without scoring an even-strength goal sans Kaprizov. That's absolutely mind-boggling. The "Gus Bus" stole a game for the Wild and outdueled Lakeville's Jake Oettinger in a much-needed victory.

 

I'm not suggesting that the Wild let Fleury rot on the pine pony collecting dust. But in the same way that Dean Evason has stuck with the hot hand in the past, he should stick with Gustavsson. He entered the season as a bit of an unproven quantity, but his numbers have backed it up. He's here to stay. The conversation on how you keep him around is for another time. For now, just enjoy the fact that the Wild have their best young goalie since Darcy Kuemper.

 

Yes, he's only played a total of 27 NHL games prior to this season and his numbers have not blown anyone away in those games but, the Wild should ride it out on the "Gus Bus" and see how it shakes out. He's the goalie giving this team the best chance to win night in and night out. It's time to take the training wheels off and treat him like a starter.

 

All stats via Evolving Hockey or Hockeydb unless otherwise noted.