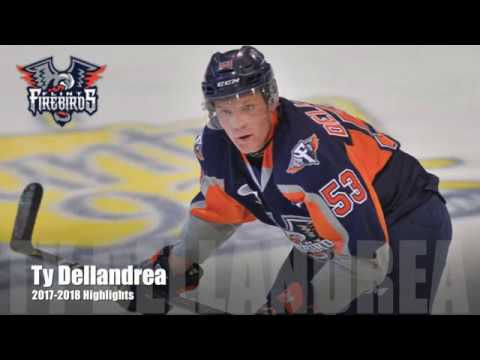 It's NHL Draft season, and Zone Coverage is highlighting a dozen NHL Draft prospects that could be taken by the Minnesota Wild at pick No. 24 of the first round. 

 

Ty Dellandrea - C

6 feet, 185 pounds

Flint (OHL)

67GP-27G-32A-59P

Wildest Comp: 

 

Dellandrea can dangle with the best of them, and exploded in the second half of the season this year after a strong two-goal showing at the CHL Top Prospects Game. However, what will cause Dellandrea to slip to the second round is his inconsistency.

 

Currently, you can't think of a dangler with inconsistent production without Mikael Granlund popping into your head. While Dellandrea probably doesn't have the same level of skills as Granlund, his M.O. is similar, including being a zone-entry wizard. Last but not least, I watched a

-- in which he played ~26 minutes! -- and he's the pass-first type as well.

 

I'm not a scout:

 

I feel like Dellandrea is down a bit on people's lists due to his slow first half, or maybe it's that he's higher on people's lists due to his hot second half. Either way, McKeen's Draft Guide has him 32, and The Athletic's Corey Pronman only slightly higher at 29. He hasn't appeared in the SB Nation mock draft as they wrap it up this weekend. It's entirely possible he's a second-round pick, but don't rule out that strong second half luring the Wild in.

 

If you feel like being positive: 

 

Watch some of the World Juniors from this season. Dellandrea stood out on Team Canada, notching five points in as many games without showing any holes in his game. His skill with the puck is pretty undeniable, and his struggles to produce may have more to do with the dysfunction of the team he plays for, the infamous Flint Firebirds.

 

If you want to be negative:

 

If the Wild do draft Dellandrea, it's most likely because they missed out on the player they really wanted, as Dellandrea is just a touch of a reach at 24 and might be a fall-back option for some teams near the end of the first. Dellandrea would be an amazing second-round pick, but the Wild traded that for Martin Hanzal.

 

Tell your friends: 

 

"He might have been a little bit of a reach, but this kid looked great at Juniors this year for Canada. Plus his name looks hard to spell, but it really isn't, and we can call him Ty Della Sign." 

 
---
Stay up to date on the Wild offseason with Giles & The Goalie!