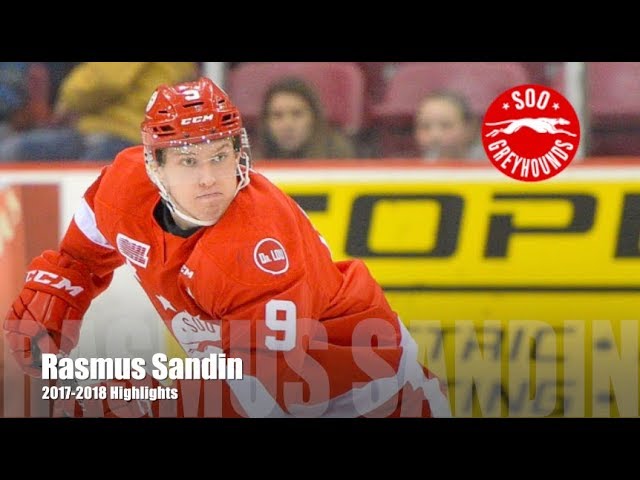 It's NHL Draft season, and Zone Coverage is highlighting a dozen NHL Draft prospects that could be taken by the Minnesota Wild at pick No. 24 of the first round. 

 

Rasmus Sandin - D

5-foot-11, 185 pounds

Sault Ste Marie (OHL)

51GP-12G-33A-45P

Wildest Comp: 

 

Sandin is a Swede with incredible skating ability, good passing vision, solid defense in his own end and can be dangerous on offense when he wants to be. That's the full Jonas Brodin experience. While I'm a very big critic of Brodin's lack of offensive production, it's not for a lack of tools, and Sandin has similar tools but thus far in juniors has elected to actually use them.

 

But his calling card is still his defense, and skating, though with mixed reviews, is still lauded by everyone as elusive. Sandin doesn't share Brodin's size, but he's got a good enough build to still play physical at least as often as his Wild counterpart.

 

I'm not a scout: 

 

McKeen's Draft Guide is kind to Sandin, ranking him 23rd, and talking up his skating ability considerably, while noting his offensive contributions. Corey Pronman of The Athletic isn't as big of a fan of his skating, but still believes in Sandin being a solid and smooth skating defender. He didn't make the SBNation mock draft, but there's a very good reason for that -- he's a very safe pick, perhaps even boring.

 

If you feel like being positive: 

 

The Wild need defensive depth as much as they need offensive talent in their organizational depth chart. While the left-handed Sandin isn't going to make anyone's socks go up and down, reliable defensemen don't grow on trees -- looking at you, Kyle Quincey -- and Sandin probably has a solid bet to make an NHL roster at some point. There's also still hope that the offensive skills that he shows can develop as well into a true two-way player.

 

If you want to be negative: 

 

A safe Swedish defender is something that Wild are plenty familiar with, and this isn't really a pick that is going to take the organization to the next level. Are safe defensemen important to a roster? Absolutely, the Wild found that out the hard way in the playoffs. But Sandin probably isn't cracking the Rubix cube that is playoff goaltending before a more offensively talented player.

 

Tell your friends:

 

"This kid is just another safe Scandinavian pick. Different GM, same [stuff]."
---