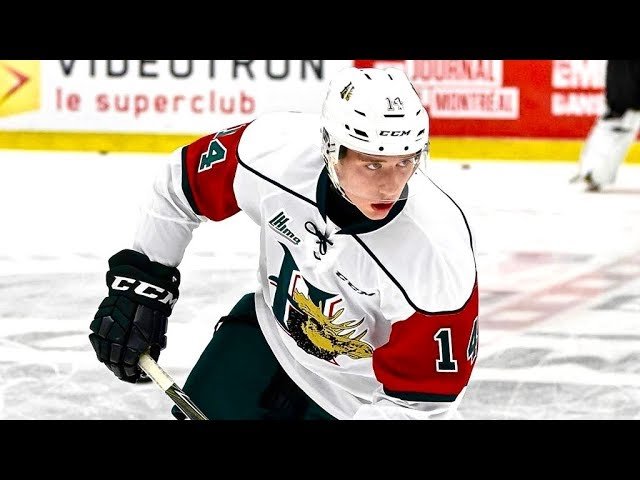 It's NHL Draft season, and Zone Coverage is highlighting a dozen NHL Draft prospects that could be taken by the Minnesota Wild at pick #24 of the first round. 

 

Jared McIsaac - D

6-foot-1, 195 pounds

Halifax (QMJHL)

65GP-9G-38A-47P

Wildest Comp: 

 

McIsaac is a true two-way defender, where he is strong on both ends of the ice. He's really a dynamic offensive force, but is still responsible enough in his own zone and enough of a skating, passing defender that he's counted on defensively. Ryan Suter isn't quite the dynamic offensive force in the NHL that McIsaac is in juniors, but he's a real two-way defender at this point, after having a career offensive year this season.

 

By the same token, McIsaac might not be quite the all-around skilled defender that Suter is just yet. But they both have good shots when they want to use them, and can suddenly decide to dangle through a crowd en route to the net on an end to end stroll down the ice. No word on whether McIsaac likes throwing wrist shots into bodies in front of the net, but we won't hold it against him.

 

I'm not a scout:

 

Corey Pronman of The Athletic isn't a huge fan of McIsaac, questioning his game-breaking abilities and pointing out too many defensive miscues. McKeen's Draft Guide paints a much rosier picture, lauding McIsaac for his skating and offense, without mentioning many warts in his game. For what it's worth, I lean more towards McKeen's on this one, as

 -- that literally just became available minutes before I started writing this -- shows him looking like a pretty talented offensive defenseman, and the miscues were there but didn't seem too egregious to me.

 

If you feel like being positive:

 

McIsaac seems like a not quite a home run swing, but more of a double down the line swing, as he's got a solid foundation to work with, and his ceiling is pretty high offensively, but maybe not crazy ridiculous high. His shot has also been mentioned as one of the hardest in the draft, which mixes well with his power play quarterbacking skills.

 

If you want to be negative: 

 

To be honest, Pronman's concerns do give me pause, even though I very much liked what I saw in the game I watched. There's plenty of opinions to go around on many of these players, but McIsaac was the lowest of the bunch that I scouted on Pronman's list, meaning he's probably a bit of a reach if the Wild do take him.

 

Tell your friends: 

 

"So this guy is like a mix of Spurge, Suter and Dumba, but in a good way, not like some kind of freakish monster." 

 
---
Stay up to date on the Wild offseason with Giles & The Goalie!