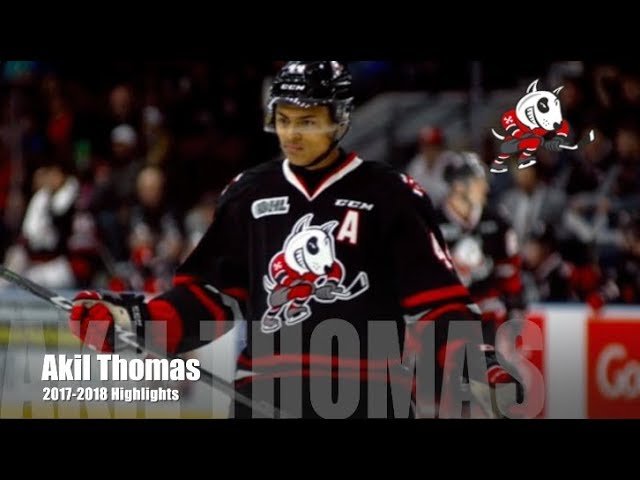 It's NHL Draft season, and Zone Coverage is highlighting a dozen NHL Draft prospects that could be taken by the Minnesota Wild at pick No. 24 of the first round. 

 

Akil Thomas - C

5-foot-11, 170 pounds

Niagara (OHL)

68GP-22G-59A-81P

Wildest Comp: 

 

Thomas is tough to peg a bit, as I'm not sure I've seen a player quite like him come through St. Paul anytime recently. But, parts of his game remind me of a bizarro-world Mikko Koivu, a world where Koivu decided to focus on offense instead of defense, and used his hockey skills for scoring more than defending. That being said, Thomas isn't a bad defender and he's improved in that area, but he's more of a methodical playmaker in Koivu's mold.

 

Another way they differ is skating is actually a strength for Thomas, while Koivu has a considerable size advantage. However, both players probably play with the same level of physicality in spite of their differences, occasionally throwing their weight around.

 

I'm not a scout:

 

To be honest, Thomas isn't at the top of anyone's draft board. He's probably seen as more of a late first-early second round pick, with The Athletic's Corey Pronman listing him at 32 and McKeen's Draft Guide listing him 27th.

 

All that being said, Thomas is wildly productive player. He wasn't on a great team but still managed much more than a point per game. That's what's going to get Thomas up draft boards. Having

of his, I can see that exact sentiment, as he doesn't exactly jump off the screen at you. Rest assured, he got his points.

 

If you feel like being positive: 

 

Thomas differs from other 'safe' picks in that he's been so productive in juniors. Granted it's in the OHL, where points can be plentiful. Also, he's shown fair amounts of improvement, and could very well continue to improve to the point where he's a damn fine second- or third-line center, which is a pretty solid get at pick 24.

 

If you want to be negative: 

 

If it's a home run swing you want, this ain't it. Thomas isn't going to excite anyone on draft day, and could very well be the Canadian equivalent to Joel Eriksson Ek as much as Koivu, which would be frustrating for a Wild team lacking game breakers.

 

Tell your friends: 

 

"Eh, it was a safe pick. We'll at least see this kid contribute at some point, but I doubt he'll ever be a star. I hope Fenton sees something no ones else does."
Stay up to date on the Wild offseason with Giles & The Goalie!