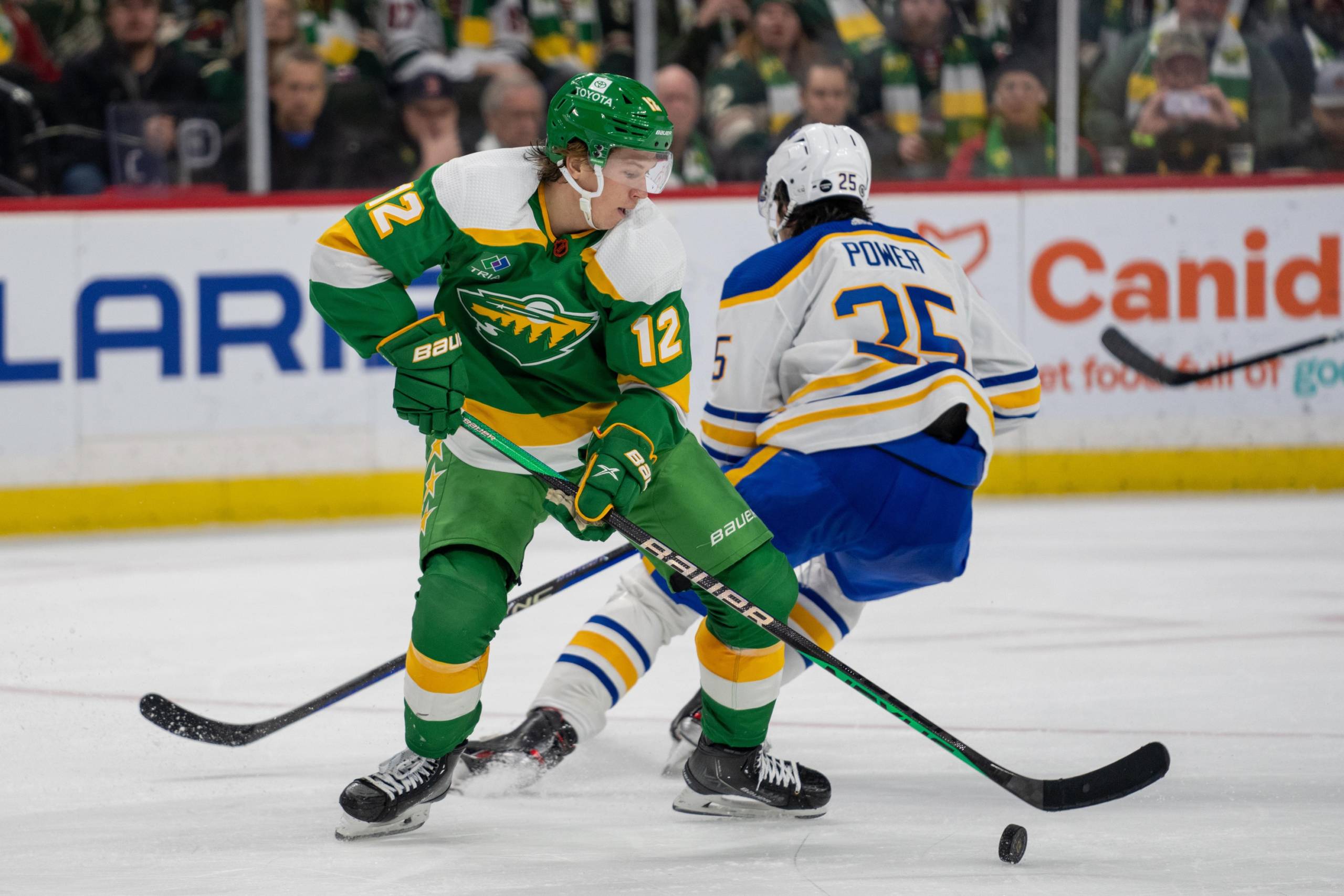 Prospects are all the rage in the State of Hockey this week. Why? Part of it, of course, comes from The Athletic's Scott Wheeler ranking the Minnesota Wild's farm system No. 1 in hockey this week. The other is that thinking about the future is a welcome distraction when everything else is falling apart.
On Thursday, the Vegas Golden Knights blew the Wild out of the X, 5-1. The loss feels like a low point of the season, and no one has answers. Dean Evason's latest lineup jumble was a simple swap of two players. Bill Guerin is hopping on the podcast circuit to put out the message that, really, nothing can be done except to do nothing and hope guys start playing better.
So, yeah, with the team signaling that even simple things like AHL call-ups are off the table, let alone trades, what else does a Wild fan have to look forward to? The future is the only current source of hope.
Hope is one of the two big benefits to prospects. It's easy to sell your fanbase on getting younger. You can imagine any decent prospect becoming just about anything. Even if that player is going to produce like the 27-year-old that's already in your lineup, just getting a fresh start can generate buzz.
But the second and probably most important benefit to teams is that prospects are cheap. As long as a player is under an entry-level contract (ELC), they're virtually guaranteed to be underpaid. Even fourth-liners like Brandon Duhaime and Connor Dewar deliver surplus value to the Wild simply by being paid on an ELC.
So what happens when you get elite value on an ELC? That's gold in a salary cap league, and doubly so for a team dealing with two large, cumbersome buyouts. Therefore, the Wild have been sitting on a gold mine with Matt Boldy's ELC.
In the last two years, the Wild have paid Matt Boldy $1.85 million (or $925K per season). That's about the maximum anyone can get on an ELC. And in those two years, Boldy has given the Wild so much more value.
By Dom Luszczyszyn's estimate, Boldy's play was worth $7.3 million on the open market last year. Of course, it was anything but, so Boldy gave Minnesota about $6.2 million of surplus value previous season. That was more than enough to cancel out Zach Parise and Ryan Suter's cap penalties (a combined $4.74 million last year).
Boldy's playing like a $7.5 million player this year despite his near-league minimum salary. Subtract his cap hit, and you've got about $6.6 million in surplus value this year. It doesn't cancel the buyouts this year ($12.7 million), but it enables them to offset the cost of someone like Mats Zuccarello or Jonas Brodin ($6 million cap hit).
Do the math, and you'll find that Boldy (and a CBA that absolutely shafts rookies) essentially dropped $13 million in free cap space on the Wild. They almost certainly haven't had this much value from an ELC for about 20 years since Marian Gaborik broke into the league. Remember, Kirill Kaprizov effectively had just one ELC year.
And what is Minnesota going to have to show for it after this year?
Very possibly, absolutely nothing. No benefit whatsoever.
The first season of Boldy's ELC wasn't even last season. It was when he burned a year of his ELC to sign with the Wild in 2020-21. It's a standard procedure for a star NCAA player. They have the leverage to go back to college, so you burn the year to get them in the fold. Nothing wrong with that.
But then, they got absolutely nothing from that year they burned. Despite blowing the AHL out of the water with 18 points in 14 games, Boldy never saw a minute of NHL action. Instead, he watched the playoffs from the press box as Minnesota scored 13 goals in a seven-game series loss to Vegas.
There's nothing to complain about how they handled him last season. But even so, the Wild mustered only two playoff wins as Minnesota blew a 2-1 series lead against a banged-up St. Louis Blues team. Again, you can't pin that on anything they did with Boldy, but you probably want to get more than three home games out of that year.
Now, this season, they're putting Boldy in the same spot that his linemate from last year, Kevin Fiala, was in. That is to say, he's the player the Wild task with sparking the players who washed out of the role of centering Kaprizov.
Ryan Hartman, Freddy Gaudreau, and Sam Steel are three of Boldy's four most-common linemates. Each landed on Boldy's line after failing to stick with Kaprizov. That includes Steel, whose then-seven-game pointless streak (now nine) was dumped onto Boldy to fix earlier this week. Boldy's fourth-most common linemate is, ironically, Kaprizov. He's been the best center for the Wild's superstar this year.
But the Wild aren't going to force Boldy into an unnatural position. Except for special situations (for example, the way Evason uses him on the first shift after penalty kills or perhaps on the power play), that's probably the right call. But the way they stick Boldy in very difficult positions with his linemates is not good for the team, and refuses to address the problem.
Minnesota may be leaving multiple millions of surplus value on the table by not finding him a player who can score to play with him at 5-on-5. But that's nothing to the value they're leaving on the table if they miss the playoffs. If that happens, Boldy will have earned them $12.8 million of surplus value, amounting to $6.4 million per playoff win.
Not series wins, mind you. Playoff game wins.
That's gone and never coming back after next year. Boldy's going to make $7 million against the cap in the next seven seasons. He'll probably still be a bargain, but he'd have to be Kirill Kaprizov ($13.6 market value) to return the surplus value he's getting now. Even from someone as high on Boldy as one could be, that's a tough ask.
Worse yet, there's no guarantee anyone in the Wild system can return that kind of value on an ELC over the next several years. It's definitely possible Marco Rossi, Jesper Wallstedt, Danila Yurov, Brock Faber, or anyone else could deliver it.
Still, it's far from a guarantee. Players like Boldy, who hit the ground running at age-21, aren't especially common. By the time those guys reach their final forms, they might already be on their second contracts, making money well above the league minimum.
Boldy wrote Guerin a metaphorical check worth $6 million of cap space over each of these last two years. If Guerin lets this team fall out of the race, he'll have taken one of the best assets the Wild have had in decades and done little with it, despite Boldy stepping into a young, up-and-coming team with key contributors in their primes.
It's very possible Boldy will return the most value of anyone in the Wild organization on their ELCs. Heck, among this group of Under-23 players, it's a solid bet that Boldy will prove to be the best among them, period. If Guerin and the Wild can't take advantage of that kind of value, it doesn't inspire much hope that the Wild can take advantage of the ELCs of this next wave of prospects.