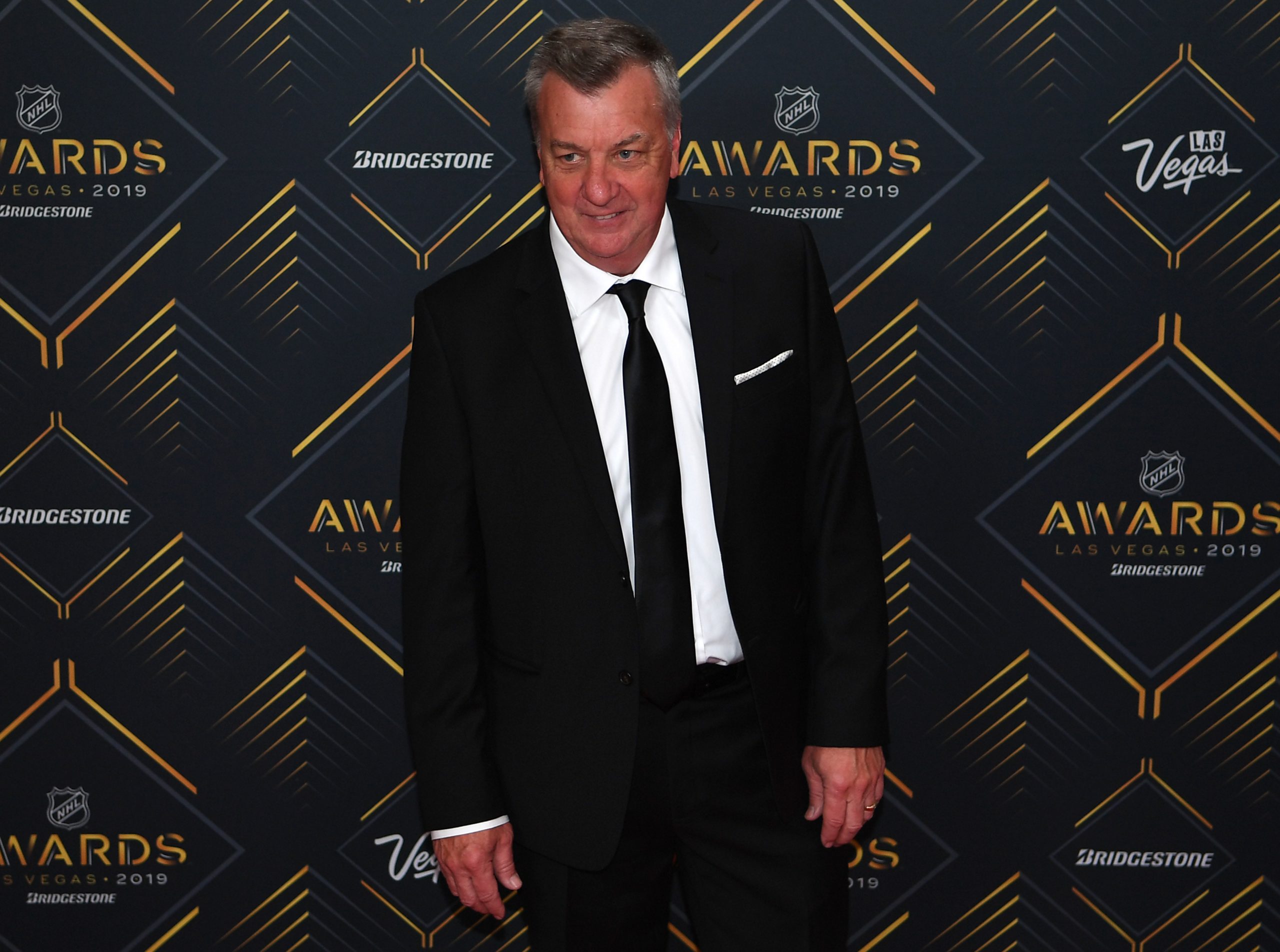 The word on Tuesday afternoon that current Hurricanes president and general manager Don Waddell interviewed for the vacant Minnesota general manager position became intensified when Carolina owner Tom Dundon told the Carolina News & Observer that if Waddell wanted to leave he could do so. It's an unprecedented move for a sitting general manager to interview with another team while without a contract with his current team.
"Even if he had a contract I would let him interview, so what's the difference?" Dundon said Tuesday. "It's not going to stop somebody from doing whatever's better for them. If they're going to pay somebody more money, I'm not going to stop them. I told him he's got to do what's best for him."
With Waddell interviewing in Minnesota, he would be bringing nearly 40 years of front office experience to the Wild if he was hired. Waddell has also been the general manager of two teams previously, the defunct Atlanta Thrashers and currently the Hurricanes. Waddell also currently serves as team president and made the move to general manager prior to last season when Ron Francis was let go by Dundon.
In the past season with Carolina, Waddell enjoyed success largely in part from the team that Francis assembled. However, the "Bunch of Jerks" did not really take off in 2018-19 until he acquired Nino Niederreiter in exchange for Victor Rask in January. A trade that was viewed as an instant win for Carolina, which it was, as Carolina took off following Niederreiter's arrival and went all the way to the Eastern Conference Final.
Waddell further bolstered the Canes roster this offseason by trading for former Wild forward Erik Haula from Vegas and signing forward Ryan Dzingel to a two-year contract. Moves that make Carolina's already solid forward lines that much better heading into next season.
It has been a very small sample size of Waddell in Carolina, but his moves have been nothing but solid to help bring the stagnant franchise back to relevance. But to further get an idea of Waddell as a general manager, he did also have a history in Atlanta, serving as the team's first general manager from their inception in 1999 through 2010.
The history of Waddell in Atlanta is murky. The team made just one playoff appearance in his run as general manager, and he employed four different head coaches during that time in addition to himself having two separate stints behind the bench as an interim.
Drafting in Atlanta can be seen only as abysmal by Waddell. Atlanta had 13 selections in the first round -- six of which were between picks one and four -- between 1999 and 2010 and just two of those players -- Dany Heatley and Ilya Kovalchuk -- were NHL All-Stars. Two players Waddell selected in the first round, never played in the NHL.
List of Atlanta Thrashers First Round Picks Under Don Waddell:
1999 - First Overall: Patrik Stefan
2000 - Second Overall: Dany Heatley
2001 - First Overall: Ilya Kovalchuk
2002 - Second Overall: Kari Lehtonen
2002 - 30th Overall: Jim Slater
2003 - Eighth Overall: Braydon Coburn
2004 - 10th Overall: Boris Valabik
2005 - 16th Overall: Alex Bourret
2006 - 12th Overall: Bryan Little
2008 - 29th Overall: Daultan Leveille
2009 - Fourth Overall: Evander Kane
2010 - Eighth Overall: Alexander Burmistrov
Also, the picks of Kovalchuk and Heatley were the only two All-Stars Waddell ever selected in the NHL Draft spanning all rounds, not just the first round. A team that needed to build through the draft, just never could which led to their demise and eventual relocation to Winnipeg.
Trades were not overly great from Waddell in Atlanta either. In 2007, defenseman Braydon Coburn was traded at the trade deadline to Philadelphia for an aging Alexei Zhitnik. The trade was supposed to help bolster Atlanta's chances heading into the playoffs -- where they were swept -- but it is viewed as one of the worst trades post-lockout as Coburn went on to have a decent NHL career while Zhitnik was an absolute flop in Atlanta.
At the same time in 2007, Keith Tkachuk was acquired before the deadline in exchange for a first and two second-round picks. Tkachuk did tally 15 points in 18 games for Atlanta before being sent back to St. Louis the following offseason for a conditional fourth-round pick. When you review both trades, the Thrashers gave up a first and two second-round picks for 18 games of Tkachuk and a conditional fourth-round pick.
When it came to trading the team's stars, Waddell did not exactly shine in that area either. First came Marian Hossa in 2008, when the winger was traded to Pittsburgh along with Pascal Dupuis for Colby Armstrong, Erik Christensen, Angelo Esposito, and a 2008 first-round pick. Then came Ilya Kovalchuk, the franchise icon, in 2010 when he was traded to New Jersey along with Anssi Salmela in exchange for Johnny Oduya, Niclas Bergfors, Patrice Cormier, and a 2010 first-round pick.
Both trades were just utter disasters for the Thrashers -- franchise cornerstones moved for next to nothing.
If you are looking for a general manager to build through the draft and through the trades, which the Wild badly need to do, Waddell's history does not exactly inspire confidence. While the Hurricanes went to the playoffs this past season under his watch, it was largely due to Francis' building, and Paul Fenton's incompetence. He was just mainly there to reap the rewards.
Waddell's situation in Carolina could entirely boil down to leverage. He could just be interviewing for the position in hopes of getting a new contract, but Dundon made it clear he does not want to up the ante in negotiations.
Minnesota might be better off for looking elsewhere when it comes to a new general manager. But Waddell does have experience, which the Wild are heavily valuing this time around.
Will recent success in Carolina help Waddell earn a callback from the Wild or will his history in Atlanta scare the Wild into another looking at another candidate? That's a question only Craig Leipold must answer.
Never Miss an Episode of Giles & The Goalie!
http://zonecoverage.com/wp-content/uploads/2016/05/itunes.jpghttp://zonecoverage.com/wp-content/uploads/2017/05/Podcast-header-Image-City-1.jpg