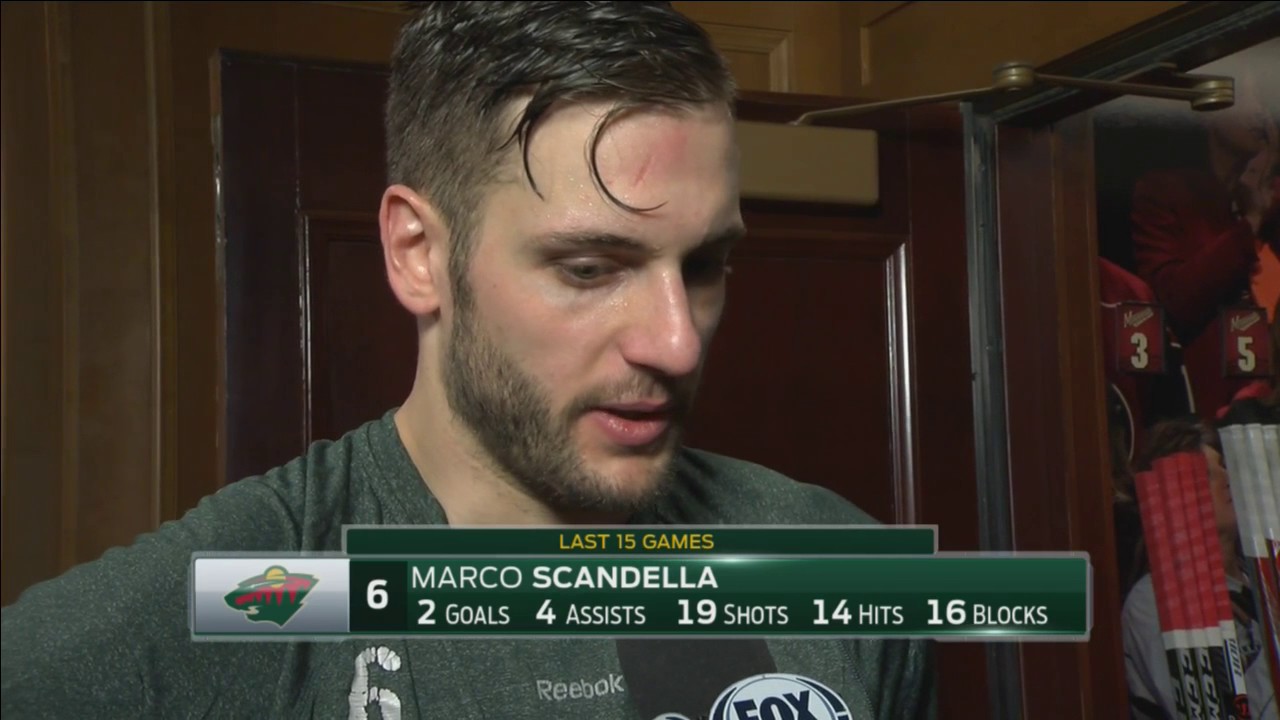 Back when the idea of the expansion draft cropped up, Wild fans did the math and figured it out pretty quickly. The team was losing a defenseman -- and a good one. There was some kicking and screaming, some verbal jousting and arguing, but in the end, most people came to terms with it.
Some even came to embrace it. "Great! We can shed some salary cap space!" Wild fans said. "More playing time for Gustav Olofsson or Mike Reilly!" others exclaimed.
Then it didn't happen.
Suffice it to say the Erik Haula and Alex Tuch deal to Vegas was surprising for most Wild fans, even though Haula had been a dark horse to get picked for quite some time, even so much as predicted on the Giles and The Goalie podcast by Ken Boehlke, the brains behind Sinbin.Vegas.
The deal was seemingly a coup for Chuck Fletcher, a stroke of brilliance that would allow him to keep all of his defensemen, just after we were hearing about some very exciting trades involving Jonas Brodin and Marco Scandella. Surely Chuck had one of those in his back pocket still, just waiting until the Freeze to be over, to sling that glowing card like Remy Lebeau.
Then that didn't happen.
It's been a week since the expansion draft now and free agency looms. The Wild have yet to make a trade, aside from jettisoning poor underappreciated Jordan Schroeder for whatever reason. It appears as though Fletcher's trade market for defenders has gone a little dry, with Montreal acquiring David Schlemko and Dallas landing Marc Methot. However, with free agency on the horizon, teams that miss out on signing a Kevin Shattenkirk or a Trevor Daley may come calling.
There's still hope beyond this weekend.
That's a good thing, because the Wild need to deal a defender. More accurately, a left-handed defender. Brodin and Scandella are both lefties and carry a cap hit of $4.17 million and $4 million, respectively. The savings going forward are crucially important, as Hockey Wilderness' Tony Abbott broke down the Wild's sticky cap situation yesterday.
Perhaps more importantly, you have two youngsters in Olofsson and Reilly who have earned their shot. Both have shown promise in brief NHL forays, and both carry considerably less money to the salary cap than their veteran counterparts.
Olofsson just signed an RFA bridge deal of sorts for $750k per year, while Reilly awaits his next contract -- likely to not be much more than that. The savings wouldn't just help this season, this salary cap crunch isn't going away, getting players on bridge deals to play in your third pairing is going to be essential, or you're stuck raiding the veteran scrap heap of Nate Prossers and Dan Girardis.
None of this is to even mention the developmental side of things. Will there be growing pains with Olofsson and Reilly? Absolutely, but their potential makes those pains worth it, and if they're going to develop into top four-type defenders, the ice time freed up by dealing a player ahead of them will be crucial. If you're not giving younger talent a chance to shine, you'll be stuck with a plethora of aged and overpaid veterans eventually with no one good enough to replace them (just ask World Championship Wrestling). (Editor's note: SIGH)
I have no doubt Fletcher is still trying to deal a defenseman. His comment last week about 'being happy with bringing the same team back' may have offended some eagerly anger-filled folks, but it's just your run of the mill GM speak, trying not to lose leverage by telling other teams he has to make a deal (not that they don't because... they do, but you get the point).
The reasons for the Wild to trade a defender are numerous, and not simply limited to the team's cap situation. Not only do they have to do it, they should want to do it, and that means it should get done. Then Wild fans can rest easy and settle in for summer vacation.
---
Never Miss an Episode of Giles & The Goalie!