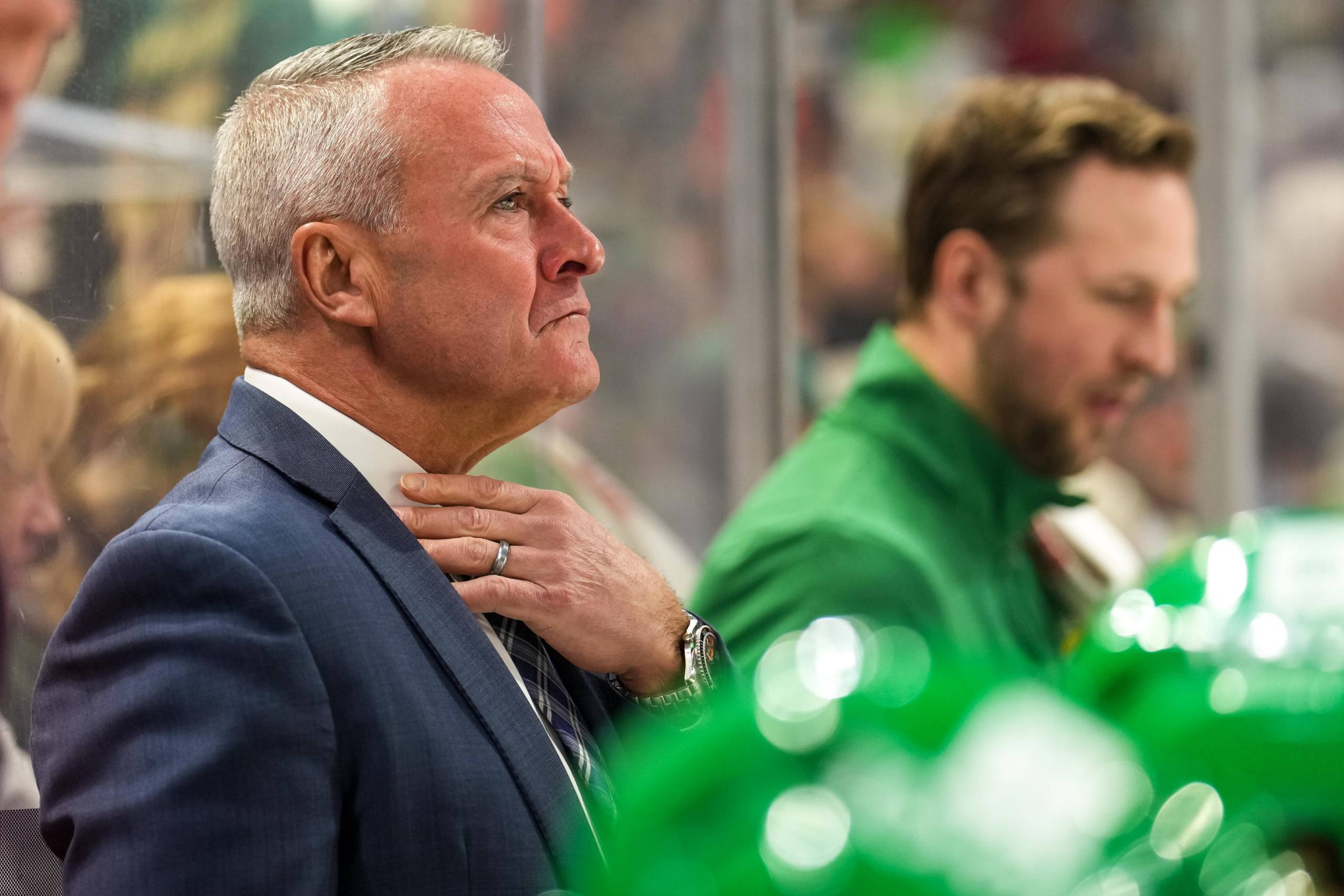 The Definition of Insanity is doing the same thing over and over again and expecting different results. – Something we all have seen somewhere at some point.

 

- But really, Albert Einstein. Maybe? Who really knows who said that? And who really cares?

 

It's a great quote. Simple, concise, and makes all the sense in the world. Someone should write it down on a piece of paper,

, and hang that famous quote in the Minnesota Wild locker room because it doesn't seem Dean Evason believes in its merit.

 

For weeks now, Evason has been under some heat for his reluctance to juggle his lines as his Minnesota Wild squad continues to flounder at producing any sort of offense at 5-on-5. Monday night's loss to the lowly Arizona Coyotes seemed to be the straw that broke the camel's back.

 

It seems that loss may have been the breaking point for Evason, too. He finally showcased a lineup juggle in practice the next day ahead of a showdown with the Central Division-leading Dallas Stars. And by lineup juggle, I mean a simple switch of Ryan Hartman to first-line center. The move allowed Sam Steel to finally take a breather from producing next to nothing between Kirill Kaprizov and Mats Zuccarello for the past month.

 

 

And… that's it. The GREEF line remains intact, even though the two players not named Joel Eriksson Ek are bringing next to no offense, and only one of those two arrives to games on time consistently. Not to mention, Ryan Reaves remains in the lineup game after game to kill every clean breakout and continue providing his six assists on the year.

 

Perhaps it is time to recall Marco Rossi if your job as a coach is to field the best possible lineup and win games.

 

Not to mention second-year star Matt Boldy doesn't seem to have much, if any, chemistry with Hartman. Or Steel. Or even Freddy Gaudreau, really. And yet, Evason has kept his lineup the same game after game, barring injury.

 

It makes sense if you only have one struggling line to keep things the same and see if that one unit can fix themselves. But this has been an issue for the entire forward group nearly all season long. As for Evason's refusal to shuffle lines? This isn't the first time we have seen this decision cost him, either.

 

Evason's failure to adjust in time cost his team a first-round exit last year in the playoffs. Sure, it wasn't all his fault. But his failure to react quickly and make changes paled in comparison to his counterpart, Craig Berube. Finding themselves down 2-1 in the series and heading into a pivotal Game 4, Berube decided he was going all in with his big guns, playing his best players as much as possible as Evason looked to maintain consistency with his lines.

 

Two losses later and Evason suddenly found himself on the brink of elimination. His lineup changes in Game 6 were too little, too late, and the Blues upset the Wild.

 

The story of last year's playoffs was that while he's still a good coach, Evason needed to react faster to what he saw in his team in front of him. The frustrating thing is he seems to have fallen into the same trap this year.

 

The Wild were not a perfect team on January 1, but they were playing decent hockey and found themselves third in the Central. They were only three points back of the second-place Winnipeg Jets and another three points ahead of an injury-riddled Colorado Avalanche for a playoff spot.

 

Yet, it was obvious how different this year's Wild look was from last year's offensive juggernaut. Their even-strength play was severely lacking, and they were beatable at the hands of anyone if the PP was not connecting. Not to mention, those defending champs in the rear-view mirror were getting healthier. They couldn't decide to stay the course and expect to hold off the Avalanche much longer.

 

Fast forward almost a month, and they apparently didn't get that memo. After failing to unseat the Dallas Stars Wednesday, the Wild are in a gridlock with Colorado for third in the Central Division at 58 points, and now Colorado has a game in hand. Their January was an uninspiring 6-6-2, allowing the Avs to chase at their heels while finally getting healthy at the same time.

 

And yet, with the team sputtering and their 5-on-5 offense non-existent, Evason decided to maintain the status quo. He only changed his lines when the Wild were caught in the standings, and the outside pressure began to billow over. And with his back against the wall, there's no real sign of major changes anytime soon.

 

Once again, Evason decided to be passive instead of proactive. Last time it cost his team its visit into the second round since 2015. This time? It might cost them a playoff spot entirely.