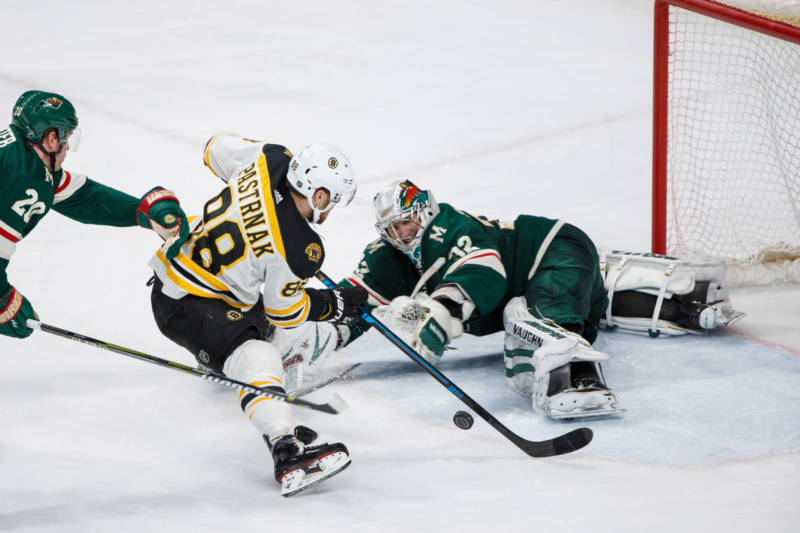 The NHL All-Star break has come and gone, and yet in Minnesota there is still no NHL hockey being played. The Wild have begun their bye week. In lieu of being treated to fun international hockey every four years, the NHL gave us the bye week. The idea was hatched so teams can rest up and prepare for the stretch run to the playoffs.
Since there hasn't been any Wild action for nearly a week, I went to you, the reader, and asked for questions.
Let's dive right in:
Aaron H. Assume the Wild sneak into the playoffs, who's your No. 1 in net?
As bad as he's been this season, I think you have to put Devan Dubnyk in with a really short leash. Alex Stalock is certainly putting up better numbers this season, but his ceiling is about .905 for save percentage. Dubnyk can raise his game to .935 when he's on. So, give him a shot to show you what he can do. If he's a sieve, you couldn't get much worse than Stalock. Oh, and it still might be too early for Kaapo Kahkonen to come in should the Wild make the postseason.
Assume the Wild are buyers, who's your No. 1 trade target? Same question, but as sellers?
I'll answer the second question first. I think Jonas Brodin and Marcus Foligno go at the very least. And that's who I'm pushing to other teams first. Then if I get really good offers on Mathew Dumba or Jason Zucker, I make a move. As for buying? I think, in a rental situation Chris Kreider would be intriguing, and would certainly quicken this team. Plucking a goalie might not be a bad idea, but is Philly going to trade Carter Hart? Likely not. Ultimately, the Wild shouldn't be buying at the deadline.
What's your favorite new restaurant you've found recently? What should I order from there?
OB Noodle House and Sake Bar in Ocean Beach, Calif. is amazing. Order the spicy garlic wings for an appetizer and get the Pho. I highly, highly recommend it. If you're not into Pho, get the house fried rice. It's great as breakfast the next morning!
---
Jason R. Why keep either goalie right now? And why not spend money on a big shooter? Someone that can change the dynamic of the game in a shot. Oh wait I know. We think we still know how to draft!
Keeping the goalies is a great question. Bill Guerin will need to come up with a plan for life after Dubnyk, and Stalock should have never been re-signed last year to a three-year extension. With that said, as of right now, there aren't many better options out there available for cheap. They need to draft and develop one. In fact, the Wild goalie situation is a lot like the Vikings' quarterback situation. Both teams haven't been able to draft and develop either and it's mired them in mediocrity.
---
Gretchen M. Can the Wild sign Hunter Shepard for Iowa and bring up Kaapo next season?
The short answer? No. Not unless they get takers for Dubnyk and Stalock. Sure, getting younger and more athletic in net is very important as well, but the Wild need that everywhere. They need to make wise decisions, and continue going through the draft for goalie help. Look at Hunter Jones and Filip Lindberg. Neither are currently in Iowa, but could have something there to develop.
---
Christopher B. What's the plan going forward? What kind of moves, even if not specific players, would you like to see the team make this summer?
The plan forward is to continue on this path. There will be changes to improve the contract situation, and to get more youth on the team. With that said, I doubt Guerin will completely tear it down as many fans hope. They'll want to make moves to keep Kirill Kaprizov interested in playing here. If everything breaks right, they could be a fun team again.
---
Aaron H. Impressions on GMBG through the All-Star break?
It's tough to really gather what he's done. I think he's helped, in concert with Bruce Boudreau, keep this team from falling apart. I think he's answered questions from the media well and seems very accessible. He's smart, calculated and can even by funny and candid. But really that's all we have at this point. We don't have any news on the front office he'd like to assemble, and the prototypical team he wants to build. We also, as of this writing, have almost nothing in terms of trades to judge. So, his personality seems great, but the jury is still out on how he manages and his team building philosophy.
---
Gretchen M. Do you think they should give Koivu one more year, at a smaller contract, for a swan-song season... for the 20th season and the Winter Classic? Kinda like Teemu got the one more year farewell tour. Just doesn't seem right to drop him. (I'm too sentimental. I get it.)
I wrote an article earlier this season about ripping the adhesive bandage off and just moving on from the Kaptain. Having said that, the Wild need to address the center position first. If they don't, he very well could be back in a Wild sweater. For it to be a true swan song, though, I think he needs to announce that he'd be retiring following the season. Otherwise the Koivu questions will continue.
[caption id=attachment_60601" align="aligncenter" width="500]

Dec 31, 2019; Saint Paul, Minnesota, USA; Minnesota Wild center Mikko Koivu (9) celebrates after defenseman Ryan Suter (20) (not pictured) scored a goal against Toronto Maple Leafs goaltender Frederik Andersen (31) in the second period at Xcel Energy Center. Please Credit: David Berding-USA TODAY Sports[/caption]
---
Chris M. Do you think Kaprizov is coming over next year? What would the lines look like next year if he does? What would he bring to the team and how would it affect our performance? Possible guys to draft in the upcoming draft/positions of need.
I absolutely believe he's coming over this summer. And the Wild own his rights in perpetuity, so if he wants to play in the NHL, he must come to play for Minnesota...of course unless the Wild trade his rights away. For lines? Kaprizov is on the top line with Eric Staal and Zucker -- at least for how the roster is constructed presently. That obviously can change pending any trades made between now and the start of next season.
For the draft, Alexis LaFreniere is looking to be the first-overall pick, followed by Quinton Byfield. I haven't done a ton of draft work yet, but that will for sure be coming in May/June, so check back then for more on the draft class.
---
Tony @OhHiTony If you were the Wild's GM, what player would be your white whale that you'd sacrifice everything to acquire? Think Paul Fenton with Kevin Fiala.
I think David Pastrnak is a player we had pegged as really intriguing during his draft year. So because we called it back then, and considering his subsequent success, I think I go for Pasta. Maybe Leon Draisaitl is another player for which to give up the farm. And I wasn't counting the easy staples of Connor McDavid, Nathan MacKinnon or Sidney Crosby.
---
Morpheus from the Matrix @evannotkelley Would you trade Zucker for Alex Galchenyuk?
No. At least not straight up. Galchenyuk for Charlie Coyle a couple of seasons ago would have been the better move. But Zucker and Galchenyuk just aren't comparable in my mind.
---
Adam C. Do you have any concerns for the Wild Winter Classic jerseys? The Adidas special event jerseys have been underwhelming.
Yes, absolutely. I don't like the trim and the style of most of them. "Underwhelming" is probably my biggest concern.
Thanks for all your questions!