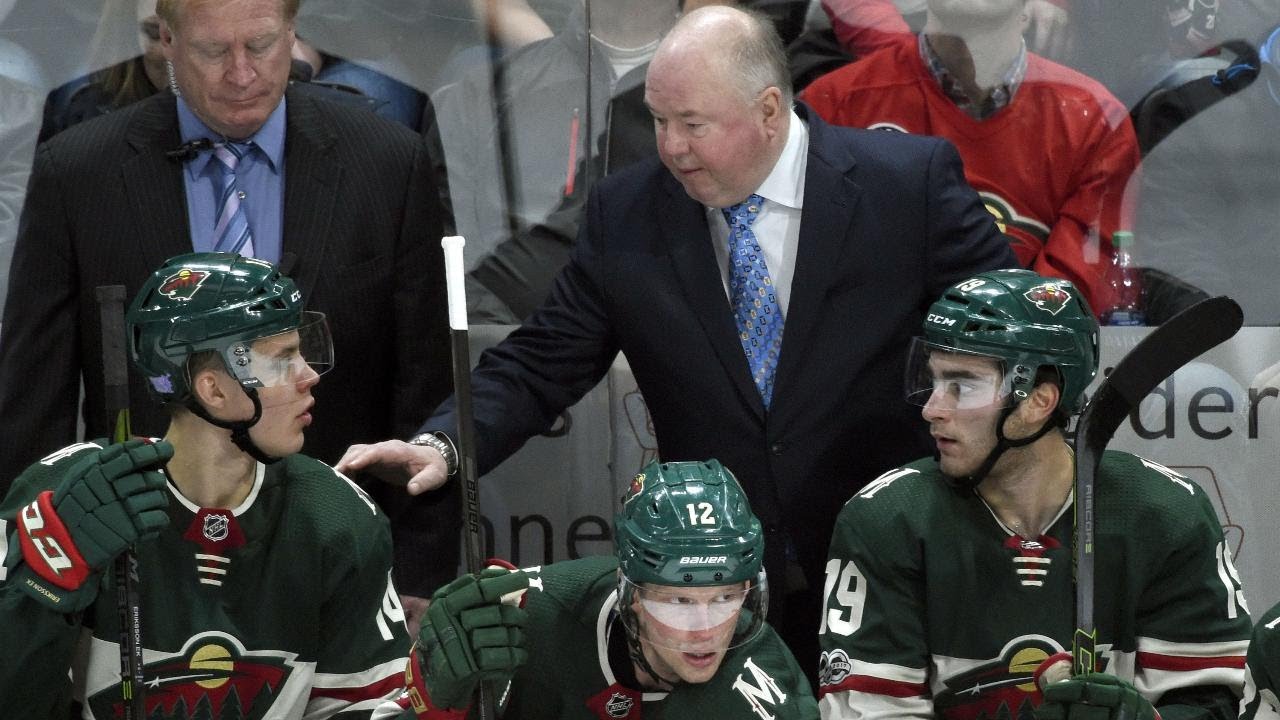 This past week, the Minnesota Wild and the rest of the NHL hit the quarter mark -- NOT quarter pole -- of the regular season. So to reflect on the first 20 games of the regular season, let's hand out some report cards and see who has been good -- or not so good -- this year.
Christoph Bertschy
1 GP, 0G-0A-0P
Grade: N/A
Bertschy was recalled for his ninth career NHL game on Oct. 14 against Columbus. He only played 5:23 that night, so he by no means registered enough ice time to get a grade. Meanwhile, back in Iowa, Bertschy has tallied seven points in 16 games this season.
Jonas Brodin
21 GP, 1G-2A-3 P
Grade: C-
After the Wild curiously protected him in the Expansion Draft last June, it has been an uneven year for Brodin. He struggled mightily at times alongside his defensive partner Matt Dumba, and neither has really asserted themselves as the go-to guy on the pair. Brodin will not offer you much offensively, so if he can not be strong defensively and on breakouts, that's just not good news for anyone. There's definitely room for improvement here.
Charlie Coyle
5 GP, 0G-3A-3P
Grade: N/A
Just three games into the season, Coyle suffered a broken leg and was not seen again until this week. He returned Monday against New Jersey and registered his first point since his return Wednesday night against Buffalo. It is hard to grade him when you have this small of a sample size. It's also hard to judge his two games back as it takes a few to get back in the rhythm.
Matt Cullen
21 GP, 1G-3A-4P
Grade: C
With all the injuries early on, Cullen had a rotating door of players on his line to open the year. That hasn't exactly translated to notable results for him, but he's not one to put up a lot of points at this stage of his career either. It's not terrible, but nothing special from the 41-year-old.
Devan Dubnyk
17 GP, 9-6-2, 2.66 GAA, .916 SV%, 3 SO
Grade: D+
If not for a shutout streak in the last two weeks that went 195:52 of ice time, Dubnyk's numbers would look a lot worse. While the flashes of brilliance have been great, they have come few and far between for the Wild's No. 1 goaltender. Ben Remington will argue he is not a model of consistency, and while that may be true, Dubnyk needs to be better -- a lot better. This team will go where he takes him, and right now he has them struggling to stay out of the Central Division basement.
Matt Dumba
21 GP, 1G-8A-9P
Grade: D
At the beginning of the season, some idiot podcaster proclaimed this year 'the year of Dumba.' So far, it's been 'the year of an underwhelming Dumba,' to put it lightly. A horrific October was how Dumba kicked off his 2017-18 campaign, and he has slowly -- very slowly -- put together a string of decent games to get him out of the doghouse and the spotlight. The Wild expect more -- and rightfully so -- out of Dumba, and he needs to do more this year. If he can't, it would not be a surprise to see him shipped out after the season.
Tyler Ennis
21 GP, 4G-2A-6P
Grade: F
No player has been more disappointing this season than Ennis. He was looking forward to a fresh start after coming over in a trade this past summer, and what we have seen from him has been very similar to that of his last days in Buffalo. After scoring four points in the first four games, Ennis went on a scoring drought where he did not tally a point in 15 of 16 games. He very quickly found himself in Bruce Boudreau's doghouse as part of the bottom six. Three times this year, Ennis has failed to get over 10 minutes in time on ice. Not great, Bob.
Joel Eriksson Ek
20 GP, 1G-2A-3P
Grade: D+
It has been a very disappointing start to the season for the Wild's 2015 first-round pick, as he enjoyed Thanksgiving in Iowa due to a demotion on Tuesday. While true, Eriksson Ek has not been given the best wingers on his line to start the year, but you still have to do a bit more than three points during that time. Hopefully, a stint in Iowa will do him some good.
Landon Ferraro
2 GP, 1G-0A-1P
Grade: N/A
Injuries allowed Ferraro to get in two games early on this season. Then he got injured and only has been seen in eight games with Iowa this year. He's back now, but only expect a call-up from him in an extreme situation like we saw in October.
Marcus Foligno
20 GP, 3G-5A-8P
Grade: B
At this pace, Foligno is on track to set a career high in points. Sure, it's only the low 30s, but for a grinder type like him, that's pretty decent production. He is one of Boudreau's more trusted players this year, as he has been shuffled up and down the lineup wherever the winger has been needed. He has also been pretty consistent, something a majority of his teammates can not say.
Mikael Granlund
16 GP, 5G-9A-14P
Grade: A-
After an injury forced him out of the lineup for a few weeks, Granlund has been perhaps the Wild's best player this season. He has registered 13 points in 11 games in November and is currently riding a five-game point streak. On a team that has struggled offensively at times, Granlund's point production is a sight for sore eyes.
Justin Kloos
1 GP, 0G-0A-0P
Grade: N/A
It was a brief NHL debut for Kloos on Oct. 24, just getting 8:39 of ice time. Since his return to Iowa, he has been one of its better players and has put himself in the discussion for another return to the NHL at some point.
Mikko Koivu
21 GP, 4G-10A-14P
Grade: C+
While Koivu's point projection this year would go right along with the previous two seasons and the fact he is still dominant in the faceoff circle, his game still leaves something to be desired. Before this four-game point streak he is currently on, he went eight games without a point and has gone 12 straight games without a goal. Also, he still has yet to learn when to get off the ice in overtime.
Luke Kunin
17 GP, 2G-2A-4P
Grade: C-
It's not the greatest start for Kunin's NHL career, but it could have been worse. He was getting decent line placements, but nothing was happening on his end offensively. He was shooting less than what was preferred, something that is most likely being worked on down in Des Moines. When Kunin is recalled, look for more of a charge offensively from him.
Zack Mitchell
6 GP, 1G-1A-2P
Grade: C
It's hard to fault Mitchell when he is only getting 9:28 of ice time up here. He has been alright, but nothing great. He was tearing up the AHL before his recall on Tuesday, so one is hoping for more of an offensive push from him.
Nino Niederreiter
15 GP, 8G-3A-11P
Grade: A-
Since his return from injury, the good hockey boy has been one of the team's best players. He currently is on a five-game goal-scoring streak, and is second on the team in goals with 8 (Zucker-11). At this pace, Niederreiter will join Zucker as 30-goal scorers this season, a feat this team has not seen since 2007-08 when Marian Gaborik and Brian Rolston did so.
Gustav Olofsson
13 GP, 0G-0A-0P
Grade: D+
A few of the games Olofsson "appeared in" were those games he was used as an extra forward, so figuratively he has been seen in 10 games this year. But up until the past week, Olofsson has not been up to par, as he had to work to earn coach Boudreau's trust. Much like his countryman Brodin, you won't see much offense out of Olofsson, so you better hope he is good in his own zone.
Cal O'Reilly
1 GP, 0G-0A-0P
Grade: N/A
It's honestly difficult to remember when O'Reilly played. *checks game log* Oh, Oct. 21 against Calgary? That definitely was a long time ago. Nine points in 16 games for O'Reilly down in Iowa.
Zach Parise
0 GP, 0G-0A-0P
Grade: N/A
In case you forgot, Parise is still on the hockey team. A back injury kept him out of training camp, preseason, and all of the regular season to date. He finally had an operation done to help his back a month ago, and his return is expected sometime in the new year. When specifically, though, is up in the air.
Kyle Quincey
15 GP, 0G-3A-3P
Grade: D-
It's unclear why Chuck Fletcher was so quick to grab Quincey on July 1. He is being rotated in and out of the lineup a lot. When he does get in the lineup, he is not overly effective. Not a lot to see here, really.
Mike Reilly
16 GP, 0G-5A-5P
Grade: D
After a solid couple weeks to start the season, Reilly has struggled ever since and could very well be on the verge of being sent back to Iowa. Three of his five assists have come on the power play -- let's give him that -- but his overall game leaves much to be desired.
Jared Spurgeon
21 GP, 3G-12A-15P
Grade: A
If there has been one player on the roster for being consistently good this year, it's been Spurgeon. Spurgeon is currently on pace to finish the season with 58 points, which would obliterate his previous personal best of 38 points (last season). Solid in all ends of the ice, he has far and away been the Wild's best blueliner this year. It's no wonder Mr. Suter wants him on his pair at all times.
Eric Staal
21 GP, 7G-12A-19P
Grade: A
Picking up where he left off last season, Staal is the Wild's leader in points at the quarter mark of the season. Staal has been solid in all aspects of the game, including on the Wild's penalty kill as he holds two short-handed goals this season. It's hard to find a better contract in terms of bang for your buck in the league than Staal, who continues show he still has plenty left in this game.
Alex Stalock
5 GP, 1-2-1, 2.56 GAA, .927 SV%
Grade: B+
If not for the three-game shutout streak of Dubnyk last week, Stalock more than likely has another start under his belt. But so far this year, it's been hard to criticize his game, as he has been able do to what has been needed of him. Unfortunately, he has had bad luck when it comes to wins, but that should catch up to him if he continues playing like he has.
Chris Stewart
20 GP, 6G-2A-8P
Grade: D-
"Alexa, tell me how many points Chris Stewart has in November."
"Zero"
"Alexa, when was the last time Chris Stewart registered a point?"
"Oct. 21"
Ryan Suter
21 GP, 3G-11A-14P
Grade: C
Nothing special from Suter this year, just stuff we would normally expect -- top minutes, soft wrist shots, overtime woes, etc. He is what he is at this point. The sad reality is he will still probably end up with more Norris "votes" next spring than Spurgeon.
Daniel Winnik
21 GP, 2G-3A-5P
Grade: D
Winnik was hailed as a solid depth signing prior to the beginning of the season. But it has not been that way since, as Winnik has done little in the team's bottom six. Perhaps now that the team is relatively healthy and he is back on the bottom line, he will be able to find some more production.
Jason Zucker
21 GP, 11G-6A-17P
Grade: A
At a time when the Wild needed goal scoring, Zucker answered the call. The winger tallied six straight goals for the Wild in a three-game span, helping the Wild win each of those games as well. Zucker had a five-game goal scoring streak in there -- like Niederreiter is on -- and is on pace for a 30-goal season. If he can get solid sleep, he should have no problem hitting that mark.
Coaching
Grade: C-
Boudreau has been preaching constantly that his team needs to give full 60-minute efforts. Agreed in that regard. And now with a healthy lineup, he could perhaps send a message to those troubled players by giving them a night off next to the James Sheppard memorial popcorn machine. The coaching staff took way too long to try and shake up a stagnant power play, as Boudreau finally benched them all in favor of bottom six guys last week against Nashville. The Wild have scored a power-play goal in every game since. You just hope this staff can push the right buttons going forward, as the Wild have a lot of work to do to get back into the playoff picture. If not, we will probably see more outbursts from "Gabby" like this:
---
Never Miss an Episode of Giles & The Goalie!