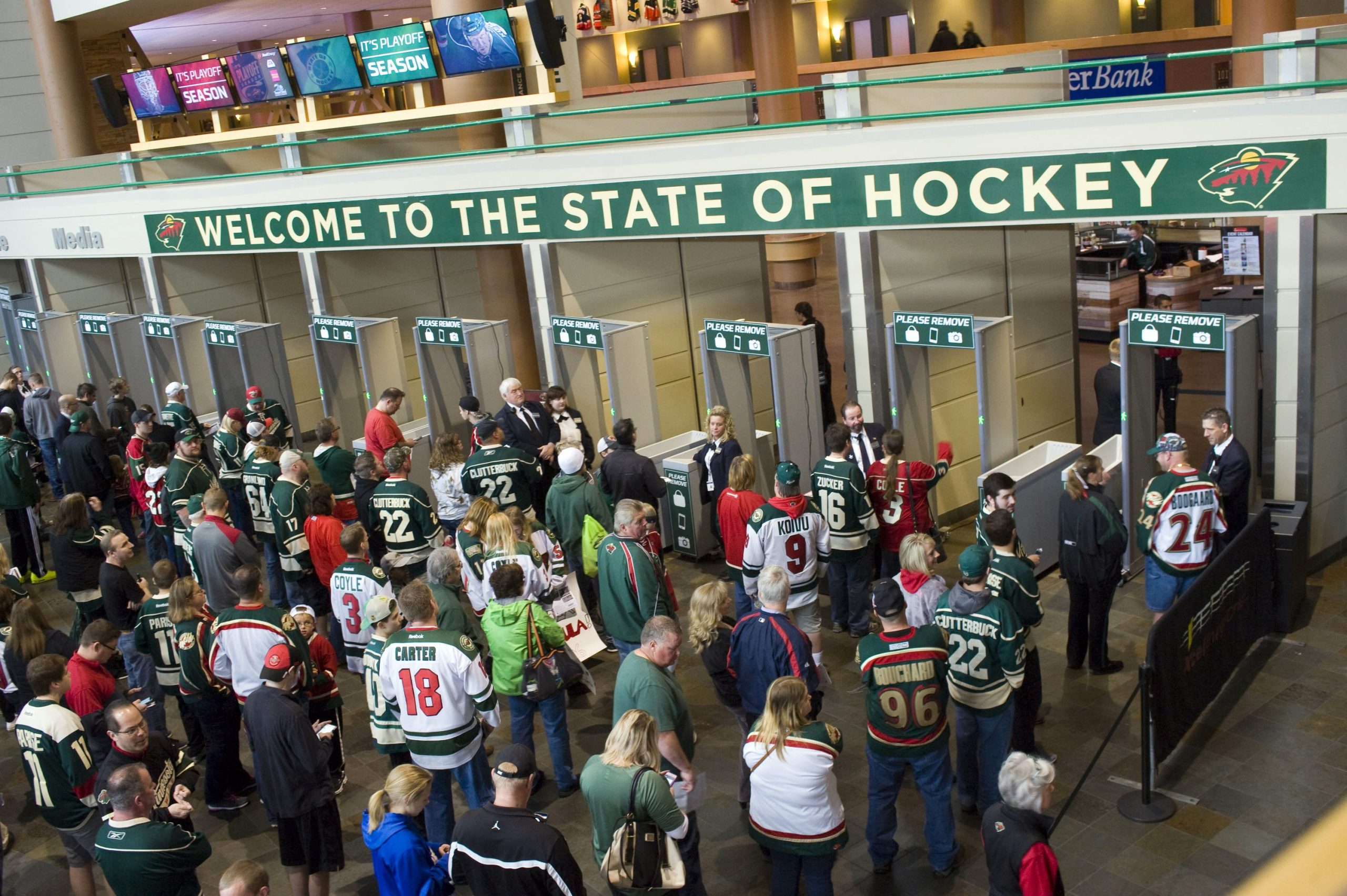 'Tis the season, hockey fans, and perhaps loved ones of hockey fans. To kick off the holiday shopping season right, I've prepared a list of items that the Minnesota Hockey Fan in your life — or yourself after the holidays when you've been disappointed yet again — may want. I started this pre-black Friday tradition last season, and many of the great items are still available, but sadly, the Minnesota Moose jean jacket is not.
MN Mask Hoodie - SotaStick - $45 

The love for the North Stars nearly eclipses love for the Wild still in this state, and the beautiful look of that team is a big reason for that. SotaStick is no stranger to that phenomenon and made a great hoodie based on the iconic mask of longtime North Stars goalie Gilles Meloche. For the goalie in your life, for the North Stars fan in your life, for someone who just needs another hoodie, which is everyone.

Speaking of beautiful goalie masks, designer Ally Koss at Hockey by Design is absolutely killing it with mask-centric art, including shirts and posters. This poster takes simplified mask designs from every market and displays them across a beautiful board. The representation for Minnesota is a replica of Jon Casey's mask late in his North Stars run. Is it a conversation piece? Is it a celebration of history? Is it goalie obsessed? All of the above.

Violent Gentlemen has been rocking the subculture of enforcer hockey for years now, and they've got a great eye for design. If you're a fan of the now bygone era of fighting in hockey and all that it entails, this great looking hat is the way to show it.
Golden Gophers Hoodie - Goldy's Locker - $69.99

I'm of the firm belief that every Twin Cities hockey fan should own some kind of Gopher hockey sweatshirt, and for me, the simpler the better. Goldy's locker has a great selection of said hoodies, but I especially like the simple black, for its versatility.
Matt Dumba Baseball Shirt - 500 level - $24.99

Do you appreciate Matt Dumba? Well, you should, and if the hockey fan in your life does, this shirt is a great way to show it. It's also a great way for them to start arguments with uneducated Wild fans that hate Dumba for irrational reasons. It's like getting two gifts in one!
Minnesota Whitecaps Long Sleeved Shirt - Whitecaps Shop - $30.00

Professional women's hockey has finally arrived in the State of Hockey, and though it was overdue, now we can celebrate with the great Minnesota Whitecaps. The Whitecaps came out with a great new crest logo for this season's inaugural run in the NWHL, and it looks great on this shirt paired with the classic crossed hockey sticks.
Met Center Panoramic Picture - LaPayne Photography - $69.00

If the hockey fan in your life deeply misses the charm of Met Center or has a great love for the history of Minnesota hockey, this is a great addition to their collection. Opening night in 1991 against the Chicago Blackhawks in front of a packed house in the first game with their new jerseys.
Arizona Coyotes Throwback Jersey - NHLShop.com - $199.99

Sure, this isn't necessarily Minnesota hockey, but these jerseys are just too great to ignore, and therefore, buying one with a native Minnesotan, such as Derek Stepan, Alex Goligoski or Hunter Miska would be a great excuse to rock the Kachina Coyote once again.
Minnesota Ice Arenas Book - Amazon.com - $6.04

Nothing is more fascinating than the differences in sports architecture to me, and seeing all of many ice arenas in the state of Minnesota adds a local touch to that kind of fascination. For this price, it's a steal for the hockey fan in your life, and a great stocking stuffer.
Minnesota Wild 'Nickname' Hat - NHLShop.com - $23.99

So, full disclosure, I don't actually think this hat looks good, but I can't get over the comedy of the "nickname" for the Minnesota Wild being "The Wild" For other teams, such as the New York Rangers, putting their nickname, the Blueshirts, on a hat makes sense. For many other teams, I couldn't find this format of hat, because they don't really have nicknames, which you would think the Wild would fall into that category... but you'd be wrong.

This shirt gives someone the opportunity to properly celebrate the St. Paul Fighting Saints and the famous St. Paul Civic Center at the same time. Throw it back to the era of Bruce Boudreau the forward and see-through boards in the late 70's in the ill-fated WHA for a team that actually drew surprisingly good crowds competing with the North Stars across the river.
Mikko Koivu Signed Bobblehead - eBay - $99.95

If only the real Mikko showed that much joy, ever.
---