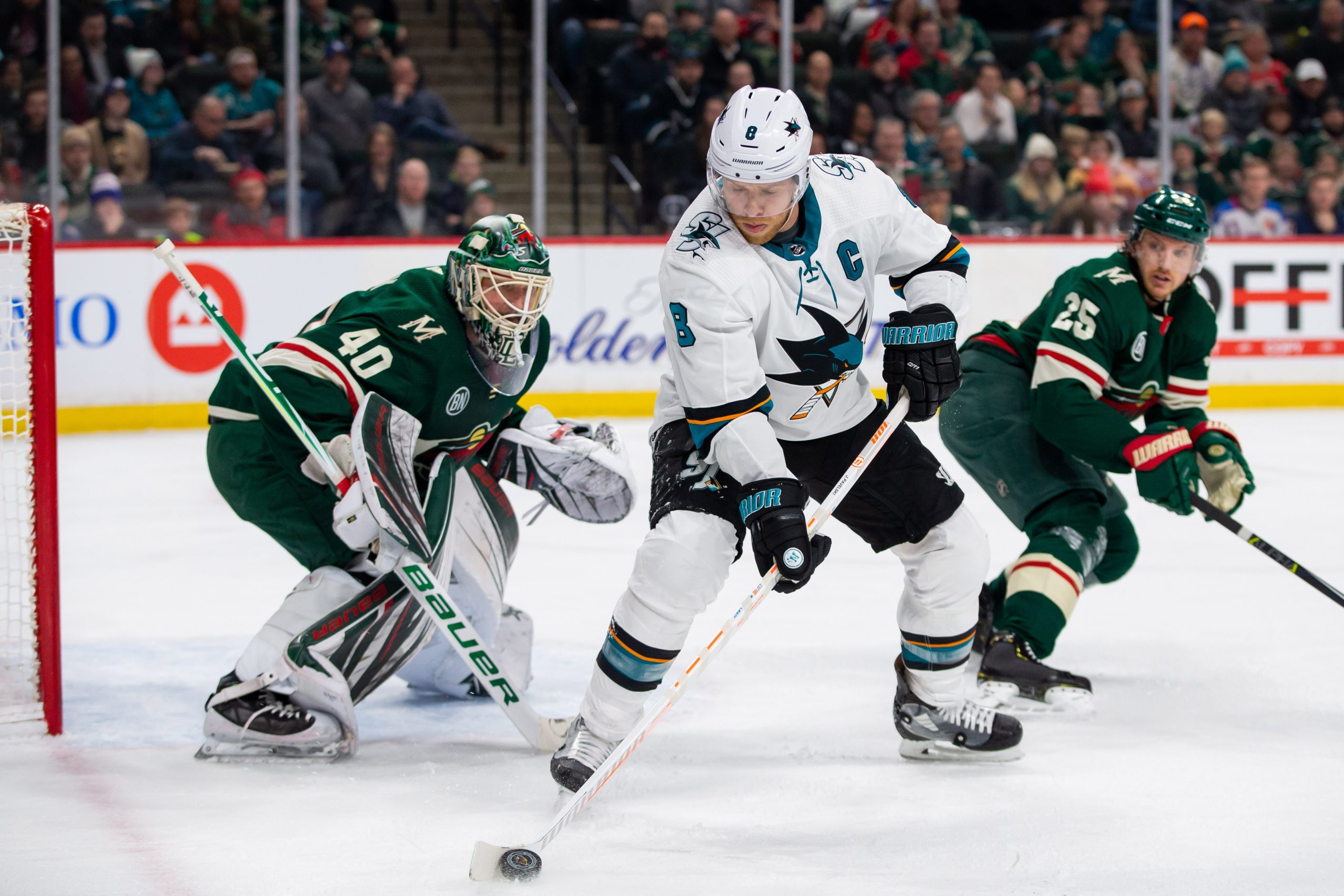 NHL free agency opens on the other side of the upcoming weekend, and as previously reported by The Athletic the Minnesota Wild look to add up front to their roster, most notably to the right side with a right shot. The Wild are horribly lacking right shot forwards on the roster, and have inquired with some notable players who fit that bill on the market about their cost.
If general manager Paul Fenton does not make any other moves before free agency opens, which he may have to do if looking at making multiple signings, the Wild will have a pretty set roster for the 2019-20 season. It would be nearly similar to the roster that finished the 2018-19 season, which would not exactly inspire a lot of confidence from a fan base lacking in such confidence.
Say the Wild do hold their ground and sign one right shot free agent forward this summer to give them a bit more depth at right wing headed into the new year. Will the impact of such a signing vault the team back up into the thick of things in the Central Division?
Using Sean Tierney's Lineup creator which is powered by Evolving Wild's Wins Above Replacement (WAR) stat projected over a full season, you can replicate the Wild lineup with any of their right shot forward targets in the lineup. The tool also gives an estimate of the number of points the team would score in a season with that lineup based on their full-season WAR.
So far, the Wild have taken an interest in the likes of Wayne Simmonds, Joonas Donskoi and Joe Pavelski to bolster their right wing position. Using the lineup creator, we can see what the impact of any of those players would be on Minnesota's lineup.
First, we have the 30-year-old Simmonds -- will be 31 when next season starts -- who is coming off a weak 17-goal, 13-assist season between Philadelphia and Nashville.
[caption id=attachment_51833" align="alignnone" width="2628]

via Sean Tierney, @ChartingHockey[/caption]
Simmonds alone does not carry a lot of weight and is basically a gamble at this point due to his age and poor production a year ago. If Minnesota uses him right and gets him in the right spot on the power play, he could provide additional value but even then you might just be looking at a point range of 35-40 if things fall into place right for him. The model just projects Minnesota to hit 76 points with Simmonds in the lineup, which is far from playoff contention.
Donskoi registered 14 goals and 23 assists for the Sharks last year, and is an unrestricted free agent just four years into his NHL career. Donskoi is a more logical choice for Minnesota given his age (27) and decent production in the middle six, but he certainly would not tip the scales in the direction of the playoffs if he was Minnesota's lone acquisition this summer.
[caption id=attachment_51834" align="alignnone" width="2636]

via Sean Tierney, @ChartingHockey[/caption]
Donskoi is decent enough for production on the third line that he would provide additional points to the Wild, but only three. Again, he might be the most logical signing for age and cost, but he would not make a big impact on their standings position.
Minnesota's biggest right shot forward target appears to be Pavelski, who has spent his entire 13-year career with the Sharks. The soon-to-be 35-year-old Pavelski is coming off a 38-goal, 64-point season with the Sharks who are not entirely out of the race to re-sign their captain just yet. However, the Wild have made contact with his camp to gauge interest in bringing the Wisconsin native to Minnesota for next season. However, recent reports have Pavelski reluctant to granting the Wild a visit due to concerns about winning.
[caption id=attachment_51832" align="alignnone" width="2628]

via Sean Tierney, @ChartingHockey[/caption]
Say Minnesota gets a visit with Pavelski and convinces him to sign with the Wild, his addition to Minnesota's top line alongside Zach Parise and Eric Staal makes them a formidable one. However, Minnesota's remaining three forward lines still would be lacking a punch as seen in nearly every lineup projection. With this lineup, the Wild would only be projected to register 80 points -- the highest of any free-agent acquisition -- in 2019-20, which would surely put them in contention for the last place in the division and another Draft Lottery pick.
An underlying problem with all of these projections is that the likes of Jordan Greenway, Ryan Donato, Joel Eriksson Ek and Kevin Fiala have to step up in a big way for Minnesota next year, which was discussed previously. Minnesota's offense was worst in the league following Mathew Dumba's loss on Dec. 15, as the young players failed to step up into new roles following their promotions or acquisitions.
Regardless of which right shot player the Wild bring in this summer, it will not fix the problem of lack of scoring up front. The Wild would need to make a trade to shake up the roster in a positive way headed into the next season, and there is little activity on the trade front as of now but that could change at any given moment.
Fenton reiterated over the draft weekend that he would not trade Jason Zucker unless it was the right deal, which was a welcomed change of pace from just trying to trade the winger for pennies on the dollar.
No matter the player, the Wild are statistically projecting to be the worst team in the Central Division next year. They will need increased production from their young players if they want to stand a chance, and would also need other-worldly play from Devan Dubnyk if they want to overcome those expectations.
With the Wild not in the hunt for any of the top free agents, you might as well start bracing yourself for another potentially long season. Their problems don't appear to be getting fixed any time soon.
---
Never Miss an Episode of Giles & The Goalie!
http://zonecoverage.com/wp-content/uploads/2016/05/itunes.jpghttp://zonecoverage.com/wp-content/uploads/2017/05/Podcast-header-Image-City-1.jpg