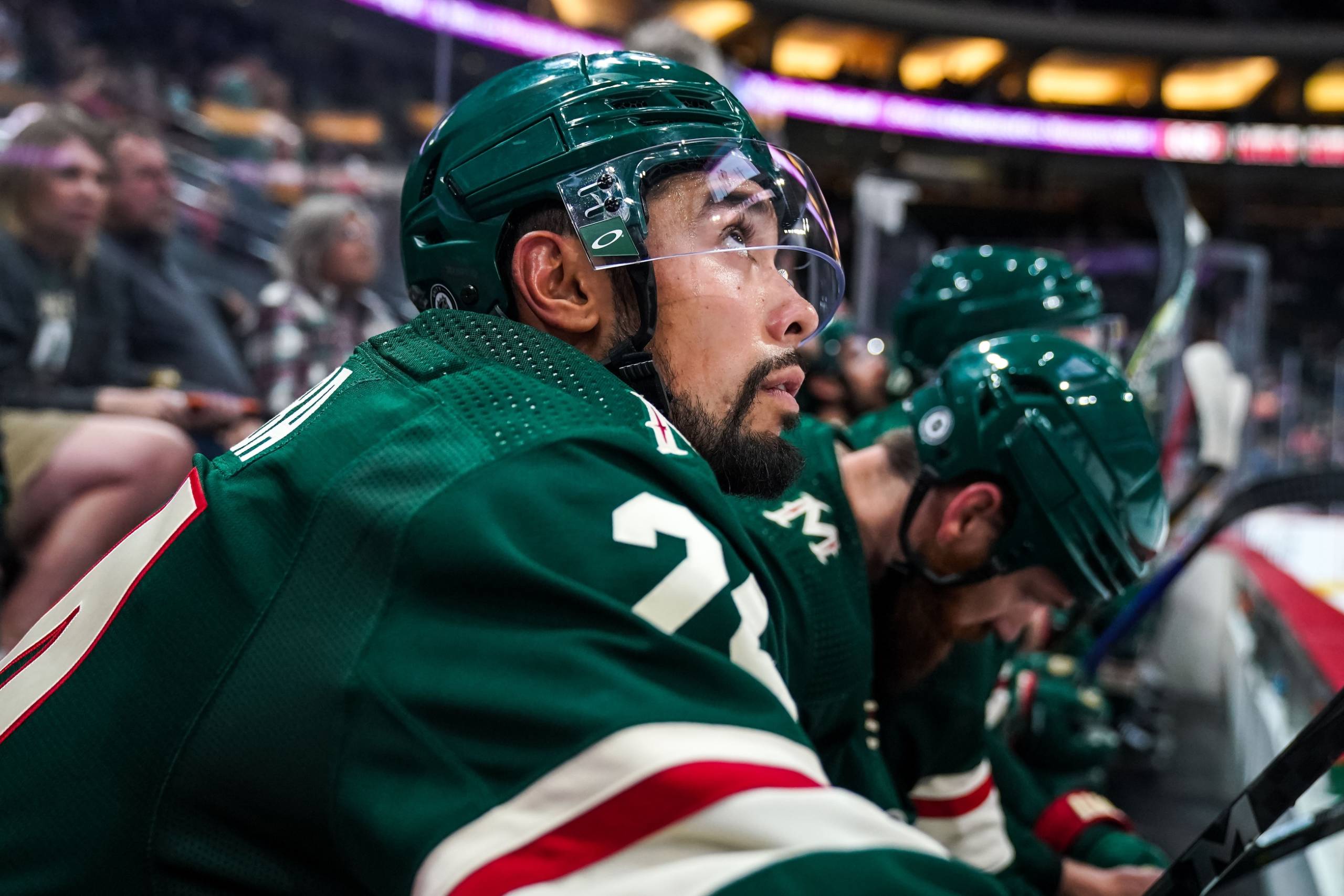 With 10 seconds left in the Minnesota Wild's Opening Night tilt in Anaheim, Matt Dumba unleashed a point shot. Three seconds later, Marcus Foligno put the rebound behind Anthony Stolarz to lift the Wild to a 2-1 regulation victory.
Fast-forward to the third period of Minnesota's Oct. 23 rematch against the Anaheim Ducks. Frederick Gaudreau's failed clear lands on a Duck stick and allows Josh Manson a prime scoring chance in a tie game. Dumba eliminates the threat by skating hard into Manson's shooting lane and blocking the puck.
Now let's go to Wednesday night's game in Vancouver. Minnesota was nursing a 2-1 lead and needed to bounce back from an embarrassing showing against the Nashville Predators. Dumba steps up again, crashing the net on the rush and burying Rem Pitlick's saucer pass. The goal stood as the game-winner.
There's no doubt: the Wild could not be 5-1-0 without Dumba in the lineup. He's delivered big moment after big moment already and is leading Minnesota's post-Ryan Suter blue line.
Dumba was named alternate captain during training camp, a move that surprised many. The shock had nothing to do with his leadership, as Dumba occasionally wore an "A" last year in Zach Parise's absence, but his status on the team. The Wild's longest-running trade rumor is that he was on the block due to expansion draft concerns, attempts to fill other needs, etc.
Instead of moving him, Minnesota's committed to him on and off the ice. Putting a letter on his chest is far from the only way they've done so. Dean Evason is unafraid to put Dumba on the ice at any point. It's not Jared Spurgeon or Jonas Brodin who leads the Wild in Time on Ice.
That would be Dumba, who's logging 23:12 minutes a night. He also leads Minnesota's defensemen with four points and the whole team in shots. You can even see him filling the gritty, physical void left by Suter, Carson Soucy, and Ian Cole. Dumba already has 15 blocked shots and 11 hits; both are first among Wild defensemen.
Now, having a lot of blocked shots and hits can be a sign of a sub-par defenseman. By definition, if you're blocking shots and hitting people, you don't have the puck. That's not great when the modern NHL's most crucial strategy is "Have the puck as much as humanly possible." But Minnesota does have the puck a ton when Dumba's on the ice, making those gaudy totals even more impressive.
Dumba and Brodin are, once again, one of the most effective blue line duos in the NHL. There are 111 defensive pairings that have more than 30 5-on-5 minutes so far. Dumba and Brodin have controlled 70.5% of the expected goals, which ranks sixth in the NHL. Their dominance at both ends of the ice is staggering.

Spurgeon might be Minnesota's captain and the defense's highest-paid player, but the Dumba pairing is unquestionably the team's best. The Wild's success hinges on this pairing, perhaps more so than anything else on the team. Minnesota's looking good, even with Kaprizov struggling. Their power play was punchless for half of last season, but they were still a strong team.
Compare that to how the team held up when Dumba was hurt last season. When he slid into the boards feet-first against the Colorado Avalanche on Mar. 17, it looked like a season-ending injury. He returned after three games, but it was obvious he wasn't the same, and neither was the Wild.
Before that game, Dumba and Brodin controlled play to the tune of around 60% of the expected goals share. Afterward, they dipped to approximately 45% each, becoming the worst pairing on the team. It's no coincidence that his injury marked the dividing line between Minnesota being one of the league's best 5-on-5 teams to below-average in that regard.
Now he's healthy again, and Wild fans are seeing the full implications of what that means. That might even include a return to form offensively after his pectoral rupture three years ago. One gets the sense that his many shots early this year is an attempt to vanquish the demons that stole his elite goal-scoring ability.
The jury is still out on whether he can re-gain that — he has yet to beat a goalie on the strength of his slap shot alone, like vintage Dumba often did. But being able to finish off Pitlick's pass and recording four points in six games means another 45-50 point season is still on the table.
There once was a time where Dumba's value was a hot subject of debate in the town square. No longer. Aside from a few holdouts and cranks, no one can deny what Dumba means to this team. He's Minnesota's offensive leader in the wake of Suter's departure. His strong play at both ends of the ice completely tilts the ice in Minnesota's favor. Whenever the Wild needed a big play, it's usually him that comes through.
Minnesota moved heaven and earth to commit to Dumba this season. Taking the plunge on the Suter buyout enabled the Wild to keep him from Seattle. That same transaction freed them to give Dumba a leadership role. He's rewarding them handsomely, putting up a strong early bid for Team MVP.