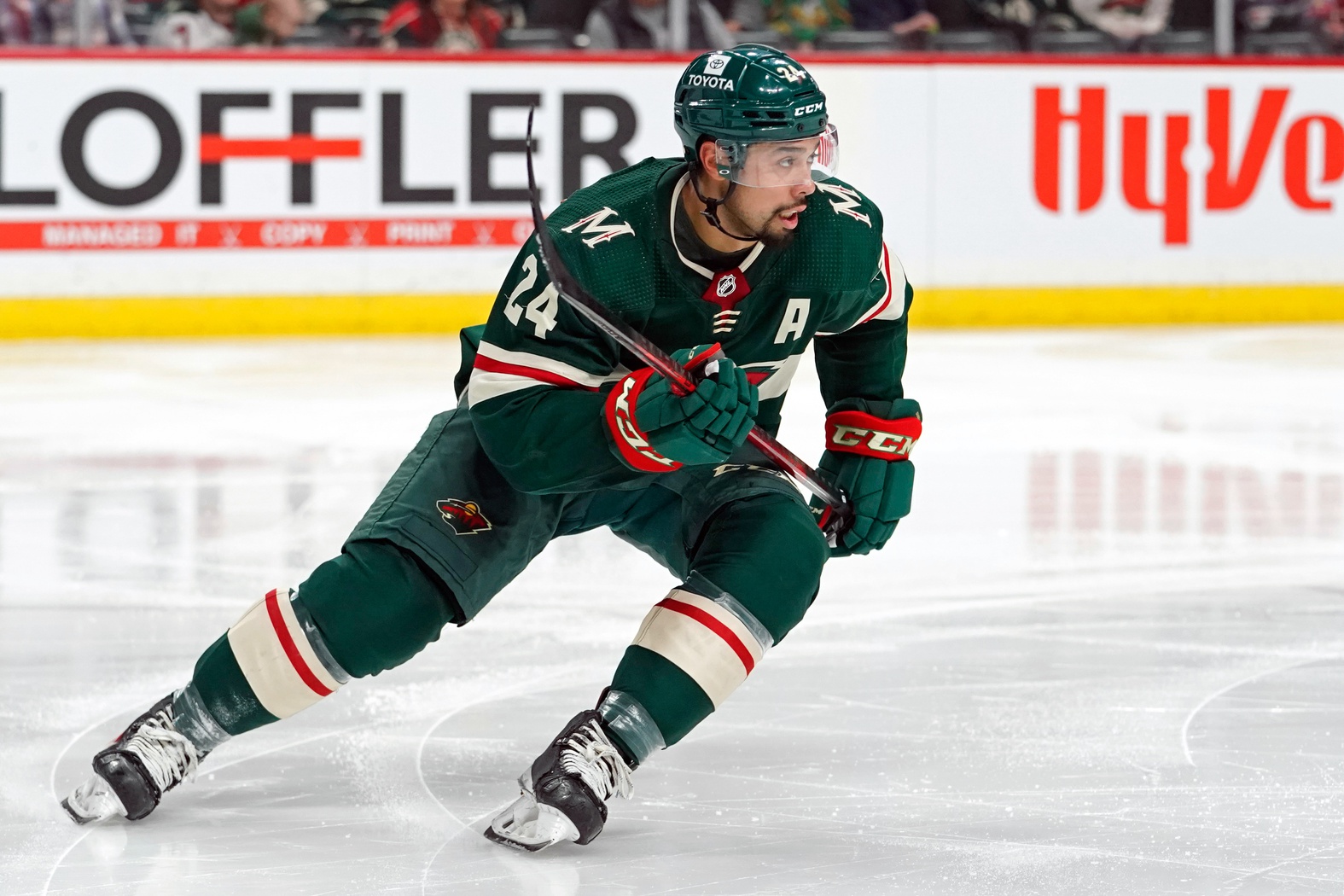 The Minnesota Wild dodged a massive bad break this week. In Tuesday's loss to the Nashville Predators, Dumba levied a massive open-ice hit and appeared to injure his shoulder. All Dean Evason could say after the game is "It did not look good," a response he only offers when injuries threaten to be serious.
Evason's since disclosed his injury is better than initially feared and Dumba is remaining with the team rather than traveling back to Minnesota for rehabilitation.
All are very good signs for a team that seemed to fall apart without him in the lineup. Dumba played just one game (a 3-2 win against the contending Carolina Hurricanes) between February and the first week of March. The Wild went 5-7 in those games, including losses to the lowly Winnipeg Jets (twice), Ottawa Senators, and Buffalo Sabres.
After a 6-3 loss to the Dallas Stars in his return, the team's sixth in seven games, Dumba told the media "I've been watching from afar, and I got to be in the room tonight, so I can't really put a finger on it. Just all of us going home, looking in the mirror, and come ready to work tomorrow."
Including that game, they've gone 11-3-2 since Dumba returned. It might seem silly that one player on a 23-man roster makes such a difference. But the alternate captain clearly has a leadership void that the team feels when it's gone. That's a big reason why losing Dumba would be devastating down the stretch.
Or, if we're looking ahead, next season.
Once again, Wild fans are doing the math and seeing that they can't keep this roster together. This happened in 2016-17 when a capped-out team had to navigate the Vegas Golden Knights expansion. When Paul Fenton came in two years later, it quickly became clear he was executing a purge. Then again last year, Minnesota faced Expansion Part 2 with the Seattle Kraken.
Every time, there's been a segment of Wild fans predicting Matt Dumba would play in another jersey. But despite his name appearing constantly in trade rumors and expansion mock drafts, he's played all 515 of his NHL games with Minnesota.
So this newest round of speculation that Dumba may be on the move is less of a surprise and more of an annual State of Hockey tradition.
Who knows? This year, they may be right. Minnesota is projected to have $8 million in cap space to fill out six spots on their roster. That's a tight fit, even before trying to give new deals to, say, Kevin Fiala or Marc-Andre Fleury. Even so, Dumba's showing why he's still an indispensable part of the Wild's success.
It goes beyond his role in the leadership group. When Minnesota signed him, it was for the type of player he was in 2017-18: a high-risk, high-reward player with a booming shot capable of racking up 20-plus goals. After a pectoral injury robbed his shot of its extra zip, he had to become a different player.
However, the Wild need the player he is now in 2021-22. His defensive contributions are front-and-center this year. Dumba ranks 53rd in the NHL among defensemen with 3.4 defensive Goals Above Replacement, according to Evolving Hockey.
In other words, Dumba's defense alone was worth over a point in the standings. Coming into Friday's showdown against the St. Louis Blues, the Wild had a one-point lead over them for second in the Central. That one point matters.
Dumba's newfound defensive prowess also matters to long-time partner Jonas Brodin. The man Dumba affectionately known as "Jimmy" used to be everything Dumba wasn't, and Dumba everything Brodin isn't. They complimented each other perfectly, with Dumba bringing the offense and Brodin covering on defense.
They're still complimentary this year but as an elite shutdown pair. Of the 148 defensive pairs that have played 200-plus 5-on-5 minutes, Brodin and Dumba rank 15th in allowing expected goals. The pair surrender just 1.92 xG per hour. Considering their roles tend to be things like "Shut Connor McDavid down," that's about as elite as it gets.
Brodin's seen his ability take a major hit whenever Dumba is out of the lineup (and in fairness, to Brodin, vice versa). Whenever it's happened, Minnesota's faced two choices: Either play Brodin with Jared Spurgeon, stacking the top pair with both elite defensemen. Or they can try managing with another defenseman taking Dumba's role.
The latter option has not been kind to Brodin. He still defends the crease well, but it's open season from the slot.
[caption id=attachment_122416" align="alignnone" width="800]

Courtesy of Hockey Viz.[/caption]
It's no coincidence those pesky defensive breakdowns faded once Dumba returned. Since March 6, he and Brodin controlled 58.6% of the expected goal share at 5-on-5, per Natural Stat Trick. Being able to roll that pair shelters Cam Talbot and Marc-Andre Fleury.
When folks argue for the Wild to keep Fiala at all costs, they usually come from a place of wanting to protect the chemistry between him and Matt Boldy. It's a good argument. But if keeping Fiala means losing Dumba, that breaks up a much longer-running — and more crucial to the teams' success — chemistry between Dumba and Brodin.
The front office has seen stretches where both men have played without the other. Neither was particularly helpful to the team's winning, and you can bet they've noticed that.
Dumba's value and role on the team already point to Minnesota keeping him this summer. Those are hardly the only factors, though. Dumba may not have a No-Move Clause like other big-money veterans like Mats Zuccarello, Spurgeon, and Brodin. However, he has some power to control his own destiny with a 10-team No-Trade Clause.
It's not too hard to game that to stay in Minnesota. Leave off the several teams that don't have cap room or the need for a right-shot defenseman, and that probably takes out all but around 10 teams. You'll note that Fiala, for example, has no such restrictions.
Dumba's NTC only really matters if Minnesota has an appetite in the first place, though, and it sure seems like they don't. Remember: Last year, they moved heaven and earth to keep him here.
The shocking decision to buy out Ryan Suter wasn't just to make a culture change. Without that bold move, Dumba would have been exposed to Seattle, or Minnesota would've had to protect eight skaters, risking losing a quality forward. Buying out Suter solved all that neatly, at the cost of accelerating their upcoming cap hell.
Contrast this to how the Wild are approaching Fiala in this cap hell world. They took him to arbitration last year, and there've been no whispers of effort towards an extension. It certainly doesn't seem like that's a priority, seeing as Minnesota has locked Jon Merrill, Jordan Greenway, and Alex Goligoski into extensions in recent months.
The narrative this offseason will be, in many people's eyes, will they keep Dumba or Fiala? There's absolutely a valid argument that the Wild should prioritize keeping Fiala. He's a 60-point electric forward who may have even more upside than he shows now. It will be difficult, to replace him, to say the least.
But looking at what Dumba means to the Wild, it'll be shocking if they move him this summer. He's not just a heart-and-soul guy in the locker room and pillar of the community — though he certainly is that. Dumba is also half of the shutdown pairing that is the heartbeat of the Wild. Without him and Brodin patrolling the blue line for 23 minutes a night, the team tends to crumble.
The Wild do have Calen Addison, who resembles the younger Dumba, waiting in the wings now. But the problem is that they need the new version of Dumba, too. Until they can find someone else who brings his attitude, defense, and leadership into that role, Minnesota is going to want to cling tightly to the new Dumba as long as possible.
All stats via Evolving Hockey unless otherwise stated.