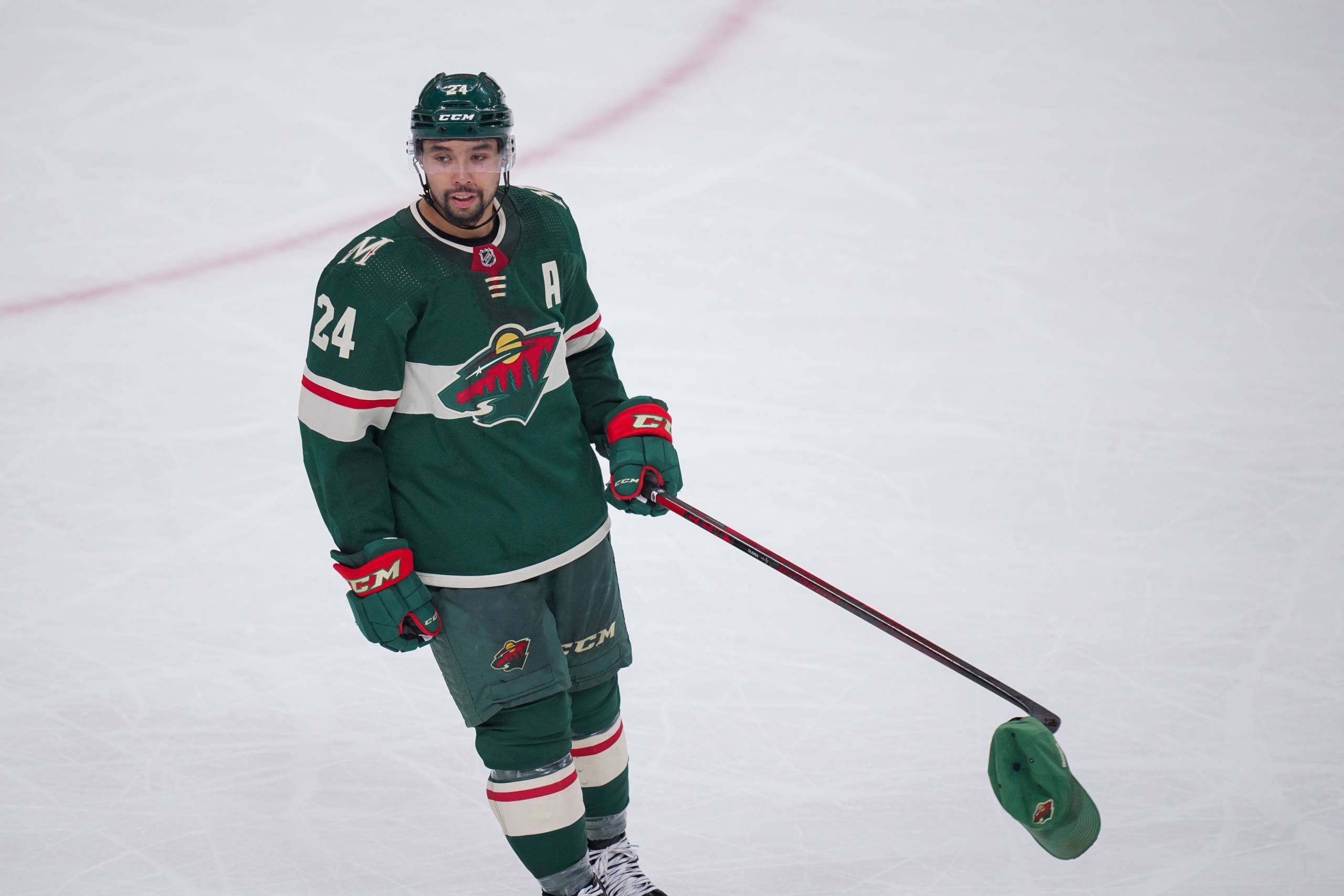 There's no way a team like the Minnesota Wild can have a franchise-record 113 points, lose in the first round, and not need to soul-search over what went wrong. Not when they've lost seven straight postseason rounds (and counting). And certainly not when they'll need to make serious decisions on several players, with few resources.
Serious decisions, of course, is a euphemism for they've gotta trade some guys. Heck, even some guys is a euphemism for almost definitely Matt Dumba or Kevin Fiala. Minnesota has about $7 million of salary cap space, and to keep around Fiala, they've got to clear some money. The most expensive player without total trade protection is Dumba, who makes $6 million against the cap next year.
So that means, for at least the sixth offseason in a row, Dumba is the center of Wild trade rumors. Sure, Fiala's bad playoff series lost him some favor with some in the State of Hockey, but Dumba's play was, as always, polarizing.
Dumba registered just one goal, which came down four in an elimination game, and no assists. He didn't play on the power play. He did play on the penalty kill, where he surrendered five goals in 17 minutes. And, as always, any visible miscue from him made him a lightning rod of scrutiny from a large segment of the fanbase.
Then the full extent of his injuries went public after the Wild were eliminated. When Dumba was injured in Nashville on April 5, he dislocated a rib and suffered another broken rib which punctured a lung. But just over three weeks later, he was back in the lineup, and he played over 21 minutes a night in the playoffs.
The news reignited the debate across the State of Hockey. There's obviously the question of safety, which we won't get into, as we aren't doctors or privy to the full details. But even purely from an on-ice perspective, was Dumba healthy enough to be effective? Did he hurt the team by playing, instead of letting a healthier player fill that spot?
Very few Wild players should have their postseason play escape criticism. Kirill Kaprizov and Joel Eriksson Ek are slam-dunk members of that group. Dumba should be included among them because the answers to the big questions are, Yes, he was able to be effective on the ice, and No, Minnesota didn't have a better option than a less-than-100% Dumba.
Not only was Dumba capable of playing well for the Wild, but he was also one of the very best 5-on-5 defensemen in the playoffs this year. 97 defensemen have played 50-plus 5-on-5 minutes this postseason, and Dumba's 66.3% expected goal share ranks fourth. That's second on the team to Jacob Middleton (74.7%).
Not only was Dumba a positive force on the blueline, but he was also consistent. In five of his six games, he controlled over 50% of the expected goal share. The only game he didn't was Minnesota's Game 2 win when he controlled merely 48.7%, which is virtually a draw.
Middleton was positive in all six games, but the rest of the Wild blue line? Yikes. Jared Spurgeon broke even or better in four of six games. His defensive partner, Jonas Brodin, somehow only controlled the majority of play in two games of the series, including zero after Game 3. Minnesota's third pair combined for just three such games in 12 starts.
Dumba wasn't riding anyone's coattails, either, shying away from the play. He was active with the puck and in making things happen. Corey Sznajder is tracking microstats throughout the playoffs. These involve things like assisting on shots (rather than just goals), how effectively players enter the offensive zone, how efficiently they exit the defensive zone, and more.
He stood out by virtually all those metrics, meaning that when Minnesota's defensemen were getting involved in the play, it was probably his doing. He was the only Wild defenseman with an above-average rate in generating both shots and shot assists. Only Brodin was more effective in transition, as well.
On the defensive side, his supposed Achilles' Heel, no Wild player allowed fewer controlled zone entries, or zone entries followed by scoring chances.
All in all, Sznajder's microstat game score rated Dumba as the most effective defenseman of the series and the 11th-best defenseman (on a per-minute basis) in the postseason. Some notable blueliners he finished just ahead of include stars Charlie McAvoy, Roman Josi, and Aaron Ekblad.
[caption id=attachment_125619" align="alignnone" width="608]

Courtesy of Corey Sznajder[/caption]

 

Sure, the penalty kill was rough, but it's been awful for the Wild all season. The issues go past Dumba or even any individual player. If you trusted, say, Jon Merrill and Alex Goligoski eating those PK minutes over the Dumba/Brodin pairing, raise your hands. That's right, we can't see any hands raised.

 

And again, this is all less than a month removed from puncturing a lung. There's a bigger argument to be had over whether players should play after scary injuries, or whether it should be praised or not. But you can't deny that there isn't something to be said for being able to willing to play after that. To do so at a high level is impressive, even if it's problematic.

 

Yet, Dumba is still considered a prime candidate to be moved this offseason.

had general manager Bill Guerin on his show Thursday, where Barreiro pushed the GM on whether Dumba had to be traded to keep Fiala.

 

"Why is it always Dumba [brought up in trade rumors]?" asked the agitated GM. "Matt Dumba does a lot of good things for this organization. He's played some pretty damn good hockey, and you know what? Most people in his position and his health probably wouldn't have played [in the playoffs]."

 

It's the clearest, most public indication yet that Guerin and the Wild value the play and leadership Dumba brings to the team. And perhaps enough to keep him after yet another summer of uncertainty.

 

"If I sound a little pissed off or annoyed, I am," Guerin continued. "Because all I hear is Matt getting dumped on, and it's not easy doing what he did. I like Matt Dumba, I think he's a damn good defenseman, and people want to ride him out of town because Kevin had three good months."

 

The Wild had way too many passengers in their six-game playoff stint. It's obvious that Guerin doesn't count Dumba as among those passengers. Virtually every metric didn't count Dumba as a passenger. So why is anyone else doing so? As for looking ahead to the summer, how can anyone hear that interview and conclude that Guerin will cast his lot in with those "dumping on" Dumba and move him this offseason?