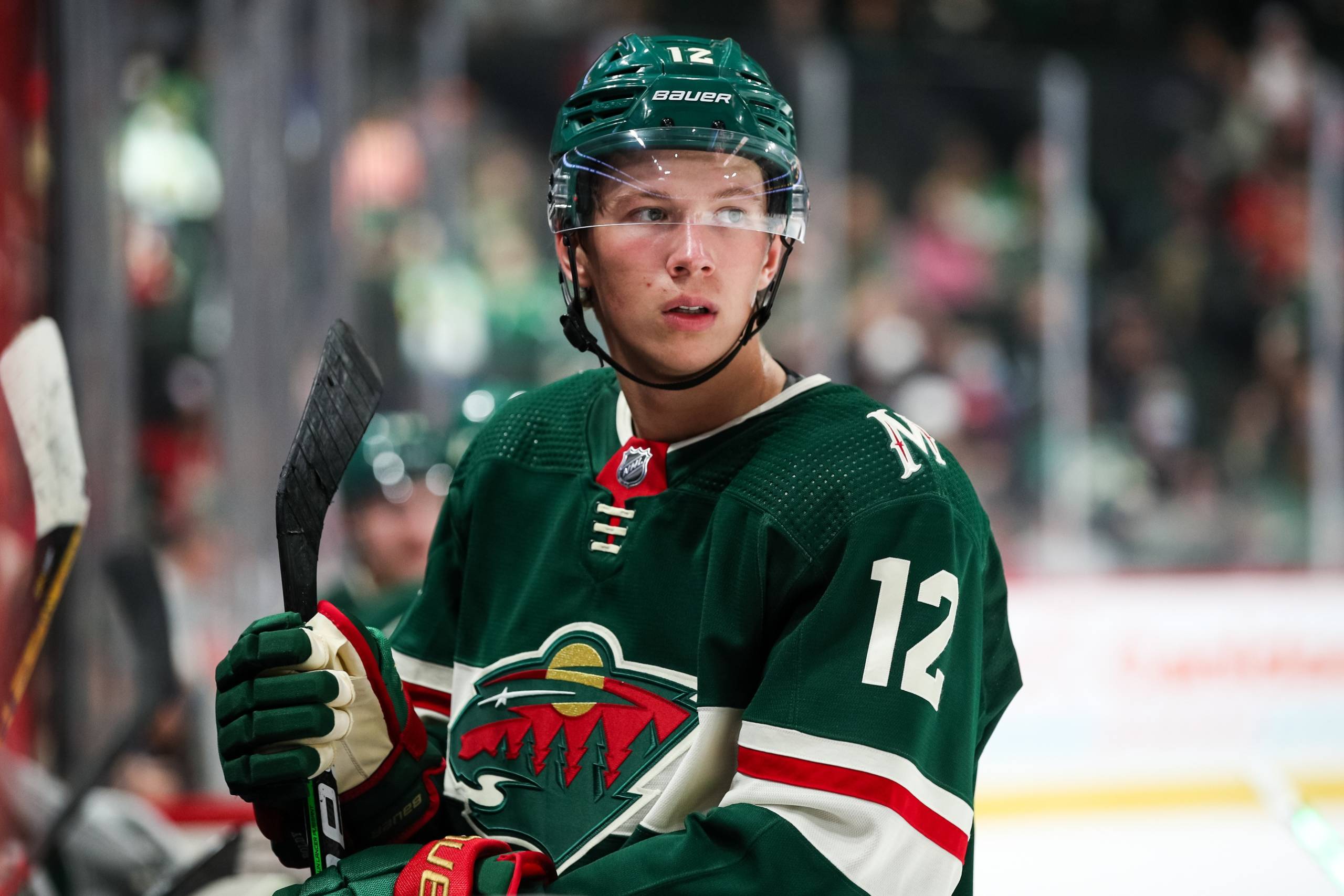 It wasn't a foregone conclusion that Matt Boldy was destined for Iowa when the Minnesota Wild's training camp was wrapping up in September. Sure, accounts will say that Boldy didn't do enough to earn the spot. And yes, the writing was on the wall when Bill Guerin plucked Rem Pitlick off the waiver wire. But the Wild kept giving him high-profile chances, holding out hope that Boldy would show that he was ready for the jump. But in the fifth pre-season game, Boldy got twisted up in the corner and suffered a fractured ankle.
It's been a long road back to full health since then. "Six weeks is a long time, no matter what anyone says," Boldy described. "It was hard. Mentally, there's ups, and there's downs. I think I got taken care of really well up there in Minnesota and here. Those guys were really taking care of me." While it wasn't the big club, Boldy would much rather have spent six weeks destroying the AHL on a deep Iowa Wild team.
Fast-forward to last week, when reports came out that Boldy was skating and could make his debut in Iowa by the weekend. He delivered in his season debut by scoring two goals and adding an assist in Friday night's matchup against the Tucson Roadrunners. He was powering through checks, hustling to loose pucks, and making agile plays. You know, types of plays that he wouldn't be able to make if his ankle was still bothering him in any way.
In Boldy's Debut Part Deux, the former 12th overall selection by the Paul Fenton-led Wild faced a much tighter Roadrunners team. Tucson played physically all game long and clogged up the neutral zone. They weren't going to see the sequel play out similarly by giving the former Boston College Eagle time and space. Still, he added another goal to his stat sheet for the weekend, Iowa's only tally of the game. Suddenly, after two games, Boldy is tied with Marco Rossi, Mitchell Chaffee, and Adam Beckman for fourth on the team with three goals for the season.
But there is more brewing with Boldy than highlight-reel goals and assists. Despite being on the shelf for almost six weeks, there is palpable chemistry between Boldy and Rossi. Rossi assisted on both of Boldy's goals on Friday. And those are just the ones that went into the back of the net. They nearly connected on many more opportunities. From one-touch passes to waiting for passing lanes to open, both were trying to set each other up in a spot to score.
This chemistry was highlighted as Iowa pushed for the game-tying goal in an empty-net 6-on-5 situation late Sunday. Boldy took up residence in his familiar right offensive circle, while Rossi was on the right point. Both played catch back and forth, maintaining puck possession, but the puck just wouldn't go in. Boldy hit former UND netminder and current Roadrunners goalie Zane McIntyre in the mask, and Rossi hit the crossbar in the waning seconds.
"I played a few games with [Marco] in training camp, so I knew what to expect a little bit from him," Boldy said post-game on Friday. "We created a lot of chances and got some goals."
The chemistry was noticeable right away. In the play leading up to Boldy's assist, Rossi found different ways to get No. 12 the puck. Whether it was a zone entry on the rush or leaving the puck for him near the boards in an attempt to set up the offensive attack, the two were operating on the same wavelength.
Rossi is more "subtle," as Iowa Head coach Tim Army explained. "Where Bolds kinda takes you out of your seat. They both think at the same level. They just get there a little bit differently."
Both Rossi and Boldy have posted over a point per game so far in the AHL. When Boldy joined the Wild after his season with BC ended, he scored six goals and tallied 12 assists or 1.29 points per game. Rossi had three goals and 11 assists through nine games, or 1.22 points per game BB (Before Boldy). In only two games together this season, Boldy's goal Sunday pushes him to two points per game, and Rossi bumps up to 1.5.
Maybe three points each night is not going to happen. Realistically, though, they are going to get ample time to develop together on the same line. What will happen is that there will be a lot of scoring chances. Plus a bunch of shots. On Friday, both took three shots each. On Sunday, they combined for eight shots on goal. That's 14 shots on goal in just six periods of hockey together. To put it another way, both players added up to 21.21% of the Wild's total shot output. "They're both young. They talk. They get along well, and they talk on the same level," Army said. "It's the little nuances like where they put pucks...not a lot of guys can think like that." 
If that's the case, the Minnesota Wild won't just need to make room for one of them. If they're this good together, they'll need space for both. Easier said than done, of course. Though, if the Wild are going to make a push through the playoffs, adding a duo like them shouldn't create any hard feelings à la Martin Hanzal. It just makes the team lush with depth much deeper and deadlier.