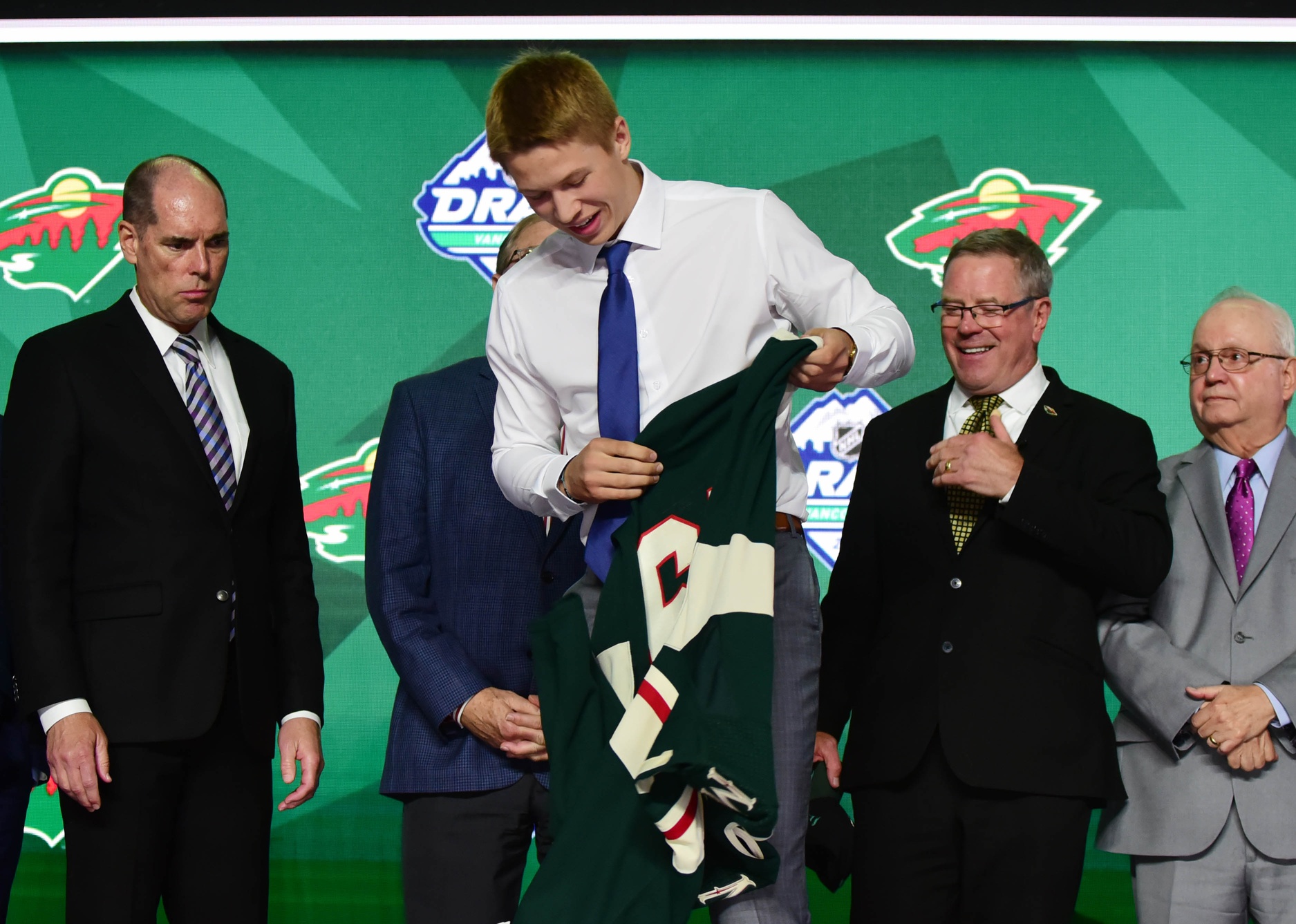 The prevailing theme with the Minnesota Wild's losses in Games 2, 3, and 4 is "Waste."
Minnesota broke through Marc-Andre Fleury in Game 2, scoring the first goal of the game courtesy of Matt Dumba. Eighteen seconds later, Jonathan Marchessault erased that lead. A wasted opportunity to throw a knockout punch to go up 2-0 in the series.
In Game 3, Ryan Hartman and Joel Eriksson Ek spotted the Wild an early 2-0 lead. They went to throwing it away in the second period, getting outshot 22-5 and outscored 3-0. They wasted an opportunity to maximize their chances at a comeback, but instead kept their stale lines together.
The Wild power play was the culprit for wasting Game 4. They were put on the man advantage 11 seconds into the game, before anyone even worked up a sweat. They got a chance to set the tone for the game and get the crowd roaring by cashing in. Instead, Minnesota had one shot to show for a punchless effort.
Then in the second period, down 2-0, the Wild were blessed with a golden opportunity to tie it up. Zach Parise took a stick to the face, giving Minnesota a double minor, and the opportunity to score on two power plays. By the time the double minor expired, Mark Stone put the Vegas Golden Knights up 3-0.
Minnesota has drawn precious few penalties in the series, with just 16 power-play minutes in four games. They have no goals to show for those opportunities.
Why has Minnesota struggled so much on the man advantage?
It starts with zone entries. Vegas has been extremely disciplined in preventing clean zone entries to Kirill Kaprizov and Kevin Fiala. This discipline forces either outright breakups or for the Wild to dump and chase. When they do take what the defense gives them and dump the puck, they've won precious few board battles.
Here's two quick sequences from Game 4's first power play. The Wild lose a face-off and immediately set to retrieve the puck from along the boards. Fiala can't get the puck, and Victor Rask can't tie up Alec Martinez behind the boards. Reilly Smith gets the puck for the easy clear. The process repeats itself seconds later when Kaprizov and Fiala can't recover the puck on a dump, leading to a William Karlsson clear.
https://twitter.com/OhHiTony/status/1396896315158581248
Once Minnesota does get possession in the offensive zone, they can't create havoc or even get open in front of the net. You can see this during the double-minor, when Fiala takes the puck behind the net. Vegas plays good defense here, yes, but look at Nick Bonino (left) and Rask (right). Neither get open. Neither even move very much, both being stationary in bad shooting positions.
https://twitter.com/OhHiTony/status/1396897341773271042
Even if Bonino or Rask did collect the puck, there's a massive void in the middle of the ice that Kaprizov and Jared Spurgeon aren't occupying. Eventually, Fiala dumps the puck along the boards to Rask, and the play ends.
Another example can be found on this Game 3 power play. Minnesota has an extended possession, but all the action takes place at the perimeter. Kaprizov is in the middle of the ice, but is essentially penned off by three Knights, and Bonino doesn't leave the crease. There's very little movement, allowing Vegas to cut off the high-danger areas and force low-percentage shots.
https://twitter.com/OhHiTony/status/1396898030998016000
You have to give a lot of credit to Vegas playing a disciplined penalty kill. But really, the Knights are merely exposing flaws long present in the Wild's current first power play unit. Despite running extremely hot at 5-on-5 in April, Minnesota's power play has been very mediocre with Rask and Bonino on the ice.
The Wild generated just 5.97 expected goals per hour with Bonino on the power play, and 5.50 with Rask. That's 136th and 157th, respectively, of the 186 forwards who logged 75-plus power play minutes this year. Looking at the top unit's heat map in the regular season, you can see the lack of movement has always been an issue with them.

Fiala moves around the point, but everyone else shoots from one place, more or less. That strategy doesn't get people open, and as such, the power play runs through Fiala, Kaprizov, or not at all.
All this leads to another massive thing the Wild have wasted this series: Matt Boldy. Minnesota's 2019 first-rounder impressed at Boston College, Team USA for the World Junior Championships, and in Des Moines for the Iowa Wild. In fact, of all players to play more than 10-plus AHL games in their Draft+2 season since 2010-11, Boldy leads them all in points per game.

There's some impressive names on this list — William Nylander, Kyle Connor, and Sean Couturier, to name a few. That kind of point production speaks to NHL readiness.
More specifically, Boldy should be able to help Minnesota on the power play. The things he excels at are solutions to problems that have plagued Minnesota this postseason. His 6'2" frame and strength make him especially adept at board battles. Not only can he win them, but he has the vision to make plays off them. Mike Rupp breaks this trait down excellently in the following video:
On a stacked Team USA during the World Junior Championships, Boldy wasn't the power play's primary puck-carrier on zone entries. Trevor Zegras and Cole Caufield were tasked with that role. It would likely have been the same case in this series, as Fiala and Kaprizov handle the bulk of these duties.
Still, Boldy helped Team USA by being a solid support option on entries. Here's one such play against Team Canada, where Boldy supports this entry. It's a small back-and-forth at the blue line, but it gives the rest of the team time and space to set up. Cam York gets pressured at the point, but Boldy cleanly receives York's pass, then finds Arthur Kaliyev with a beautify pass across Royal Road for a high-danger chance.
https://twitter.com/OhHiTony/status/1396914885578035203
Once Boldy helps his team get possession, whether by supporting entries or winning a board battle, he gets to his real job: wreaking havoc by the net. The difference between watching Bonino and Boldy operate this role is night and day. Bonino stays glued to the crease for tips and screens, but that's just one tool in Boldy's kit.
He constantly moves around the net, looking not merely to get a stick on a puck, but to get open for a pass. He has a knack for finding space in a way that Bonino, with all due respect, can't. Once he gets that pass, he can turn around and fire off a dangerous chance in quick fashion. And on the rare occasions where he isn't moving, it's because he's in perfect position.
https://twitter.com/OhHiTony/status/1396924335743389696
Another thing Boldy brings to the table is his passing around the net. In this way, he's almost like a "point forward" in basketball. He can hold pucks behind the net opponents have to respect his dual threat, creating space for others. In this video, he starts a play against Finland, which leads to a flurry of chances that culminates in a tip-in goal for Boldy. Then against Slovakia, he head-fakes a passing lane to create a much more dangerous one for Kaliyev to score.
https://twitter.com/OhHiTony/status/1396919114489155585
This is all stuff that Minnesota's power play could use, but Dean Evason has inexplicably kept this option off the table. Every challenge put forth to Boldy this year — whether in college, International tournaments, or pro hockey — he's excelled at. There's nothing more he could do to prove that he's ready to contribute.
But despite ample opportunity to play him in Games 3 and 4, Evason sat Boldy for the ineffective Marcus Johansson and career AHLer Kyle Rau. He didn't even travel with the team to Vegas for Game 5. Yet another waste.
Now 240 minutes and three losses into this series, Evason is finally starting to shake up his power play. Eriksson Ek, Minnesota's only real scoring threat this series, and Mats Zuccarello will draw onto the unit in place of Bonino and Rask. Reasonable and defensible adjustments, but with teams down 3-1 in a playoff series having a 29-292 record of winning, these come too little, too late.
Wild fans can take solace in the low pre-season expectations for the team. Few thought they'd be able to advance to the second round, and that's all but proven true. But as Minnesota moseys towards a fifth-straight first-round exit, it's hard not to feel glum. Minnesota isn't just about to fall to their preferred playoff opponent. They're about to do so without having even thrown their best punch.