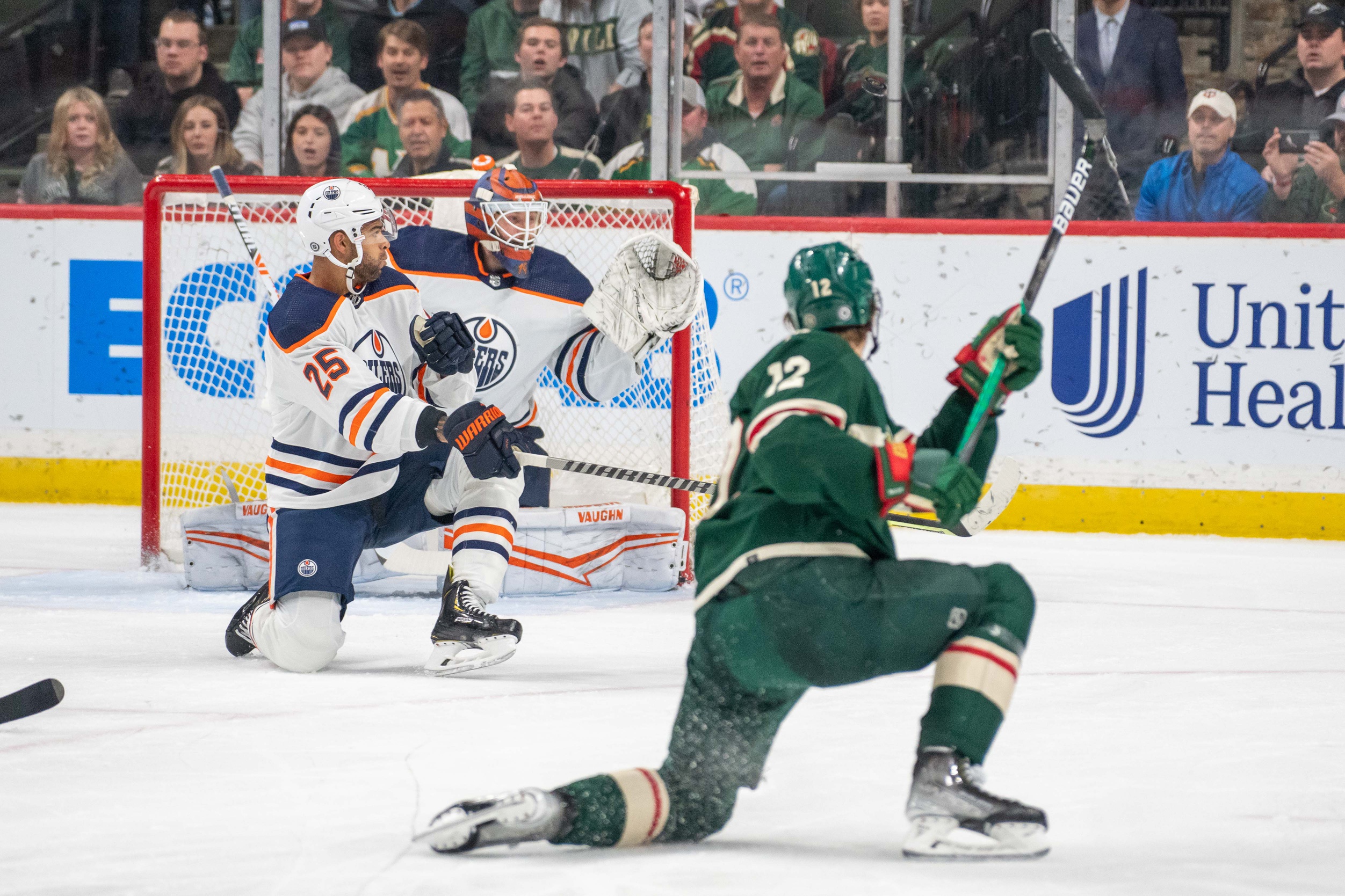 It wasn't even four months ago when Minnesota Wild fans celebrated Matt Boldy's first goal. Taking the ice on a January tilt in his hometown of Boston, Boldy didn't look remotely out of place. Debuting under the bright lights of a national ESPN broadcast and with his family in attendance, he executed a perfect give-and-go with Marcus Foligno for his first goal. As an added bonus, it stood as the game-winner.
It was arguably the first shot in the Wild's upcoming youth movement. Yes, Kirill Kaprizov took home the Calder Trophy the year before. Still, as a 2015 draftee, Kaprizov's age lands him in the same group as Joel Eriksson Ek, Jordan Greenway, and Kevin Fiala. He was a rookie, yes, but a prospect in name only.
That isn't the case with Boldy, 21. The Wild are pinning their hopes of contending over the next several years on him and fellow prospects Marco Rossi, Calen Addison, Adam Beckman, Jesper Wallstedt, Carson Lambos, etc. becoming contributors. It's an impressive glut of youngsters, all looking to break into the NHL in a two-year span.
In the meantime, though, Boldy is primed to help the Wild contend this year. Forty games after his debut, he looked no less out of place, scoring a brilliant between-the-legs goal against the Montreal Canadiens.
There's so much going on here that it's hard to figure out what exactly to praise. Do you bring attention to the way the 6'2" forward effortlessly got to the net? Or his brain for being able to instantly recognize the best patch of ice to maximize his chances of scoring? Was the highlight really about his tenacity, never giving up on the play after a missed shot? Or do you just exclaim My god, look at his HANDS!!?
As magical as those moments from Games 1 and 41 are, though, the real reason for excitement is what happened in between. With his 41st game wrapped up, Boldy's played exactly half an NHL season. It's the perfect time to start seriously evaluating him as a player. Forty-one games isn't the largest sample size in the world, but it's big enough to feel some confidence in his talent level.
Plus, there's the added convenience of being able to double his totals to get an idea of what he can do in a full season. And if we're using that as a starting point, Boldy's 15 goals and 35 assists become a 30-goal, 70-point season. You can literally count the number of Wild players who've done that on one hand.
A pre-season ankle fracture and what was essentially a rehab stint in the AHL limit him to a maximum of 47 games, all but taking him out of serious Calder Trophy consideration. Take out the games-played considerations, though, and he's having arguably the best rookie season in a loaded 2021-22 class.
Scoring at a 70-point pace (or 0.85 points per game) as a 20-year-old rookie is historically good in the salary cap era. If he finishes the season at that pace, he'll be one of 11 under-21 rookies to accomplish it since 2005-06. The others are Alex Ovechkin, Sidney Crosby, Evgeni Malkin, Connor McDavid, Mathew Barzal, Elias Pettersson, Brock Boeser, Patrick Kane, Patrik Laine, and Anze Kopitar.
When half of your historical comparables have 1000-plus points on their resume (and that doesn't even include McDavid), you're doing something right. Even the lower-end outcomes of this group are awesome. Laine's a modern-day Dany Heatley, and Boeser racks up 30 goals per 82 games while consistently driving offense.
But like Kaprizov last year, Boldy's crossing over from great for a rookie to simply great.
His production at 5-on-5 is elite. He's currently tied with St. Louis Blues star and budding Wild-killer Jordan Kyrou for 13th in the NHL with 2.96 points per hour*. Just looking at goals, he's seventh, with his 1.42 per hour rate trailing only Auston Matthews, Filip Forsberg, Vladimir Tarasenko, Andrew Mangiapane, Ryan Hartman, and Nathan MacKinnon.
Even his all-situations scoring rate, bogged down slightly by a lengthy stint on Minnesota's abysmal second power-play unit, is tied with Kane for 35th in the NHL. The rookie is still managing to live in the same territory as stars like David Pastrnak, Jake Guentzel, and Sebastian Aho. Among the 21-and-under crowd, he's second in the NHL, sandwiched between Jack Hughes and Andrei Svechnikov.
Most talk surrounding Boldy concerns his chemistry with Fiala. The two have formed a second version of the Kaprizov-Mats Zuccarello tandem that dominates Minnesota's top line. Fiala has registered a goal or assist on 22 of Boldy's 35 points this season.
Fiala has 30 goals and 75 points on the season, which may leave most fans viewing Boldy as a Zuccarello-type player. Zuccarello is a great player who makes Kaprizov better. But let's be honest, he didn't become a point-per-game type until joining forces with Kaprizov. Boldy was a great prospect, but is his rise attributable to being the second star on his line?
Sure, it helps to play with a great skilled player like Fiala, but thinking of Boldy through that lens underrates his ability to drive the bus. Fiala and Freddy Gaudreau were a tandem before Boldy arrived. Guess when they took off and became one of the league's most dominant lines?

Fiala might have an edge in pure skill, and his puck-dominant style gets him scoring chances galore. He shouldn't change his approach, it very clearly is working for him and the Wild. But he didn't get those brilliant results without all the things Boldy does.
Boldy's size and hands extend so many offensive zone shifts. He's a puck magnet who can weave through traffic others can't and seemingly never loses a board battle. What happens when you combine that with a great shot and an ability to make difficult passes look easy? We've seen it. Fiala went from drowning without a running mate to excelling with an equal star alongside him.
While calling Boldy equal to Fiala in stardom might seem like a bold proclamation for a rookie, there's a statistical case that even that underrates him.
According to Evolving Hockey's Goals Above Replacement rating, Boldy's been worth 4.1 points in the standings for Minnesota. For a team jockeying for home ice against the St. Louis Blues, that's a massive boost. For context's sake, he's tied with Zuccarello for third on the team in value (behind Kaprizov and Alex Goligoski).
It might be even more impressive when you look at it league-wide. His 4.1 Standings Points Above Replacement (SPAR) is tied for 77th in the entire NHL. Through 41 games, he's made the same impact as full seasons from Crosby, Kane, and Kyrou. All despite playing just 632 minutes — more than 200 less than anyone else in the league's Top-100 skaters.
If this is what he can do now, what can he accomplish in a full season? Let's not even assume he can improve on this year's performance, or add more value with more minutes than the 15:25 he gets a night. We'll just crudely double his half-season and say his 82-game upside is 8.2 SPAR.
That number would rank him fifth in the NHL, behind Johnny Gaudreau (10.2 SPAR), Matthews (10.1), Mikko Rantanen (9.1), and Michael Bunting (8.6), with McDavid (8.0) joining him in the 8 SPAR Club. As sacrilegious as it may sound, Boldy's performance would even eclipse Kaprizov, whose 6.6 SPAR is tied with Aleksander Barkov for 14th in the NHL.
Are these lofty expectations? You bet. Is this putting him in too rarified air? No, or at least, not more so than his performance demands. Looking at all 20-and-under players* in the Analytics Era, just two players have had seasons where they made a bigger impact than Boldy on a per-minute basis. Those would be McDavid in his age-20 season, and Crosby in his age-20 season. That's it.
Four months ago, Boldy was a promising young prospect who would hopefully help the Wild. Now he's an absolute star, and his meteoric rise gives Minnesota a second punch behind Kaprizov's line they just didn't have in last year's playoffs. And somehow, he's showing that he might even be more than that. He isn't just poised to lead the youth movement in Minnesota. What he's doing hints that he can join the ranks of the very elite players in the NHL.
* among players with 500-plus minutes
All data via Evolving Hockey unless noted otherwise.