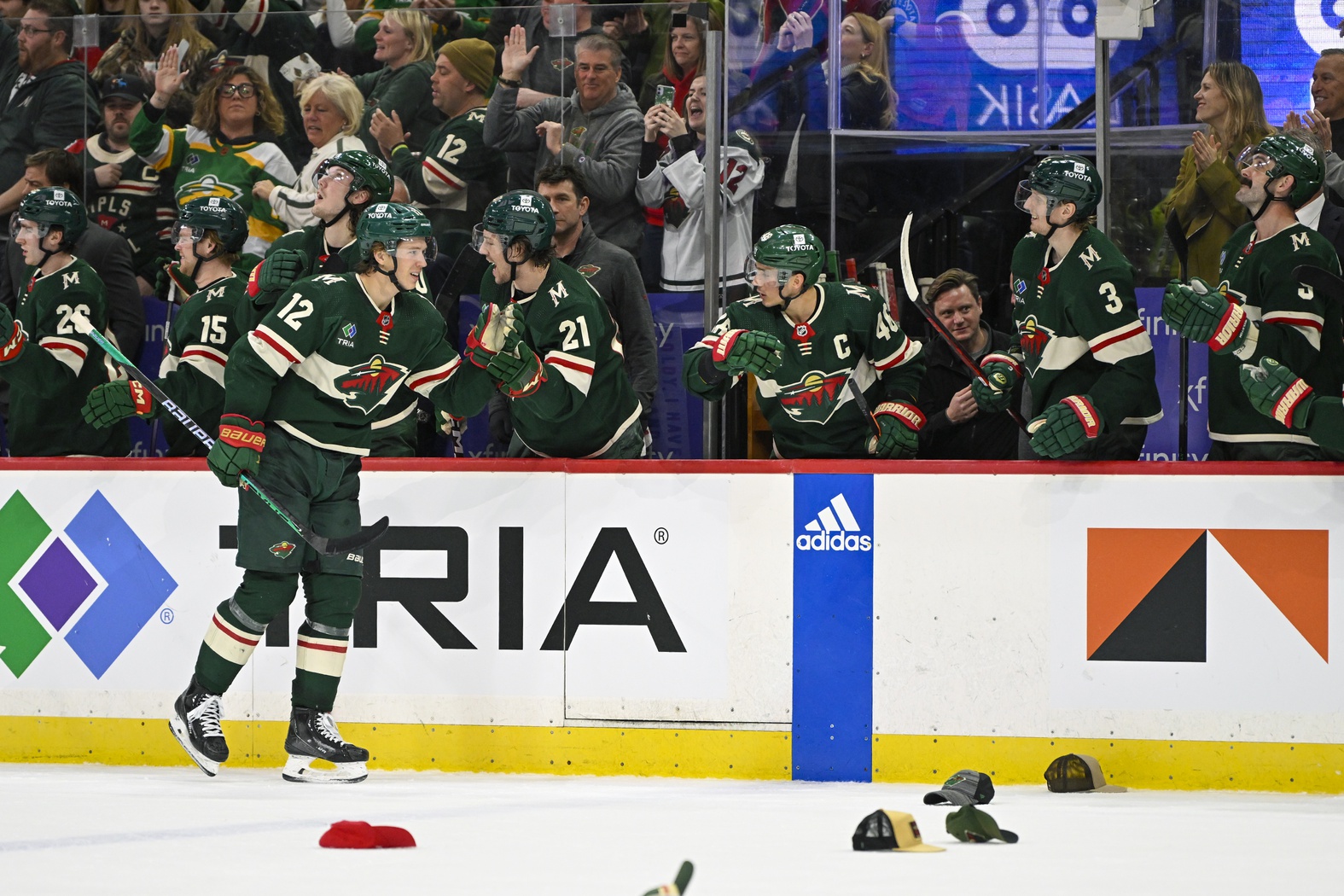 The NHL has a miracle cure to heal any slumping player: Shooting more. 9 out of 10 Coaches recommend it! It's very good advice. More shots not only lead to more chances for yourself, but also, chances for rebounds, or for your teammates. The old axiom of "There's no such thing as a bad shot on goal" might not be 100% correct, but in spirit? Yeah, it holds up.
For 55 games, Matt Boldy was in a deep slump. In the four months between November 3 and March 8, last year's rookie sensation only netted 11 goals. Over an 82-game pace, that's 16 on the year, barely more than the 15 he scored in 47 games.
Any hockey person looking at a player like that would say Shoot more. And yeah, that's great advice. The only problem? Boldy was shooting more. In those 55 games, Boldy shot 171 times, over three per game. That's enough to put him among the 52 forwards to muster three shots per game all season.
Instead of Shoot more, maybe the advice to give Boldy was, Keep shooting like that. Eventually, they'll go in. Whatever anyone told him, Boldy's seeing a resurgence from mostly doing his thing and reaping the rewards.
Especially since Kirill Kaprizov went down to injury. Since then, the Wild have thrust Boldy into Kaprizov's role. Not necessarily with linemates, as he's still playing with Joel Eriksson Ek and Marcus Johansson. In terms of role and minutes, though, the Wild are the Boldy Show, and he's responded.
There might not be anyone in the NHL hotter than Boldy since Minnesota's first game without Kaprizov on March 11. In that time, Boldy has six goals and 10 points. The points are tied with some of the league's heaviest hitters like Johnny Gaudreau, Mika Zibanejad, Cale Makar, and Tim Stutzle for ninth in the league. Only Matthew Tkachuk and Clayton Keller match his six goals.
Those are also some huge goals. He got a hat trick in a 5-3 win over the Washington Capitals on Sunday. Of course, the biggest goal might be his game-winner last night against the New Jersey Devils, where he scored an incredible goal in the waning seconds of overtime.
He went from Sophomore Slump to Sicko Mode at the drop of a hat. It's like a Shasta version of those peak Pittsburgh Penguins teams from the early 2010s, back when Sidney Crosby frequently got injured.
With Crosby around, Evgeni Malkin was the best possible version of Robin to Crosby's Batman. But whenever Crosby went out for an extended period of time? He'd do something insane like put up 60 points in 40 games. Again, Crosby and Malkin are Classic Coke, and Kaprizov and Boldy are Shasta Cola in this metaphor, but you can see a similar dynamic playing out.
Some of this is positive regression to the mean, of course. During his elongated slump, Boldy only shot 6.4% over 55 games. Even if you didn't buy the hot shooting he had in his first 57 career games (21 goals on 145 shots, or 14.5%), no one thought his true talent was 6.4%.
Now we're seeing a hard rebound back the other way. In these past six games, Boldy is shooting more... but perhaps not much more than you'd think. Boldy had 203 shots through his first 65 games, or 3.12 per game. In these last six games, he has 22 shots, or 3.67. That's a whole half-shot per game. Nothing to sneeze at, but it's also over a shorter sample.
The difference is his shooting percentage hitting 27.3% over those six games. A well-deserved spike, all brought to you by volume shooting.
We tend to associate volume shooting with basketball, someone like Anthony Edwards. But finding the space and time to get a bunch of shots off is a crucial skill in hockey, too. All season long, even during his slumps, Boldy has shown that is a gift he possesses.
He's near the top of the NHL in shots per hour. Among the 334 forwards with 600 or more minutes in all situations, Boldy ranks 32nd in the NHL with 10.4 per hour. That's just above... elite shot-generator Kevin Fiala, for example.
It gets even better. It's hard to find anyone in hockey who gets as many clean looks at the net as Boldy does. In terms of unblocked shot attempts, Boldy ranks 18th in hockey with 15.5 per hour. Top players in that neighborhood include (Matthew) Tkachuk (15.6), William Nylander (15.6), and a guy you maybe know as "Dolla Bill Kirill" (15.4).
Getting those kinds of opportunities is a huge deal, even if Boldy's slump tarnishes it slightly. Jack Hughes and Cole Caufield are the only Under-22 players to shoot more frequently than Boldy this year.
It portends big things when a player can get so many scoring chances at such a young age. Let's use Boldy's 15.5 unblocked attempts per hour as the cut-off and look at players who've averaged Boldy's rates or more before turning 22.
One fun game to play whenever you see a list like this is: Who's the worst player here? There are players that are a clear step below obvious Hall of Famers like Forsberg, Laine, Seguin, or Skinner. But even those players have 40-goal seasons and multiple 30-plus-goal seasons under their belts.
It's probably Kane, no? So if the absolute worst-case scenario for Boldy is a 300 (well, 299 currently) career goal-scorer who's averaged 29 goals and 55 points per 82 games, that's incredibly good.
Boldy's hot streak is making his numbers look increasingly more like last season. His 23 goals work out to 0.32 per game, which is exactly where he was at during his rookie season. A drop-off in assists (mostly due to his 5-on-5 struggles) put him at 0.73 points per game, which is down from last year's 0.83. Still, that's around a 60-point pace. If he hits that, Boldy already will become one of just 17 players in Wild history to accomplish that.
The really exciting thing with Boldy is how he's running with the mantle of replacing Kaprizov on his shoulders. He's taking over games and heating up just in time for the playoffs. As important as that, though, is that his success is being built on the things he's done very well, very consistently all season. That's nothing but great news as the Wild barrel towards the postseason.