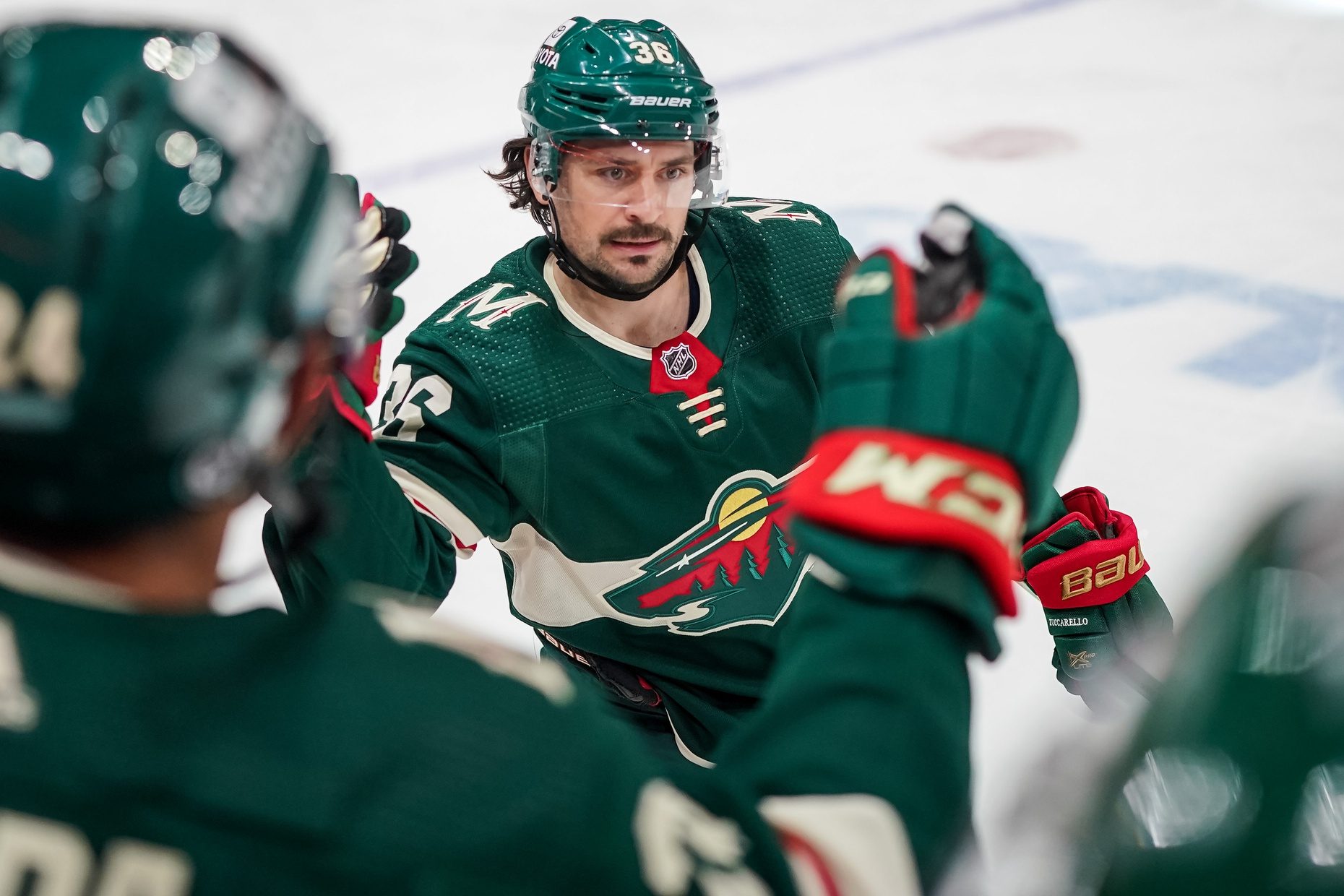 As the only current NHL player to hail from Norway, Mats Zuccarello's road to being the star he has become has been a fun ride. At 34 years old, he's still having fun playing hockey and is having one of his best seasons to date. Zuccarello keeps scoring as the Wild keep winning. It helps to have one of the most dynamic forwards in the league in Kirill Kaprizov on the opposite wing, but Zuccarello is a superstar in his own right.
Norway is not a hockey hotbed like its neighbors Sweden and Finland. Only a handful of Norwegians have made it to the NHL, and none have made a bigger impact than Zuccarello. But he had to climb the ranks in Norway's hockey system and still went undrafted. Zuccarello played three seasons in Norway's premier league and two for Modo Hockey in Sweden's best hockey league. He dominated to the point where the players voted him the Most Valuable Player in his last season in the SHL.
After standing out in the European leagues, the New York Rangers signed Zuccarello in May 2010. He started his North American career in the AHL but was called up to the big leagues when former Wild winger-turned-Ranger Marian Gaborik was injured. He entrenched himself with the team and played in New York for nine seasons. Zuccarello quickly became a fan favorite and smashed virtually every NHL record for a Norwegian player. To date, he holds the titles for Norwegians in goals scored (153), assists (314), games played (652). No one else even comes close.
Fans still love Zuccarello in New York. During Friday's Wild game at Madison Square Garden, the nearly 18,000 fans in attendance cheered for Zuccarello when he had the puck and chanted his name. "I had a special relationship with the fans," he said. "I had been here for nine years. They were great to me when I was here." Zuccarello played a role in the Rangers' multiple playoff runs, including a trip to the Cup Final against the Los Angeles Kings, which they ultimately lost.
Zuccarello became the first Norwegian to play in the Stanley Cup Finals in that run. If Zuccarello ever wins the Cup, he will be the first to bring it back to Norway.
Former Rangers GM Glen Sather was a big fan of Zuccarello in his New York days. "I like everything about him," he said, "his tenacity, his hard work, his seeing the ice, the way he plays, the chemistry he brings to our team, and the way he is in the dressing room. He's been a perfect player for us."
While that was said nearly seven years ago, it's all still true. And Zuccarello brought all of that star power with him to Minnesota.
Zuccarello is known for his friendships with teammates, most notably his relationship with former Rangers goaltender Henrik Lundqvist. Those two are as tight as you can get, and you don't see many relationships like that in professional sports leagues. When the Rangers traded Zuccarello to the Dallas Stars a few years back, Lundqvist broke down in tears because he was sad to see his good friend leave the team, and Zuccarello felt the same way.
"You have it in your mind that you're gonna spend the rest of your life," he said, "your career there so, suddenly in a matter of moments, you're gone. All the friends and relationships that you had are gone in a second almost. It was emotional for me as well."
It's a testament to his character, showing how well-liked he is on any team he's on.
So when the Wild were in town for Lundqvist's number retirement ceremony, Zuccarello was excited for the opportunity to witness something so special. He was glad to be able to see Lundqvist and his family the day before the game, as they're very close. "Just for us to be able to be there and play that game, and be there for that, it's just special."
Zuccarello has become a great leader for the Wild. He is often the one to calm down the team in between periods and keep everyone going. All of his days spent in New York City have led him to be the player and person he is now. It's almost impossible to find someone who doesn't love the guy.
To top that off, he's having one of his best seasons yet. Zuccarello recently had a streak of six games where he scored more than one point, which only Connor McDavid has also accomplished this season. He also had a ten-game point streak which ended at the hands of the New York Islanders on Sunday. Since Jan. 14, he's tied for fourth in the NHL in scoring with 13 points in seven games.
It's great that the Wild have such a unique player in Mats Zuccarello. He is as complete of a player as you can ask for. Zuccarello puts up points when you need him to, and he's able to rally the team when they need a comeback. He's become an inspiration to young Norwegian hockey players looking to make an impact on the game as well. Hopefully, his success will pave the way for more kids from Norway to make the NHL.