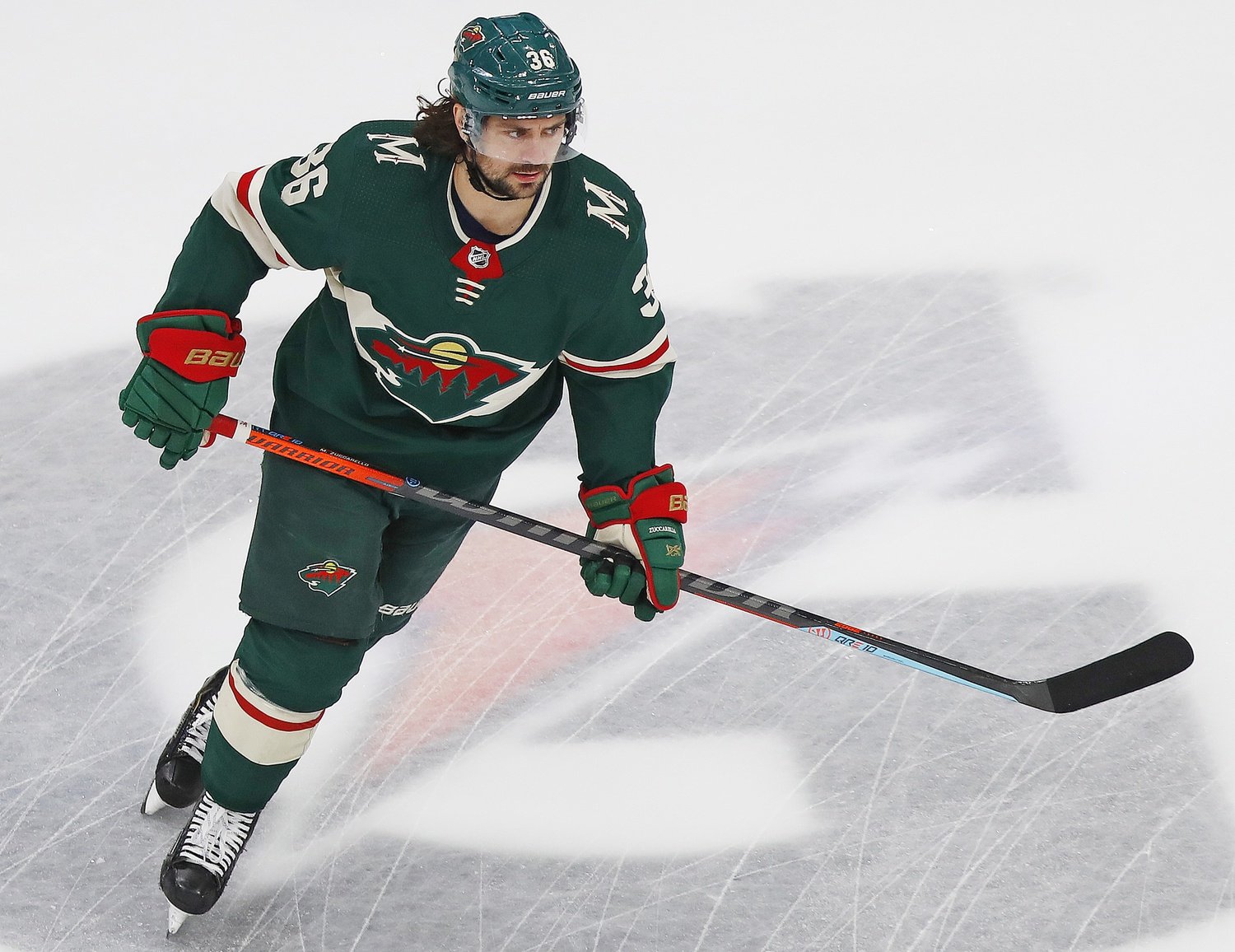 The last thing the Minnesota Wild need is another Zach Parise and Ryan Suter contract albatross, which is why it is paramount that Mats Zuccarello remains a productive player going forward. Even with some expected roster turnover next summer, given the influx of prospects being inserted in the lineup full-time, they can't afford to have another pricey player fail to meet expectations.
Then there are the obvious pending cap troubles next summer. The front office will be operating with a lower cap ceiling than the entire league: roughly $69.76 million if the cap rises to $82.5 million. Therefore, if Zuccarello is no longer an impact player, they won't have enough cap space to ice a competitive team.
If Zuccarello becomes a liability and has to be demoted like Parise was, it would mean roughly 25 percent of the Wild's cap space would be allocated to three players, two of whom don't even play for the organization.
The veteran's no-move clause ends after this upcoming season, becoming a partial no-trade clause. However, Zuccarello will likely finish out the remainder of his contract as a member of the Wild because partial NTC's can easily be manipulated (see: Eric Staal). Plus, his contract is likely too expensive to move anyways. They'd have to surrender valuable assets to do so.
Zuccarello, 34, isn't the top-line player he once was. But he is still serviceable in a top-six role.
An offseason arm procedure led to a late arrival for Zuccarello last season. When he returned, he looked refreshed and motivated, perhaps even returning to elite form. His passing was brilliant, and he had strong chemistry with Kirill Kaprizov. From the eye test, he looked rejuvenated and filled a crucial role.
After his return, Zuccarello registered 11 goals and 35 points in 42 games. His 2.39 points-per-hour at 5-on-5 was the third-highest on the team behind Kaprizov and Marcus Foligno. After a rocky first season in Minnesota, he was phenomenal, but his underlying numbers painted a different picture, meaning his value was likely middling.
It's interesting to note that his top-line assignments came with less difficulty. He spent 16.7 percent of his time against elite competition, an eight-point decrease from the 2019-20 campaign. Dean Evason's deployment of the Foligno - Joel Eriksson Ek - Jordan Greenway line last season factors in here because they took challenging assignments.
However, Zuccarello's shot is underappreciated. He was an average shooter throughout his career, but Zuccarello has been a proficient shooter in Minnesota. He scored 11 goals on 7.8 expected goals, following up a season where he was the Wild's best finisher in 2019-20.
Zuccarello was only worth 0.3 wins last season because of suspect defensive numbers and respectable, but not elite, underlying offensive numbers.

It's hard to understand why his numbers fell last season because he looked like he was making an impact on the ice. His GF% increased, but that could be the result of playing with a star. Unlike Victor Rask, he was able to keep up with Kaprizov. Rask's inability to center Kaprizov's line led to his demotion this season, as it appears he will play on the wing.
However, there's a chance that Zuccarello will regress this season. His shooting percentage was high for a second straight season. His career average is 11.3 percent, yet he was 15.6 in 2018-19 and 14.9 last season. That's worth noting, considering he is a playmaker and hasn't shown this type of accuracy before in his career.
A deeper look into his profile reveals that his individual points percentage (IPP) is unsustainable and a cause for concern. In simple terms, IPP is dividing a player's points by the number of goals a team scores with that player on the ice. Zuccarello has registered a point on 88.46 percent of the goals scored while he was on the ice last season, well above his career average that has floated around 70-72 percent at 5-on-5. There will likely be some regression next season, especially considering the natural decline at his age.
Likely, these results are partially a byproduct of playing with Kaprizov too.
Evolving-Hockey's player projections have Zuccarello projected to be worth roughly 0.7 wins next season -- a slight increase from 2020-21 but still short of a top-six rate. The veteran playmaker has two more seasons on his deal after this upcoming season, so it will be incredibly important that he remains a productive player moving forward, especially with the Wild's cap situation next summer.
In a recent article on The Athletic, owner Craig Leipold said, "The best part is the next five years, maybe six, our window is open."
If Leipold is right about that, it means that Zuccarello likely will be in the organization for half of the window. With the dead cap and any other age-related regression on defense, Zuccarello must remain a player who can play in the middle-six throughout his contract.
The Wild have three key players in Kaprizov, Kevin Fiala, and Joel Eriksson Ek. They also have top prospects who could elevate the team. But this organization will need its veterans to perform, or they won't be able to escape the past failures.
All Data Via Evolving-Hockey, Natural Stat Trick, Hockey-Viz & Hockey-Reference.