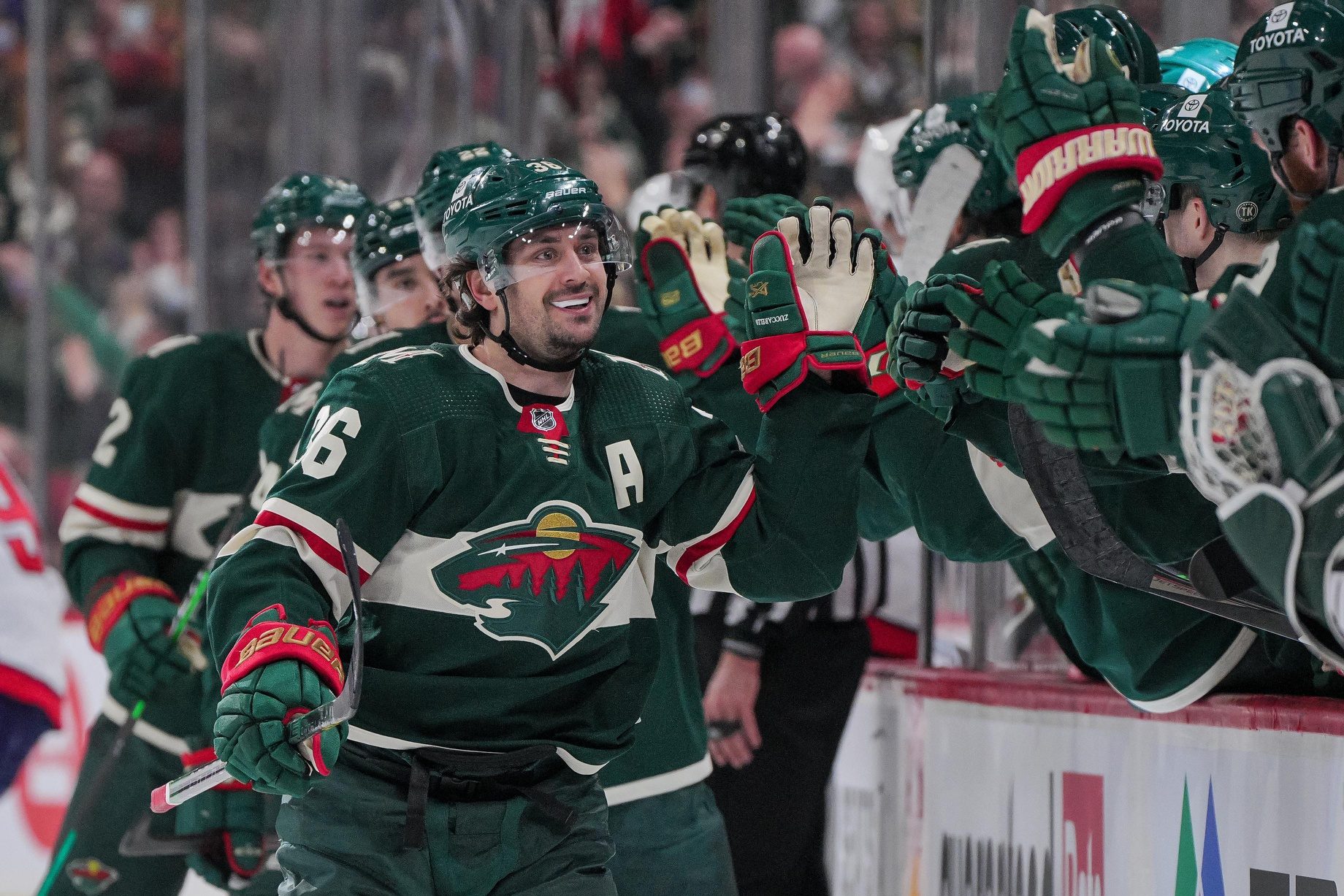 The Minnesota Wild entered Saturday night with nearly $40 million in cap space out of the lineup. Three of its top four defensemen, all gone. Their No. 1 center? Outta the lineup. Its superstar, must-see winger? Yup, he's gone, too. What about their starting goaltender? C'mon, do you even have to ask? There were even missing several depth options for good measure.
And yet, they still found a way to win. They defeated the Washington Capitals in the exact way we've come to expect from this Wild club: a come-from-behind victory in which the Wild waited until the last possible moments to push the game to overtime.
Mats Zuccarello's game-tying goal with 34 seconds left was Minnesota's 11 goal with the goalie pulled on the season, best in the league by three. His heroics in the clutch lifted the Wild to a much-needed victory for Dean Evason and Co. As Minnesota's first tally was an own goal, Zuccarello was the lone Wild player to beat Zach Fucale in regulation. The Norwegian played a season-high 25:17, being leaned on heavily in the absence of Kirill Kaprizov, Joel Eriksson Ek, and Jordan Greenway. He was Minnesota's go-to forward, especially with Kevin Fiala registering three penalties in five minutes. Fiala was benched for much of the third period, leaving Zuccarello to carry the offensive load. He played 11:22 between the third period and overtime.
The 34-year-old came to the State of Hockey to relatively mixed expectations. As the team headed towards a rebuild, Paul Fenton inked Zuccarello to a 5-year, $30 million contract in one of the maligned general manager's final moves with the club. A high price tag and injury-riddled debut season had Wild fans' confidence in him at a low.
Enter Kirill the Thrill, the Russian winger who has seemingly revitalized Zuccarello's career.
Evason found magic in a bottle when he paired Kaprizov and Zuccarello together early last season. Not only did the duo have an on-ice habit of setting each other up with fantastic passing plays, but they seemingly bonded off the ice as well. Perhaps Zuccarello learned some Russian with Metallurg Magnitogorsk of the KHL during the 2012-13 NHL lockout, which he could use to bolster his budding relationship with the Russian superstar. The two bonded from Day 1, and their relationship has paid dividends on the ice.
Now centered by Ryan Hartman, Zuccarello and Kaprizov are one of the best lines in the entire league. Their 6.56 Goals For Per 60 minutes together leads all forward lines that have played at least 75 minutes this season. Hartman has added a dynamic that was often missing with Victor Rask in the middle. He took a pay-cut in favor of a few years of job security, and he's being rewarded handsomely for doing so. Hartman is on a career-high 37 goal pace, in large part due to the playmaking ability of his dynamic duo of wingers.
As great as Hartman has been, Kaprizov and Zuccarello are the real stories with this line. They were fantastic last year and have taken their games to another level this season. Zuccarello has always been a great distributor, but having Kaprizov always in the right place at the right time has made his job that much easier. The two produce highlight-reel plays almost every time they step on the ice.
https://twitter.com/AlexMicheletti/status/1479251586509590531?s=20
While Zuccarello's arrival in Minnesota was clouded with doubt from fans and his debut season lackluster at best, we're now seeing the best of him. On Saturday, he was arguably the Wild's best player in one of the most impressive and hard-fought victories in recent memory. Zuccarello deserves a ton of credit for Kaprizov's success in Minnesota, as the two seem to be best buds on the ice.
Zuccarello's importance to Wild cannot be understated. He's a leader, mentor, and veteran locker room presence. Most of all, Minnesota is simply a better team with him on the ice. His 66.2% On-Ice Expected Goals share in all situations ranks him seventh among all skaters with at least 100 minutes played this season. The next closest Wild player is Kaprizov, with a 62.9 Expected Goals share (via MoneyPuck).
Simply put, the Wild are out-chancing opponents by 23.9% when Zuccarello is on the ice. The only player in the entire league higher than that is Connor McDavid. Not bad company.
Could Zuccarello, and Kaprizov by proxy, hit another production drought as they did early in the season? Quite possibly. But with the form they're in, that doesn't look like it will happen anytime soon. Zuccarello knows how to get the best out of Kaprizov and vice versa. Wild fans get to watch two of the game's finest playmakers make magic happen every night. Until that drought occurs, or one of the two is no longer on the team, Wild fans may as well enjoy the show.