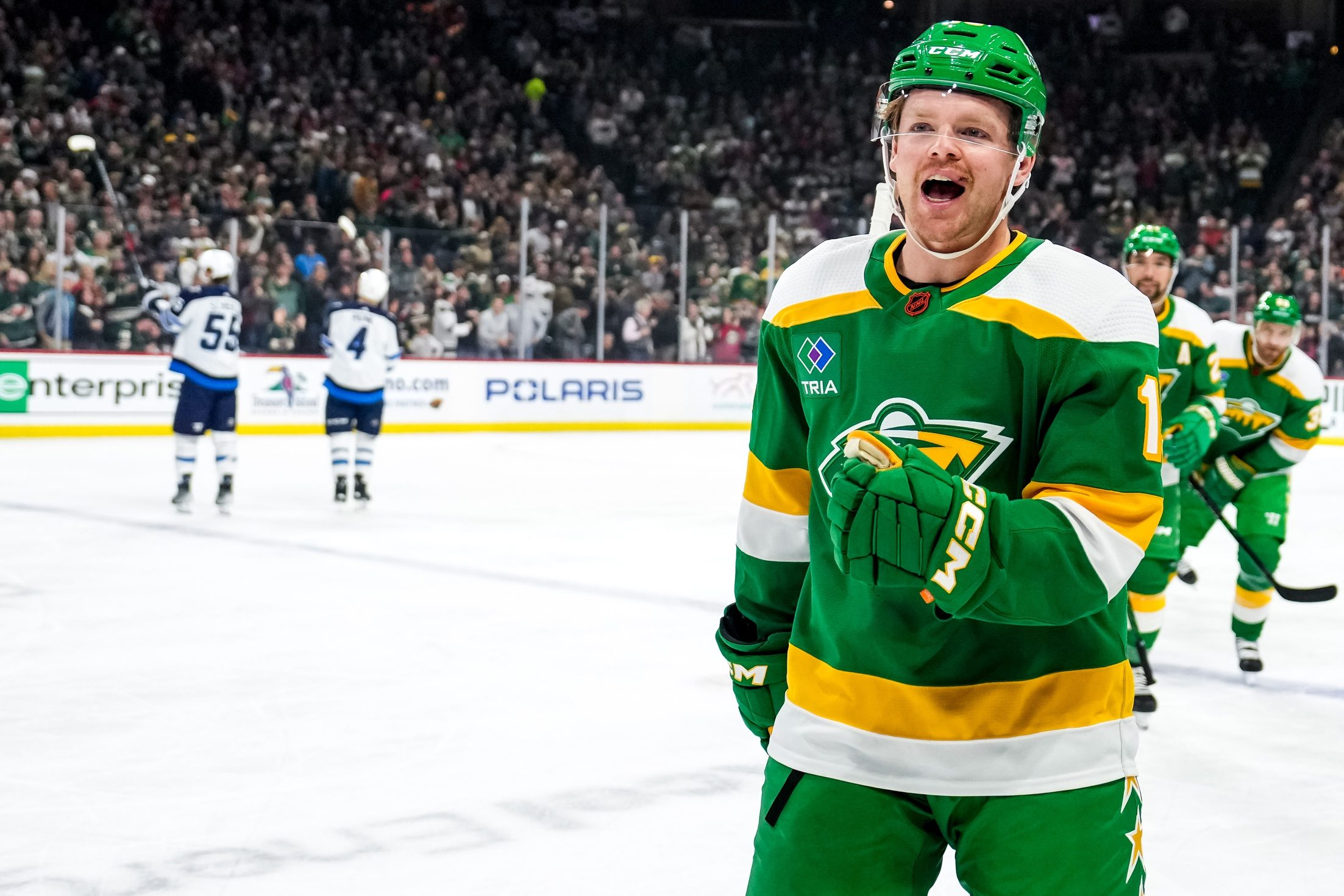 Nobody gets excited about a fourth-round pick at the NHL Draft. Even first-rounders can be years away from making a splash, and for every Kirill Kaprizov you might snag in the fourth round, there are 99 other kids who don't become stars. About 83 of those 99 won't even play 200 games.
But at the 2017 Draft, at least one NHL scout was excited enough to slide into the DMs of an unknown blogger to rave about fourth-round pick Mason Shaw.
"Shawzie is a player," they said.
Really? The 5'9" kid who just waited for 96 picks before hearing his name called?
"Medicine Hat's coaching staff called him a 'once in a decade' type of character kid. Could have been a captain at 16. Produced at every level, including on a [torn ACL]."
Was Shaw aware that he had NHL scouts evangelizing for him while awaiting his turn at the draft?
"No, not really, to be honest," Shaw told 10K Rinks in January. But he very clearly remembers a line of advice that's stuck with him on his long, difficult journey to the NHL.
"It's gonna be a long time [before] you can ever put on that jersey again. I remember that day someone telling me, 'Don't let this be the last time you put that jersey on.'"
Excluding training camps, Shaw put his Wild jersey on for the second time on December 9, 2021. Today, he still puts the jersey on as a full-time NHLer. But he didn't get there by being a once-in-a-decade kind of person. He had to go on a once-in-a-century journey to get there, overcoming massive odds and doing nearly unprecedented feats.
During the four and a half years in between, he came back from two more ACL tears, making it a total of three for his career. That's the kind of injury that can derail a career the first time, and it happened twice more. Once in 2017, at a prospect tournament camp, and once in 2019, in the middle of a playoff series for the Iowa Wild.
When he made his debut, he was very likely the first person to play in the NHL after three ACL surgeries since its founding in 1917.
Medical advancements have made the odds a bit better, but it's still hard to find athletes in any sport that have done it. A Google search reveals that Casey Hampton and Thomas Davis of the NFL had three ACL tears, but few others went through the same to play at the highest level of their sport.
In fact, Shaw had only recently become aware of the only other player who intimately knows what he's gone through. Detroit's Robby Fabbri just returned from his third ACL surgery in January. "That's something that maybe we could reach out [to each other] about one day," Shaw says. "Because that's certainly going through a lot of downtime in your career where you don't think it's gonna look so good."
It wasn't easy coming back, and not just because of the physical aspects of recovery.
"It would affect your legs," says Tim Army, head coach of the Iowa Wild when asked to dive into what an ACL injury does. "It also probably gives you a feeling of uncertainty playing in traffic. But really, just your timing, because you've missed a lot of development time, and your legs aren't where they used to be."
Of course, Shaw knows the process and challenges of getting back on the ice. "That just takes time," he explained. "I don't know if it was necessarily Game 1 where you feel 100%. It takes time over a course of 20 games of getting back from these injuries that you kind of feel like yourself."
There's also hours spent rehabbing in the gym, ramping up activity in practice, and dealing with frustrations before a player can get in that first game. Once a player is back on the ice, the hardest part is over. But Army recalls a slice of what it was like in the hardest times of Shaw's recovery.
In December 2019, Shaw was in full-contact practices again eight months after his third AHL injury. He was pushing to get back in the lineup, but the knee surgery produced a hitch in his skating stride. The hitch is common in these recoveries, but it prevented him from skating as smoothly as a pro-level player needs to.
"I was holding him out, saying 'We're not going to play you until I think you're ready to go,'" Army remembers. "You've been [medically cleared to play], but now the final test is getting you ready to play in a game."
It's always upsetting not to play, and doubly so for a player as driven and competitive as Shaw. His agent called Tom Kurvers, the late Iowa Wild general manager, to get an explanation. Army held strong, and in one practice, was able to explain exactly what he meant.
"We were practicing defensive zone coverage, and he got stuck in his end," Army recalls. "And he could not move, he could not get himself out of coverage." Army estimates he was pinned in the defensive end for 90 seconds, an eternity in the course of a hockey game.
"So I called him in and said, 'This is the illustration to you: You got stuck. You couldn't move. And until you can get yourself out of those situations, you're not gonna play. That's final hurdle. If I put you in that situation in a game, you're at risk again, and the other four guys are at risk, because you can't get out."
It was tough love, perhaps, but Shaw is tougher. He understood his coach and kept working. On January 17, Shaw finally got into a game. By February, he was a regular in the lineup again, and knees kept healing and his timing gradually started returning.
As if three surgeries didn't rob him of enough development time, COVID took even more games from him. But by the time the AHL returned in January 2021, the hitch in Shaw's stride was gone. He was back, and that's when he really started to grow offensively.
He racked up 22 points in 30 games for Iowa in the COVID season. That's a strong year for a 22-year-old, but he took an even bigger step the next season. With 62 games under his belt, he finished third on the team in both goals (19) and points (52) and earned his first call-up to the NHL.
Mission accomplished? Hardly.
Shaw was laser-focused on making the NHL full-time, and it wasn't going to be easy. The prospect pool was very thin when Shaw entered it. Years of sacrificing draft picks to win now caught up to Minnesota. In the 2017 Draft, Shaw was only the second player Minnesota took after third-rounder Ivan Lodnia.
In the four-plus years since he joined the organization, the Wild added high-end prospects like Matt Boldy, Marco Rossi, and Adam Beckman. They amassed strong depth options at the NHL level and prospects like Connor Dewar, Brandon Duhaime, and more. Going into this season, Shaw was a good story, but on the outside looking in on most people's depth charts.
Just what Shaw needed: More long odds to overcome.
But in a heart-to-heart before Wild training camp, Army told Shaw to ignore the odds.
"You can go in and get this done," Army told Shaw in late August. "There's still some uncertainty in the linup, so go in and take a job. Go play your way. Don't dip your toe in the water. Get after it. You can take a job."
Even on a phone call, hearing Army say that in his booming, grizzled Boston accent comes off as powerfully as the best motivational speakers. Shaw doesn't need help in getting willing to run through a brick wall for his coaches, but if he needed any extra motivation, he surely got it that day.
Shaw played his heart out in training camp, but ended up on the wrong end of a numbers game. There weren't enough spots to fit him in, and Minnesota put him on waivers, then went to Iowa after clearing.
It wasn't a setback, though. Shaw proved that even if he didn't make the Big Wild out of camp, he belonged in St. Paul.
"When he got sent back to us, [shaw] said, 'I kind of surprised myself,'" remembers Army. But one person wasn't surprised: Army. He told Shaw, "You didn't surprise me at all. I knew you were gonna play like that. And now you'll come in here, you'll build off that, and you'll be ready."
But first thing was first: Shaw had to assume the Iowa Wild captaincy.
Few people know the AHL like Minnesota Wild play-by-play announcer Joe O'Donnell. The Philadelphia native is behind the mic on the Wild Radio Network today, but spent a decade with the Iowa Wild (and Houston Aeros) organization as a play-by-play announcer, media relations person, and coordinating logistics for the team.
As such, he's seen a ton around the AHL, but has he ever seen a 23-year-old captain?
His answer: Probably not. "Typically in the AHL, your captains are probably guys who've played 500-plus pro games," O'Donnell explained, citing Iowa's past captains like Cal O'Reilly, Mike Weber, and Brett Sutter.
Shaw made his AHL debut in 2018, when he played one game after coming back from his second ACL surgery. Injuries and a pandemic limited Shaw to 186 AHL games entering this season. It didn't matter, says O'Donnell. "I'm not surprised with the way his teammates gravitate towards him, the fact that he's such a personable kid and hard worker."
Army can't recall a 23-year-old captaining an AHL team, but it wasn't even a question who should wear the "C" this year. "Mason was the right guy for it."
Shaw was part of last year's leadership group, wearing the alternate captain's "A" at 22. Army also happens to have experience working with younger captains. He was on the coaching staff when Anaheim's Paul Kariya took on the "C" at age-22, and in Colorado when a 19-year-old Gabriel Landeskog earned the responsibility.
According to Army, Shaw has the same leadership qualities as those guys.
"He's in the middle of everything," says Army, bursting with excitement. "He's an infectious personality, and he's highly engaging. His will is so great, but with the players, he's a great teammate. He looks out for guys."
The last sentence really stands out. Think of everything Shaw's been through. Three major surgeries. At least two lost seasons' worth of development. His team injecting a plethora of higher draft picks into the organization to compete with while he's on the shelf. The long odds of a fourth-rounder making the NHL to begin with.
Anyone in that situation would be justified in saying, I've gotta take care of me. It wouldn't even be selfish. That's a lot of things for one person to deal with, how does one even have time to help others in that situation?
Plenty of players who've endured a lot fewer hardships adopt that mentality. "There are players who only care about thier lot—'What do I get? My ice time?'" says Army. "With 20-25 guys on a roster, you're going to have guys like that, and that's okay. Those players might not drive your engine emotionally, but they can help you win games."
Shaw is clearly a different kind of player.
It's that gigantic heart that makes him so special. "It comes back to the fact that he's such a down-to-earth person," explains O'Donnell. "I mean, in the summer he comes back home and works on the farm. How many guys do that? Probably not many. I don't think he's lost sight of where he's come from."
Or, perhaps, how others have supported him on his way, and he's shown as much determination to pay it forward as he does when pressuring a puck carrier on the penalty kill.
"Players want a leader that they can trust, that they can go to with different issues," says Army, explaining the challenges of being a leader on an AHL team. "We've got young guys, they don't know how to buy furniture, how to look for an apartment, where to shop."
Shaw not only had the willingness to help, but the maturity to help kids who weren't much younger than him with life skills. All while dealing with his own issues, the rehabs, and knowing that any of the players he helps might be the one that beats him out for that last roster spot in Minnesota.
It'd be so easy to be out there for himself, but he refuses to do so. "When you say a guy's a 'team guy' — that's a team guy," declares Army. "He's in it for the right reasons. He's in it to become a better player. He's in it to make us a better team. He's in it to win. He's in it to help other guys get better so we become a better team."
Shaw's mentality seeps into the rest of the team. "Guys want to follow him," says Army. "Guys listen to him, and they respect him because of the player he is and the kind of person he is."
As impressive as Shaw the person is, and as remarkable as his journey has been, let's not lose sight of this fact: He's also a hell of a hockey player.
Shaw's a honey badger on the ice. He's 5'9" but he loves to get physical, throwing more hits than much bigger players like Ryan Hartman, Joel Eriksson Ek, and Jordan Greenway. As a fourth-liner, he's asked to play an energy role, but he leads the team with 9.2 shots per hour at 5-on-5. He's also a tenacious penalty killer, one of the most effective in the league.
Of the 158 forwards with 50-plus shorthanded minutes this season, Shaw is tied for 14th in points per hour, and 19th in shots per hour, which are both very solid individual stats.
But the team stats are the real eye-grabber. The Wild are only out-scored 3-4 with Shaw killing penalties, and they've controlled 23% of the shot share. That 23% is best on the Wild, and 13th among those 158 NHL forwards. On a per-hour basis, he's second in on-ice goals scored, and 18th in goals allowed.
Shaw takes pride in that penalty killing, and specifically the way he and Dewar play shorthanded together. "That's an opportunity for us to use our speed and competitiveness," he explains. "We're both good on the defensive side of the puck. It's defense first, that's the goal on the penalty kill, not to allow scoring chances or get scored on."
Having made the jump to the NHL around the same time as Shaw, perhaps no one has seen as much of Shaw through his AHL and NHL career as O'Donnell. What does he see in his game?
"He's got a lunch-pail mentality on the ice, but he's got decent skill to him, and he doesn't back down from anybody," O'Donnell's scouting report goes. "I've got a sense he doesn't mind getting in the kitchen of some of the established stars on some other teams, whether it's verbally, physically, or whatever. He's gonna mix it up."
You could see it in a November 1 game. Rossi, Shaw's linemate at the time, laid a hit on 2022 No. 1 overall pick Juraj Slafkovsky in a game against the Montreal Canadiens. As is often the case after clean hits, Montreal wanted to fight.
Rossi's never fought in his career, so when Jake Evans wanted to go, Shaw obliged, taking on a player who had three inches on. Even in the AHL, he's willing to take on someone like Riley Tufte, who stands at 6'6", 214 pounds. He's gonna stick up for guys, and it doesn't matter who's on the other end.
Again, you have to ask, how does a player with three major injuries go all-out and play this physically against much bigger players?
Other players in his situation might not. But Shaw does it because that's what the team needs from him. "I know what my role is on this team," he says. "I'm an energy guy who plays at both ends of the rink well, and whatever's asked of me, I try to give my best effort."
It also helps that any effects from his injuries seem to be long in his rearview mirror. His speed is evident on the ice, especially on the penalty kill. "I know right now, this is as good as I've ever felt, and hopefully I keep trending that way," Shaw says.
If he does, he's going to have a very strong rookie season as a foundation to build his career. Don't let Shaw's four goals and 11 points through 37 games fool you. Forget the fact that he's only cracked the lineup in five games since January 8. He's a strong, skilled player, and he's making a name for himself with his energy, penalty killing, and hands.
Army keeps in constant communication with Dean Evason throughout the season, and it's clear how much respect Minnesota's coaches have for Shaw. "Dean said to me, 'I got numbers right now, he's not out because he's not playing well.' They're really happy with him."
So are his teammates. Shaw now gets to play alongside several of his Iowa teammates. St. Paul is full of recent Iowa alums in Boldy, Duhaime, Dewar, and Calen Addison. Rossi, Beckman, and Mitchell Chaffee have seen time in Minnesota, and may see more. Then there's Shaw, the elder statesman of the Wild's future.
Shaw doesn't wear a letter for Minnesota, at least not yet. He isn't even playing every night, though he's drawn in as injuries and team struggles created a need for his energy. But everyone in the organization, whether they've played with him in Iowa, are with him now, or only played with him in two games before Minnesota called him up, can take inspiration from Shaw's story, says Army.
"It means a lot to them, because they care about Shaw, and because he cares about them," Army explains. "He never gave up on it. He continued to battle, to overcome it physically and mentally, becoming a better player and leader.
"I think that touches people. That connects you to people strongly. Now that he's a full-time NHL player, our guys are thrilled for him, because they love him. He shows them that if you commit, you can find your way there. You can put yourself in the National Hockey League if you do it right and earn it."
It took a long time to get there, and we might never see anyone walk the same path that he has to make the NHL. You certainly hope you never have to see someone go through those same hardships. But Shaw insists, "I wouldn't change any of it for the world. It makes getting to this point more rewarding."
There's no doubt whatsoever in his voice, because while he still needs to learn and get better, he's earning his reward in a way few players ever have. As for right now, "Shawzie" isn't just a player. He's an NHLer. And no one who knows about what he had to do, or the kind of person he had to be to reach his goal could possibly believe he's putting on his jersey for the last time.