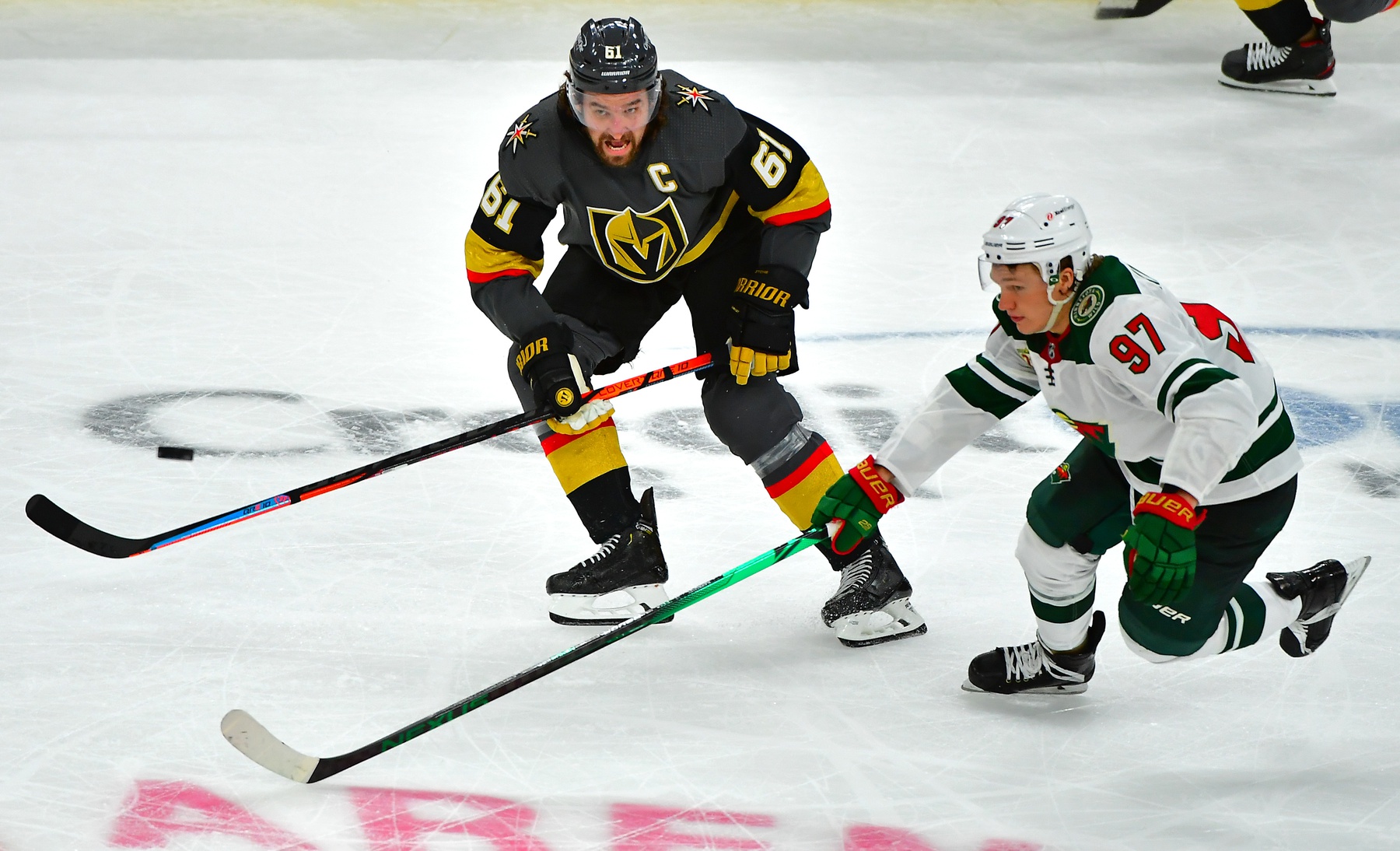 The adage in the Stanley Cup Playoffs is the hottest goalie wins the series. That held true Sunday, as Cam Talbot stopped 42 pucks to weather an early storm from the Vegas Golden Knights. Thanks to him out-dueling Marc-Andre Fleury and his extremely active glove hand, the Minnesota Wild are up 1-0.
But when goaltending is roughly equal, as it was in Game 1, who wins the series is often determined by another question: Who has the best player? What star will step up and take over the series?
Minnesota rarely wins any series on those grounds. Players like Zach Parise, Mikko Koivu, Jared Spurgeon, or Mikael Granlund were very solid but never truly rivaled the stars they faced in the postseason. There was no matching Jonathan Toews, Patrick Kane, Nathan MacKinnon, Vladimir Tarasenko, Jamie Benn, Blake Wheeler, or Mark Scheifele. No one to single-handedly win games.
This year may be a different story. Kirill Kaprizov, coming off a historic rookie season, is making a bid to claim "Best Player in the Series" status. His biggest challenger is Vegas' Mark Stone, a do-it-all winger who can score, distribute, and plays Selke-caliber defense.
Stone gives opponents fits on offense, with 21 goals and 61 points on the year, but his defense may be key to the series. Between Marcus Foligno, Joel Eriksson Ek, Nick Bonino, and Nico Sturm, Minnesota has several shut-down forward options. Vegas doesn't. Stone and Alex Tuch are the only forwards Evolving Hockey rates as significantly above replacement at even-strength defense.
So who gets to stop Kaprizov from taking over this series? Yup, it's Stone. Peter DeBoer had last change, so if he wanted to, he could've hard-matched Stone against Kaprizov throughout Game 1. According to Natural Stat Trick, DeBoer didn't go all-out in that way, but Stone played 7:08 minutes head to head against Kaprizov at 5-on-5, the most against any opponent.
Stone did his job, holding the Wild scoreless with Kaprizov on the ice, but just barely. Matching play-by-play data from Nice Time on Ice with expected goal data from Evolving Hockey, we can see that Minnesota enjoyed an advantage of 0.53 expected goals to 0.41 in the Stone vs. Kaprizov matchup, or 56.5% of the xG share.
That's not to say Stone and the Golden Knights were unsuccessful against Kaprizov. Vegas clearly went into Game 1 with the attitude that he would not beat them, and he didn't. Not only was Kaprizov held off the scoresheet, but three of his four shot attempts were extremely low-danger.
How did they do it?
Looking specifically at the Stone vs. Kaprizov shifts, it's clear that the Knights had two principles in defending Kaprizov. First, when Kaprizov doesn't have the puck, somebody (usually Stone) had better be standing in his passing lane. When Rule No. 1 failed, Rule No. 2 kicked in: When Kaprizov does get the puck, swarm him.
This second-period shift shows this exactly. Kaprizov gets the puck in the corner, where Stone, Chandler Stephenson, and Tomas Nosek immediately cut off his passing lanes. Spurgeon gains possession behind the net, but when he tries passing to Kaprizov at the crease, Nosek and Stone are there to break it up.
https://twitter.com/OhHiTony/status/1394732410797916162
We see this again in transition, where Stone tries to intercept a breakout pass to Kaprizov. He misses, but Tuch and Shea Theodore are there to force a harmless dump-in.
https://twitter.com/OhHiTony/status/1394733018363817984
But Kaprizov can make anyone pay if they let off the gas the tiniest bit. His incredible chance in the third period resulted from catching Stone laying off Kaprizov for a moment. At the start of this sequence, he's skating tightly with Kaprizov in the top-left portion of the screen. When Tuch gets the puck, though, he drifts for the breakout, perhaps feeling more pressure to score with the game tied at zero.
Mats Zuccarello makes a fantastic play to intercept, forcing Stone and the Knights to chase. This leaves just enough room for Jonas Brodin to find Kaprizov in the slot. Kaprizov almost scores the go-ahead goal with these seconds of daylight.
https://twitter.com/OhHiTony/status/1394734199836352512
Not only did Stone have to defend Kaprizov for much of the game, but he also found out being defended by Kaprizov is no picnic, either. In this second-period sequence, Stone looks to patiently set up a scoring chance. Kaprizov makes that impossible, bearing down on Stone with speed, forcing him to make a low-percentage pass to Stephenson, whose shot is easily blocked by Zuccarello.
https://twitter.com/OhHiTony/status/1394734603525447687
Kaprizov also tormented Stone in the third period, blocking Mattias Janmark's shot off this tape-to-tape cross-ice pass.
https://twitter.com/OhHiTony/status/1394735064110440448
It's no coincidence that Stone's best chance of the night — one where he deked through four Wild players and drew a penalty — came with Kaprizov having just come off the bench, a safe distance away.
https://twitter.com/OhHiTony/status/1394737790311571457
Stone's efforts were enough to keep Kaprizov off the scoresheet, but at what cost? It's clear that in Game 1, Stone's defensive assignment kept him from dominating as usual on offense. Yet Vegas' lack of shutdown forwards will force them to play Stone against Kaprizov or risk more dangerous matchups.
Even if DeBoer and Stone do neutralize Kaprizov in Game 2, Vegas can't avoid those exploitable matchups forever. The Wild and Dean Evason will get last change in Games 3, 4, and, if necessary, 6. That's three opportunities to have Kaprizov feast off the likes of the bottom of Vegas' roster or even defensively suspect top-six players in Reilly Smith and Jonathan Marchessault. If Kaprizov can almost turn the tide against the Golden Knights' best punch, what can he do against their scrubs?
Vegas put everything they had into preventing Kaprizov from being the best player on the ice Sunday. They succeeded and will almost certainly try it again tonight. Can they keep the Kaprizov dam from bursting again? Perhaps, but even if they do, one has to wonder what Vegas has left after that.