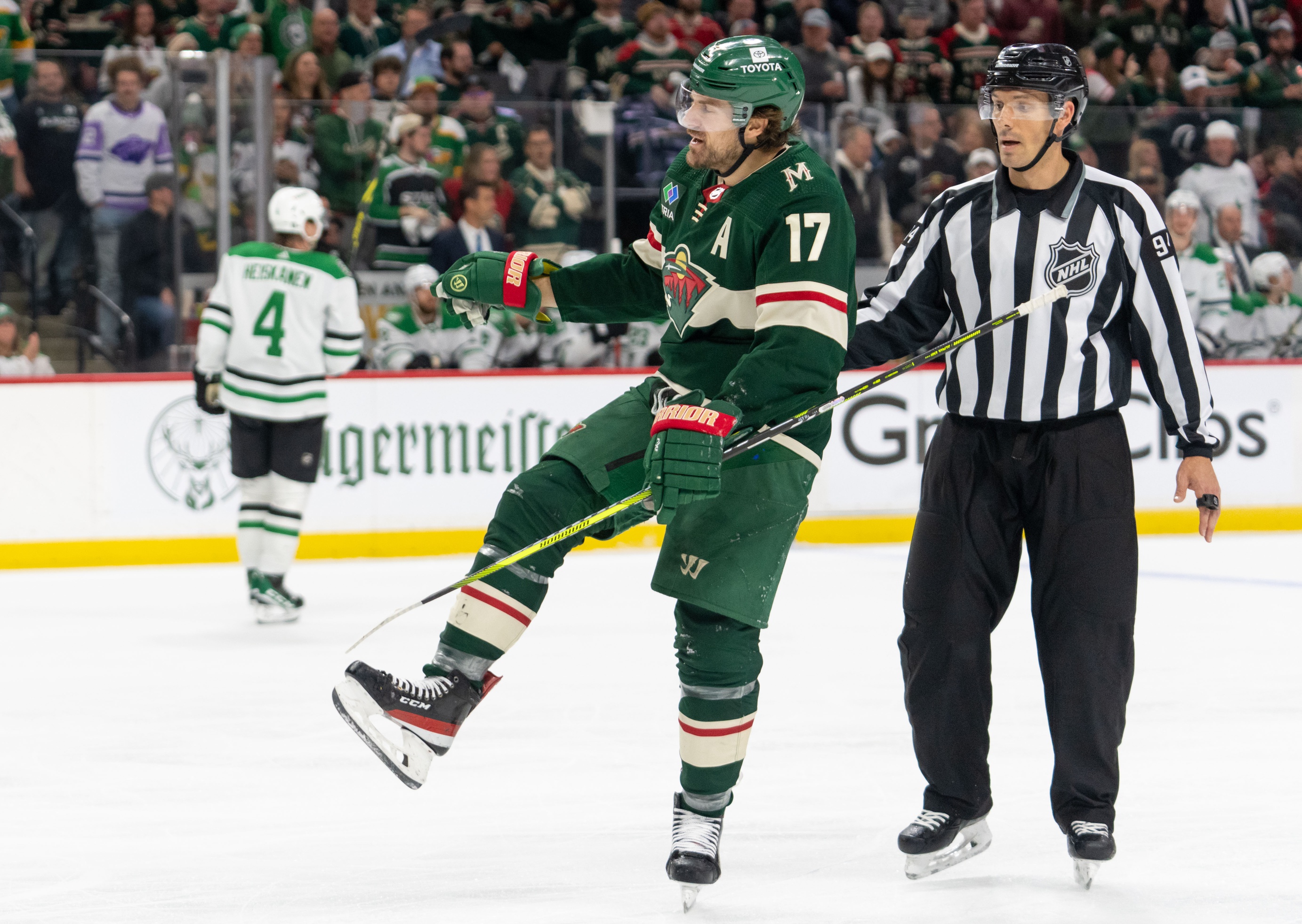 Image courtesy of © Matt Blewett-USA TODAY Sports
It might be impossible for a game in the Stanley Cup Playoffs to happen without some sort of controversy surrounding the officials.
During Sunday night's Game 4 between the Minnesota Wild and Dallas Stars, we got loads and loads and heaping piles of questionable calls that ended up being costly for the losing team. The Stars ended up winning 3-2, tying the series 2-2, and two of their goals happened immediately after the Wild were dinged with a questionable penalty.
Both penalties came against Wild winger Marcus Foligno, who has been known to be very vocal around officials while on the ice. To say that they were controversial and borderline would be an understatement.
In the tightly played game, Stars forward Tyler Seguin opened the scoring on a power play that came after Foligno apparently interfered with the play behind the goal line.
The puck might have been out of play for a couple milliseconds before the Wild winger made a hard-but-clean hit on defenseman Jani Hakanpaa. That was apparently interference and Minnesota got punished for it.
Not to worry, plenty of game left for Minnesota to eventually get back in it. Right?
The two teams traded goals within the first six minutes of the third period – Evgenii Dadonov for Dallas and John Klingberg for Minnesota. But shortly after, the Wild found themselves the victim of another questionable call.
It was Foligno once again as he was called for tripping on what first seemed like a high-sticking call going the other way.
Mason Marchment leaves his feet to avoid the hit, inadvertently hits Foligno in the face, and the player that is on the ground bleeding from his nose had to head to the box to sit once again.
It was none other than Seguin who put this game to bed and scored the eventual game-winner on the resulting man advantage. That was it. Frederick Gaudreau eventually cut the two-goal lead in half in the dying seconds of the game but the advantage was too far out of reach for even the most all-out attack the Wild could muster.
After contentiously being put in the penalty box twice and leaving it after his team allowed a goal (especially after the game winner), Foligno was rightfully a little peeved after the game and asked to explain how he was feeling after those two calls.
"It's a joke. It doesn't make any sense," Foligno told media after the game. "I go to hit a guy who touches the puck. It's not interference. I go, I get high-sticked in the face. It's not a tripping call when you hit a guy clean on. It's bullsh-t."
The 31-year-old then alluded to Stars players complaining about the officiating and not getting the right amount of calls for their team.
"There's just something to be talked about the physicality part of it," he said. "I just feel like it's a little bit chintzy right now. It doesn't make any sense," he said. "This is playoff hockey. You go and hit a guy and it's not illegal. … It's clean and you're getting called to the penalty box.
"I don't know. I think in that sense maybe they got to them before we did."
Wild head coach Dean Evason echoed Foligno's sentiment that hockey is typically played a certain way when the games are most meaningful.
"We all know what happened," Evason said. "I'm not going to comment on [the calls]. We have our opinions, but what's the point? … There's no point in whining about it now. They're gone.
"Our game was really good. … We like the way we're playing the game. Hard. Physical. Finishing our checks the right way. How playoff hockey should be played. It should be physical. It should be intense. It should be hitting hard. That's what playoff hockey is. We were doing that."
Evason commented on the poor officiating without commenting on the poor officiating and avoided any potential fine. It might take some reading between the lines or actually seeing the stern look on the coach's face, but he knows that Foligno is right in this instance. The veteran winger is just a grinder, simple as that. And he will finish his checks and hit people hard, especially in these incredibly important games.
Now, the Wild unfortunately just have to save the emotions for Game 5 in Dallas on Tuesday, in what could be the most crucial game of Minnesota's season. Hopefully there is no "bullsh-t."