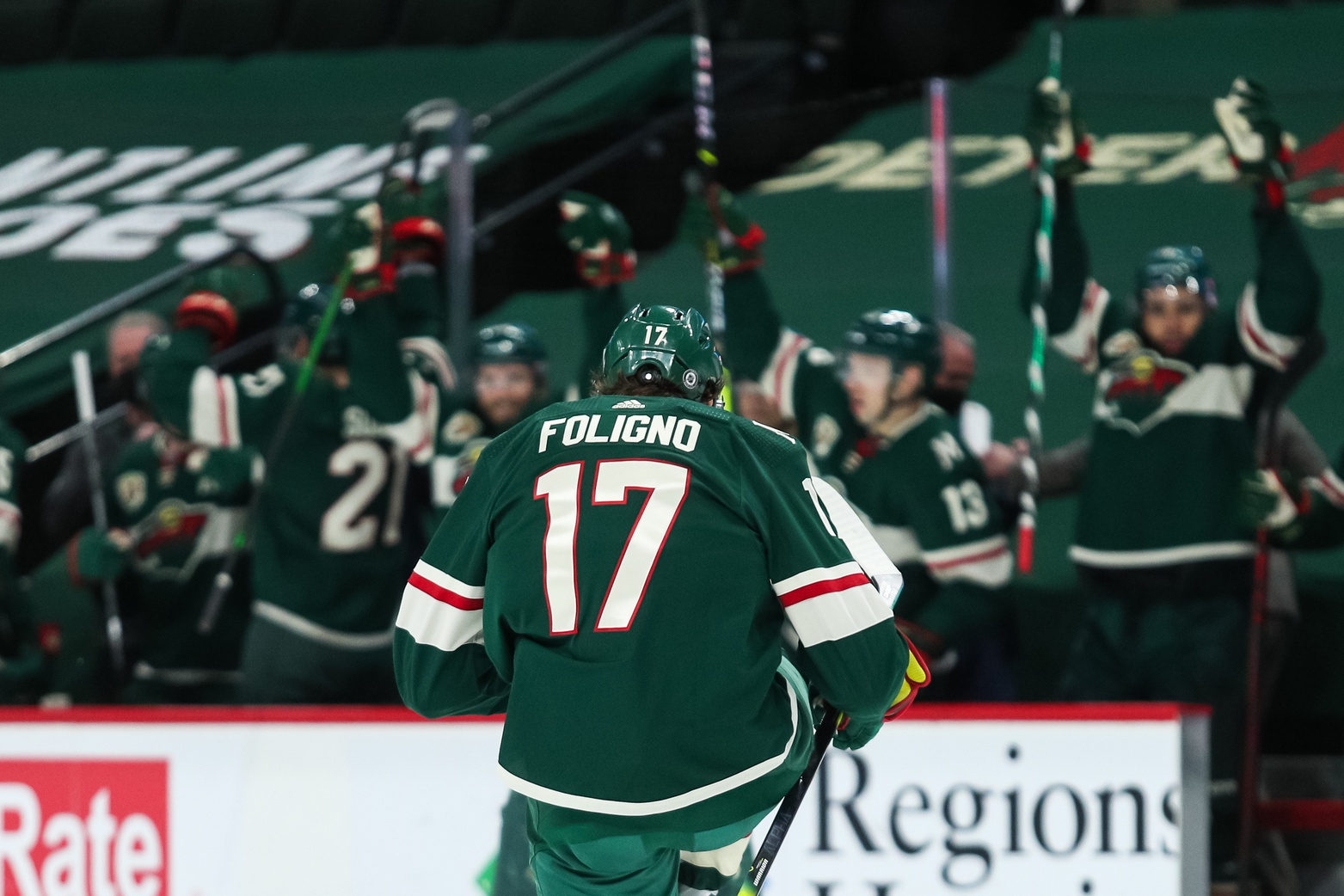 The claim that a bottom-six forward is irreplaceable might be a stretch. But the way veteran winger Marcus Foligno has played since the Minnesota Wild traded for him in 2017 makes it difficult not to place the attribute on the Selke-caliber winger. In hindsight, the deal that sent Marco Scandella and Jason Pominville to the Buffalo Sabres for Foligno and Tyler Ennis became one of Chuck Fletcher's best trades as general manager of the Wild.
There are very few bottom-six forwards — if any — who are elite defensively and offensive contributors and have the ability to alter a game's momentum with their physicality. Nobody comes to mind who is more effective than Foligno in this regard. This all goes without mentioning his character and leadership, which shouldn't go unnoticed. This is exactly why he was one of the candidates for captaincy after Mikko Koivu departed for Columbus. Additionally, Foligno and Matt Dumba have been the ultimate hype guys for the team. Not many players could replace what he brings to the table.
There is no question the Wild felt his absence when he broke his foot on a Jonas Brodin shot. The injury sidelined him for nearly a month. In his first game back, he was second and fourth among Wild forwards in Corsi and expected goals percentage, respectively. He registered five hits in that game, and his impact was evident.
Foligno is a hard-nosed forechecking defensive forward which dovetails with the Wild's defensive identity. It's not just his outstanding game at even strength -- he's also a staple on one of the league's best penalty kills. He has mastered his role of being the hard-hitting, defensive stalwart that they desperately need him to be.
He should be in the Selke conversation this season and arguably should have already won one in the past. His 9.8 defensive goals above replacement marked the highest among all forwards in the 2018-19 season, per Evolving-Hockey. This is his fifth straight season in the top 10 of this metric, which measures overall defensive contributions. Unfortunately, he would never be considered because of his lack of offensive production.
Foligno has earned immense respect and trust from both Dean Evason and former coach Bruce Boudreau. According to PuckIQ, he ranked third last season in time on ice against elite competition among forwards. His deployment, which includes tough defensive assignments against the league's best players, makes him an asset.
Recently, the organization committed to keeping its heart-and-soul player. The Wild inked Foligno to a 3-year, $9.3 million extension that pays him $3.1 annually starting next season. There's no doubt he's worth every dollar and that the Wild will do everything they can to protect him from being taken in the Seattle Expansion Draft this summer.
Foligno continues to be a reliable presence on both ends of the ice. His 3.9 defensive goals above replacement rank second among all forwards this season, despite his extended absence. His 1.60 on-ice expected goals against at 5-on-5 per hour ranks third league-wide. The defensive impact he provides is singular, making him such a remarkable player despite being a bottom-six forward.
At 29 years old, Foligno's offensive game continues to evolve. He had a career-high 25 points in 59 games (0.42 PPG) last season, an increase from his previous career-high of 0.38 PPG with the 2012-13 Sabres. This season has seen a sizable improvement for the veteran, with 22 points in 32 games (0.69 PPG).
He holds an expected goal share of 56.18 percent at 5-on-5, which ranks second among forwards on the team. There's no denying how impactful he has been this season, proving the Wild made the right decision on extending him. Even though there was always risk involved with a long-term contract because of the league's near-term cap crunch, it was worth taking. Foligno probably won't sustain this pace, especially given that he is shooting at roughly 32 percent. But it is still a testament to his ability to maintain his defensive excellence while still producing offensively.
Foligno's value is evident with everything he brings to the table. His recently inked contract continues to look like a bargain because he may not have hit his peak yet. What he brings to the team is irreplaceable, making him one of the most impactful forwards on the Wild.
All Data Via Evolving-Hockey, Natural Stat Trick, PuckIQ & Hockey-Reference.