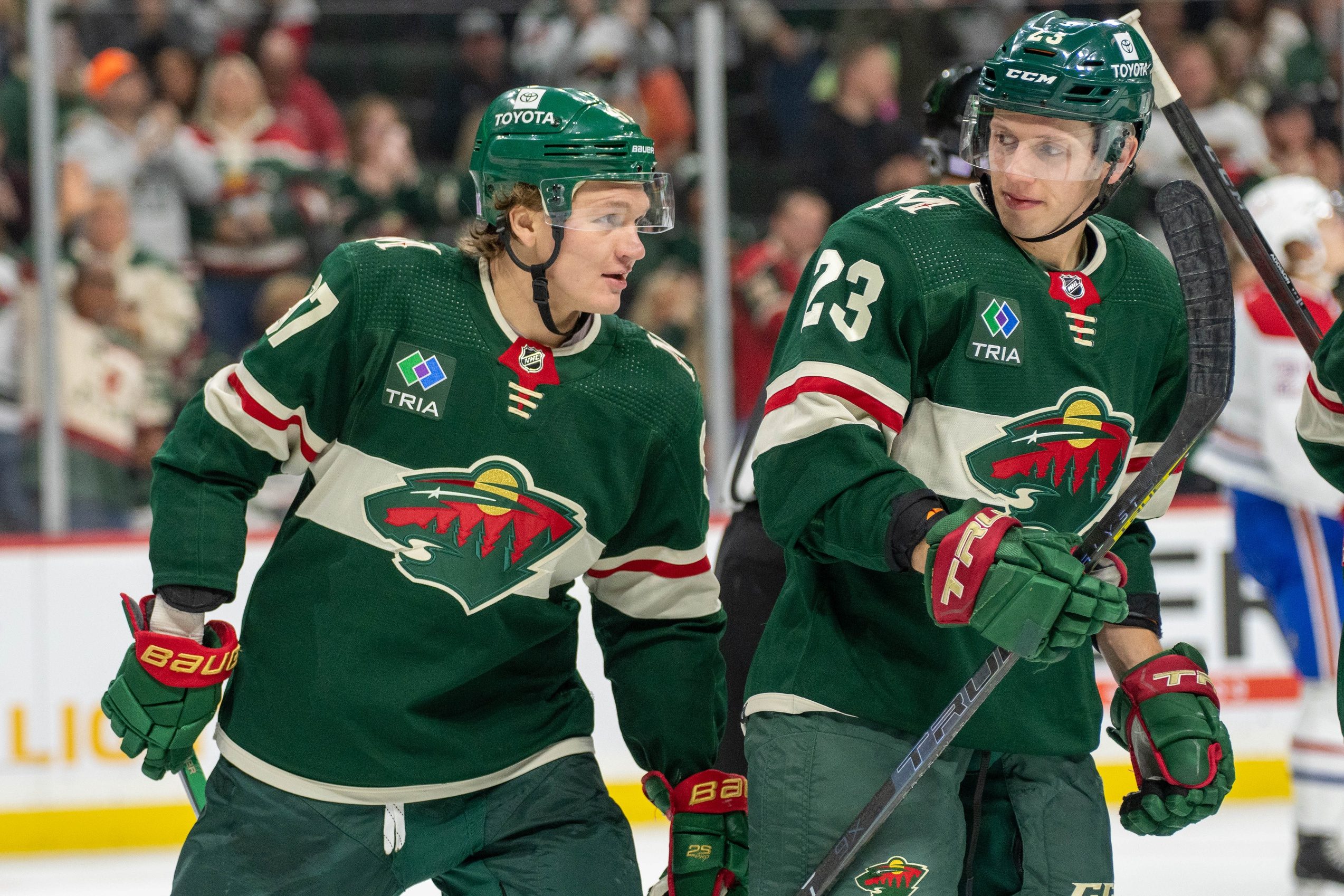 Ten days ago, the Marco Rossi Saga had gotten to the point was obvious that, given his low opportunities in the NHL, going to the AHL would be preferable. Yet, somehow, things have become more untenable since then.
Rossi played just 8:51 — 10 shifts — in a 6-4 loss to the Pittsburgh Penguins on Nov. 17. He hasn't played hockey since then. At all. Not in the NHL, where the Wild healthy scratched him for four consecutive games. Certainly not in the AHL, where the Iowa Wild could have used him.
A quick decision to get him to Milwaukee by Saturday, Nov. 19 would have given Rossi four AHL contests by now. That'd have been four games of power play minutes, puck touches, and confidence-building opportunities. Instead, it's been four games of bag skating and watching the game next to the James Sheppard Memorial Popcorn Machine* in the press box.
Ten days later, the Wild mercifully stopped waffling over whether they should do the reasonable thing and sent him down to the AHL. He'll at least get a chance to play his first game in 12 days and rebuild his confidence in a big role.
Still, these first 16 games will be big red flags to some in the State of Hockey. One point in 16 games, after such high hopes and expectations, is deflating. Dean Evason trusting journeymen like Sam Steel in a top-line role over him is also concerning. But do the last six weeks mean we should re-evaluate Rossi's career outlook?
No. Rossi's struggles don't mean he won't become an NHL player. They don't mean that he's not going to pan out into the point-producing, two-way center Minnesota hoped for when they drafted him ninth overall in 2020. Going to the minors doesn't mean the 21-year-old will be a bust.
If it does mean anything, it's probably just that the last two seasons spoiled Wild fans with great rookies that delivered on arrival. That's not a bad thing — it was about time for the Hockey Gods to give them a Kirill Kaprizov and Matt Boldy as a treat. Treasure it. Just don't let it make you forget: It's not always that easy and seamless.
The most obvious parallel to this is Mikael Granlund in 2013. Like Rossi, the Wild rolled out Granlund in a year with huge expectations — they'd just made the Zach Parise and Ryan Suter signings— and he couldn't find his footing right away. He had one goal and six points in his first 19 games before going to the AHL. His return wasn't much better, either. He finished the year with two goals and eight points in 27 games.
Wild fans might hold their nose a touch at Granlund comparisons. The No. 9 overall pick in 2010 never quite lived up to the expectations. But whatever you can say about Granlund, he did peak with 69- and 67-point seasons for Minnesota. If Rossi becomes that caliber of offensive player while providing strong defense down the middle, that's a massive win for the Wild.
But if you want an example of a true star player that had a tough stretch to start his career, let's look at Kevin Fiala. With similarly inconsistent ice time to Rossi in 2016-17, Fiala started his first full-ish (55 games) season with two goals in 11 games. Not long after, he posted just one assist in 11 games. One two-game point streak later, and he had a goal in 12 games. Slumps happen!
After an 11-goal, 16-point season, Nashville Predators fans were probably antsy over whether or not their skilled offensive force would ever translate to the NHL. A year later, Fiala posted 23 goals and 48 points in a full season. Two years after that, he had his coming-out party as a game-breaker.
Even the prospects who arrive in the NHL and take off immediately aren't immune to a significant roadblock at some point. Fans just don't hear much about those, as those happen away from the scrutiny of the NHL. The only time a non-NHL slump gets into the wider consciousness of a fan base is if it's unignorably terrible.
You know, kind of like the one Boldy had in 2019. Making the jump from the US National Program to Boston College, Boldy couldn't find the scoresheet at all. Going into the holiday break, he mustered just one goal and three points in 15 games. Many were ready to write him off as a bust when he floundered in college. But after the break, he scored eight goals and 23 points in 19 games, and the rest was history.
Rossi's start doesn't even mean you can write him off as being productive this year. Maybe there are growing pains that will require a full season to make adjustments. Or maybe slumps just happen. Once things start breaking Rossi's way again, his confidence will bounce back, and his skills will do the rest.
It's not even like star players like Boldy are immune to the kinds of slumps Rossi is going through now. Boldy recently had an eight-game stretch where he also only mustered one point. Now, you might point out that an eight-game slump is only half as long as a 16-game one. But is it, really, in this case?
Rossi averages 12:26 of ice time per night, so in 16 games, he has only 199 minutes in all situations. Boldy averages over 19 per contest. His eight-game slump saw him log 153 minutes or around 77% of Rossi's minutes for the whole season. And what's more -- Boldy got the benefit of 26 power play minutes during that stretch. How many power play minutes does Rossi have overall? 19.
So, yes, those slumps were of similar magnitude. And did Boldy's slump matter? Did it affect anyone's perception of who he was? No, and it shouldn't have. Things broke right, and he's back at it with a three-game goal streak, with two assists in there for good measure.
Now, we have proof of concept with Boldy as an impact NHLer, which we don't for Rossi. But Boldy's bump in the road should put in perspective just how minor Rossi's struggles should be in the overall picture.
The biggest difference between Boldy's slump and Rossi's is that Boldy was able to play through his struggles. The smallest amount of ice time for him in that slump was 16:29, a figure Rossi has been able to surpass just once this whole season, and only by 10 seconds. Boldy also got the benefit of regular, stable power play time, whereas Rossi hasn't had anything approaching that this entire year. At no point did Evason demote Boldy from the Top-6. He just let him play, let him touch the puck, and stayed patient through the slump because he knew that Boldy's talent would eventually work out.
Therefore, it's frustrating to see Evason take the exact opposite approach with Rossi. Like Boldy, Rossi thrives in a Top-6 role where he's empowered to touch the puck and has the leash to make plays happen. But Rossi doesn't get power play time, puck touches, minutes, time spent alongside Kaprizov, or any resource to help him work through his slump. Instead, he gets benched for not hacking it in a role that isn't suited for him and that the organization isn't even grooming him to take over. Meanwhile, forwards like Steel and Frederick Gaudreau are equally miscast in a role suited to Rossi's strengths and style.
Thankfully, Rossi gets a reset in Iowa that airlifts him out of the backward, ill-conceived ordeal that was his usage over the past six weeks. There probably are lessons Rossi can take away from his time in the NHL. But what should you, the fan, take away from his stint? Nothing. We learned nothing of value from this, and we won't until Rossi returns to the NHL, so long as Evason can find the stomach to treat him like he does every other star rookie that's come through under his tenure.
*The James Sheppard Memorial Popcorn Machine, as named by NCAA.com's Nate Wells
All stats via Hockey Reference unless otherwise noted.