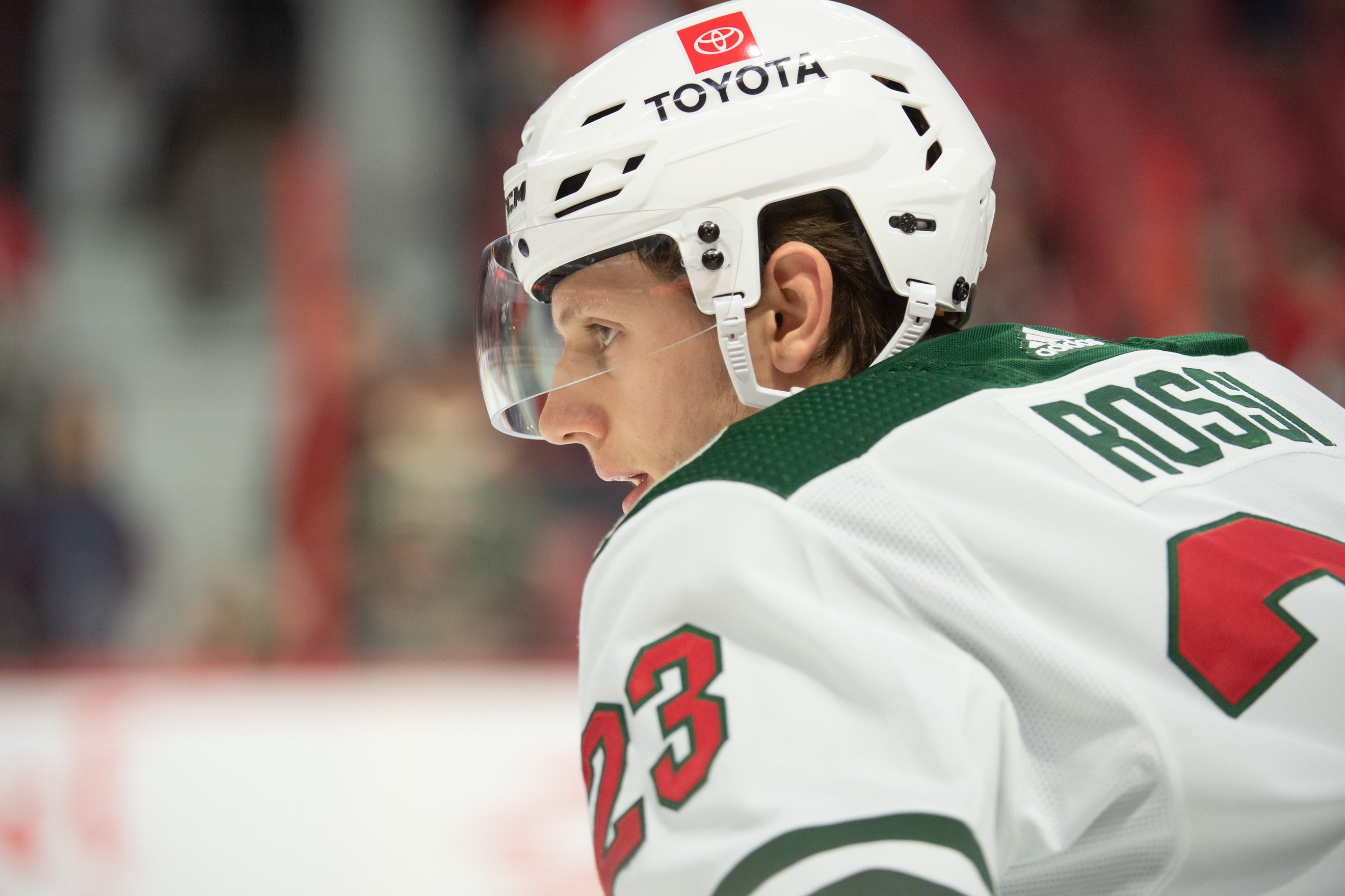 Image courtesy of Photo Credit: Marc DesRosiers-USA Today Sports
The Wild passed on testing the star rookie before. Now he's going to be thrown cold into as big of a spot as you can imagine.
The Minnesota Wild all but lost any opportunity to capture the No. 1 seed in the Western Conference when they lost back-to-back games to the Vegas Golden Knights on Saturday and Monday. To add insult to injury, they lost the second game because Vegas gave Minnesota a master class in how another contender chooses to fill in their lineup following an injury.
Pavel Dorofeyev responds back with a gorgeous move of his own to keep the shootout alive#VegasBorn pic.twitter.com/T7IKlM3pfZ

— Hockey Daily 365 l NHL Highlights (@HockeyDaily365) April 4, 2023
Vegas would go on to win one round later. The Wild's conference rival not only pushed Minnesota down the standings, but also showed them what it looks like when you elevate a young promising scorer to the top of your lineup. 
Pavel Dorofeyev is on fire!🔥@GoldenKnights | #VegasBorn pic.twitter.com/WTwTwN4xma

— NHL Network (@NHLNetwork) April 4, 2023
If only the Wild had such a lever to pull…
Unfortunately, they might be forced into such a move by Friday afternoon. Joel Eriksson Ek left Thursday night's game with an injury. Eriksson Ek is as tough as any player gets, so when he has to be helped off the ice, you know it's a big deal. He would not return, and the Wild will re-evaluate Friday.
If it looks like a significant injury, Minnesota might have to recall their top prospect, Marco Rossi, from the AHL. This would thrust Rossi into the lineup with four games left before the playoffs. He'd play Top-6 minutes at the most crucial time of the year, despite not playing in the NHL for almost five months.
This seems like a bad time to figure out whether your top prospect is ready for NHL action. And yet, the Wild punted on opportunities to find out before it got to this point.
The most recent, most significant opportunity to find out how Rossi's development in Iowa translated to the NHL was when Kirill Kaprizov went down with an injury on March 8. The Wild were seemingly in trouble and in need of Rossi. Kaprizov had been carrying a team struggling to score goals all season. Fortunately, Matt Boldy stepped up in a big way and has done his best Kaprizov impression over the past month to keep the Wild afloat.
But how did Dean Evason choose to replace Kaprizov's place on the first line? Surely this could be the time to call up a scorching-hot Rossi from Iowa to replace some of the offensive output vacant with Kaprizov out?
Think again.
The Wild did not go the Vegas route. Instead, they chose to replace No. 97 with a mix of veterans who, frankly, had previously proven out of place on a first line. Initially, it was Marcus Foligno, who Evason moved back to his checking role when it became obvious he didn't have chemistry with Ryan Hartman or Mats Zuccarello. Sam Steel got a turn to fill those shoes. You might remember Steel as the same guy who the Wild had demoted from the first line earlier in the season and relegated to press box duty for large stretches.
Unsurprisingly, none of it helped the first line. Hartman has produced at times, but Zuccarello has been a shell of himself without his best friend on his left side. Since Kaprizov's injury, the Norweigan winger has seven points in 12 games, with only four at even strength.
Meanwhile, Rossi was in the middle of an eight-game point streak where he racked up six goals and 14 points in Iowa. Bill Guerin had challenged Rossi to return to Iowa in an effort to discover his confidence again and amass points. It seemed he had done just that, and at just the right time.
It begs the question: Why have the Wild been so reluctant to give their young, offensively gifted prospect another shot at the NHL level this season, before it (potentially) came to this point? The easy answer is that it hasn't been their style of late. And yet, Vegas showed Minnesota that a different philosophy can go well.
What has this recent run by Dorofeyev meant to Vegas? On Thursday night, their young winger will be elevated even further into the lineup and next to superstar Jack Eichel.
Golden Knights line rushes at morning skate. First line Pavel Dorofeyev.

Dorofeyev—Eichel—Marchessault
Amadio—Karlsson—Smith
Barbashev—Stephenson—Kessel
Howden—Roy—Kolesar

Martinez—Pietrangelo
Hutton—Hague
McNabb—Whitecloud

— Jesse Granger (@JesseGranger_) April 6, 2023
Vegas is continuing to give Dorofeyev a look in their Top-6 because it will make their lineup deeper and more challenging to defend, provided he can keep his run of success going into the playoffs. If he doesn't, then no harm done. They can return to the lineup that has carried them to the top of the Western Conference standings all season.
Meanwhile, Eriksson Ek's injury shows why Minnesota's philosophy with prospects is due for a major overhaul.
Had Minnesota's approach with Kaprizov out of the lineup been different, we might have a good idea how Rossi can fill in for Eriksson Ek, if needed. This isn't hindsight being 20/20, either. It was as clear then as it is now, they don't have a veteran in their lineup to move into that position to help bring the best out of Zuccarello. What if Rossi had been given the chance? It's not completely out of the realm of possibilities that his creativity with the puck would have unlocked Zuccarello in Kaprizov's absence.
It's also possible Rossi wouldn't have been the answer. We'll never know. And we have no idea how ready he is to fill Eriksson Ek's skates. That's a shame.
But if Rossi needs to come to St. Paul, Vegas showed us room for optimism. The Golden Knights took that chance, and now possess a stronger and deeper lineup as the postseason approaches. Maybe the same sort of effect will happen for the Wild, even if they have to be dragged kicking and screaming into doing so.