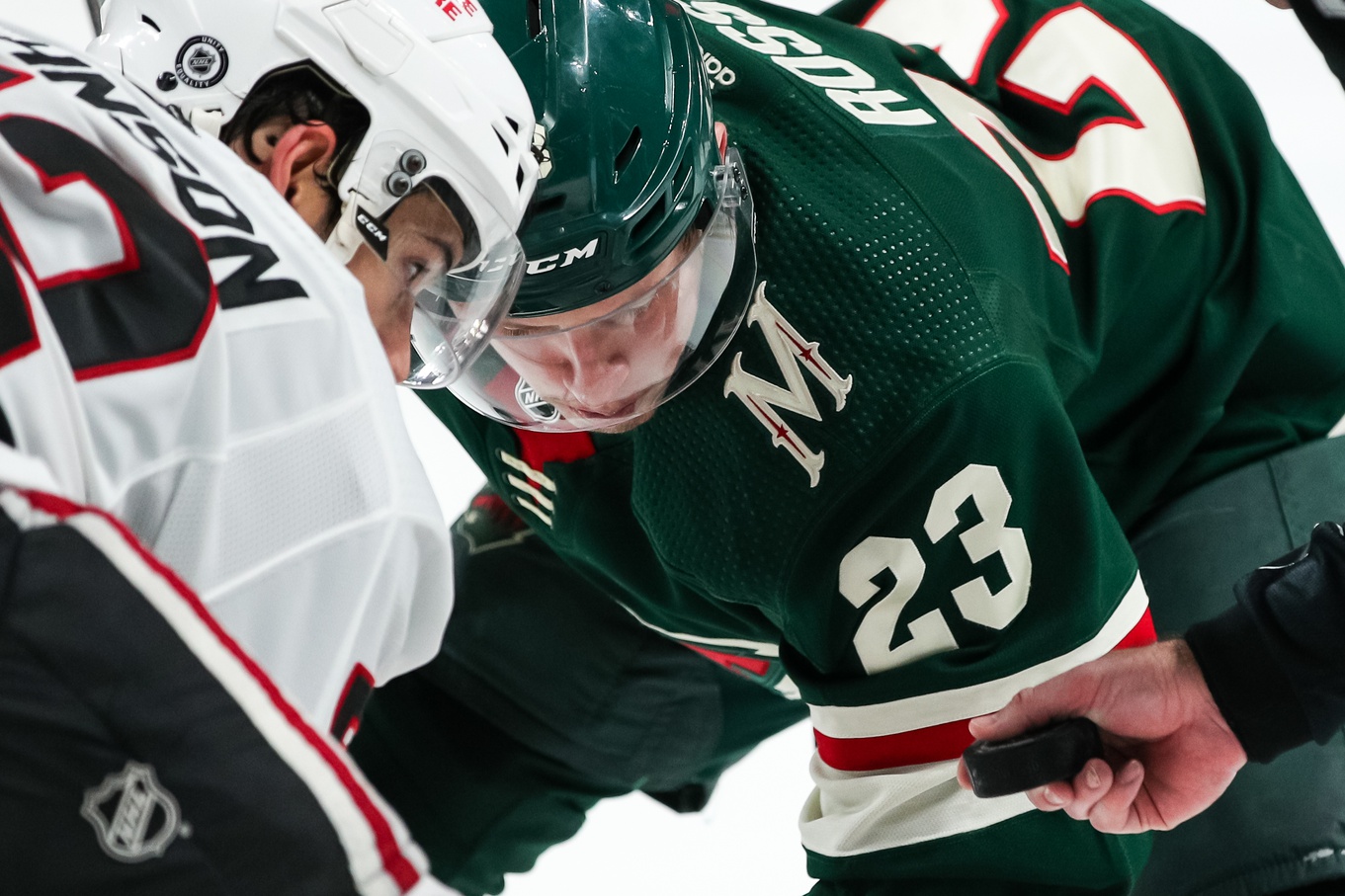 The Minnesota Wild are five days into training camp. Everyone, including the coaching staff led by Dean Evason, is setting out to improve upon a record-setting season last year. Evason might have a pretty clear idea of who will be on the roster to start the season, but that doesn't mean the battles in camp aren't any less intense. For the Wild's Marco Rossi, it has to be a Mortal Kombat-like intensity. All eyes are on him, and the pressure for him to make the team is immense. 
Ready. FIGHT! Or, at least, "fight" in a metaphorical sense. Many believe that Rossi has to shine in camp to earn his spot. But what does that mean exactly? Does Marco have to outplay his peers? Or is it more of him showing that he can play at the NHL level and look the part?
If folks expect to see the same flashy play they see from Matt Boldy, that's unfair to Rossi. He's not that kind of player. Rossi is detail-oriented, plays a strong two-way game, and manages the puck well -- even if he does make plays at a high level when his number is called. He did just that in the two-game call-up he had last season. 
But Boldy might be the second-most talented player on the Wild right now. Comparing the two would be like comparing Patrick Kane and Jonathan Toews. Kane has incredible scoring and passing talent, while Toews was more of a two-way player who took on a responsible playstyle. Were both players great in their primes? Absolutely. Are they the same kind of player? No one will say that.
There's no doubt Rossi is feeling the pressure. He's already told his family not to come to Minnesota for the first two months of the season and sworn off social media. The Wild's top prospect wants to concentrate on the game and do whatever it takes to be in the NHL. 
Still, that might not be enough for some. Never mind that Rossi accepted his assignment last year, spending all season in Des Moines. Some don't care that he was nearly a point-per-game scorer as an AHL rookie until the final quarter of the season. This was all accomplished after not playing hockey for a year, and his regular training and conditioning regimen was cut short. No, many want the points, the big box score, and him to make flashy plays. 
But at some point, his resumé has to speak for itself. At some point, smart, consistent play from the rookie should be enough. That's what Rossi is going to offer. Iowa Wild head coach Tim Army knew this. "He's extremely subtle," He told 10K Rinks last season. "He's going to do some things that'll bring you out of your seats, but I think the genius of his game is just he does so many things well, and he's so subtle."
And in reality, the subtle stuff leads to the big stuff. In Rossi's first pre-season game, he notched two assists because of the details in his game. On Calen Addison's power-play goal, Rossi carried the puck into the zone, saw Kirill Kaprizov was directly behind him, and fed him on a drop pass.
For the first time in Wild history, a drop pass worked. Kaprizov followed it up with another, and Addison ripped a goal from the point. Then in overtime, with Rossi filling in for Kaprizov, he registered a beautiful assist on Ryan Hartman's overtime goal.
It ends up flashy, but again, the subtleties make it. Rossi sees early on that his open lane is to the left of Dumba, so he crosses from the right side to drive the net. His fake shot perfectly ties up the Colorado Avalanche defender, leaving a clear passing lane to Hartman. He won the matchup with his brain. Maybe that's not as entertaining as, say, Boldy, Kaprizov, or Kevin Fiala, but it's brutally effective.
Luckily he only needs to impress Bill Guerin, who is publicly trying to manage expectations. "He looks good," Guerin said of Rossi. "I just want to see him compete. I want to see all the little things of why we drafted him. Just that he's not overwhelmed."
Guerin saw those little things, or subtleties as Army calls them, on Sunday. It sure sounds like Rossi has enough equity with the front office staff to get the opportunity. "But he's gotta do it," Guerin added. "I'm confident that he will."
He's a player that is a gym and rink rat. Even when he gets home cooking, he's disciplined with his dinner plate. Rossi suffered from myocarditis and has come back from the most trying time of his young life. Wild fans can take solace that Rossi will give every game 100% effort. That's what he does. But to truly appreciate Rossi, you'll have to appreciate not the Fiala flashiness but the Patrice Bergeron-like subtleties to his game.