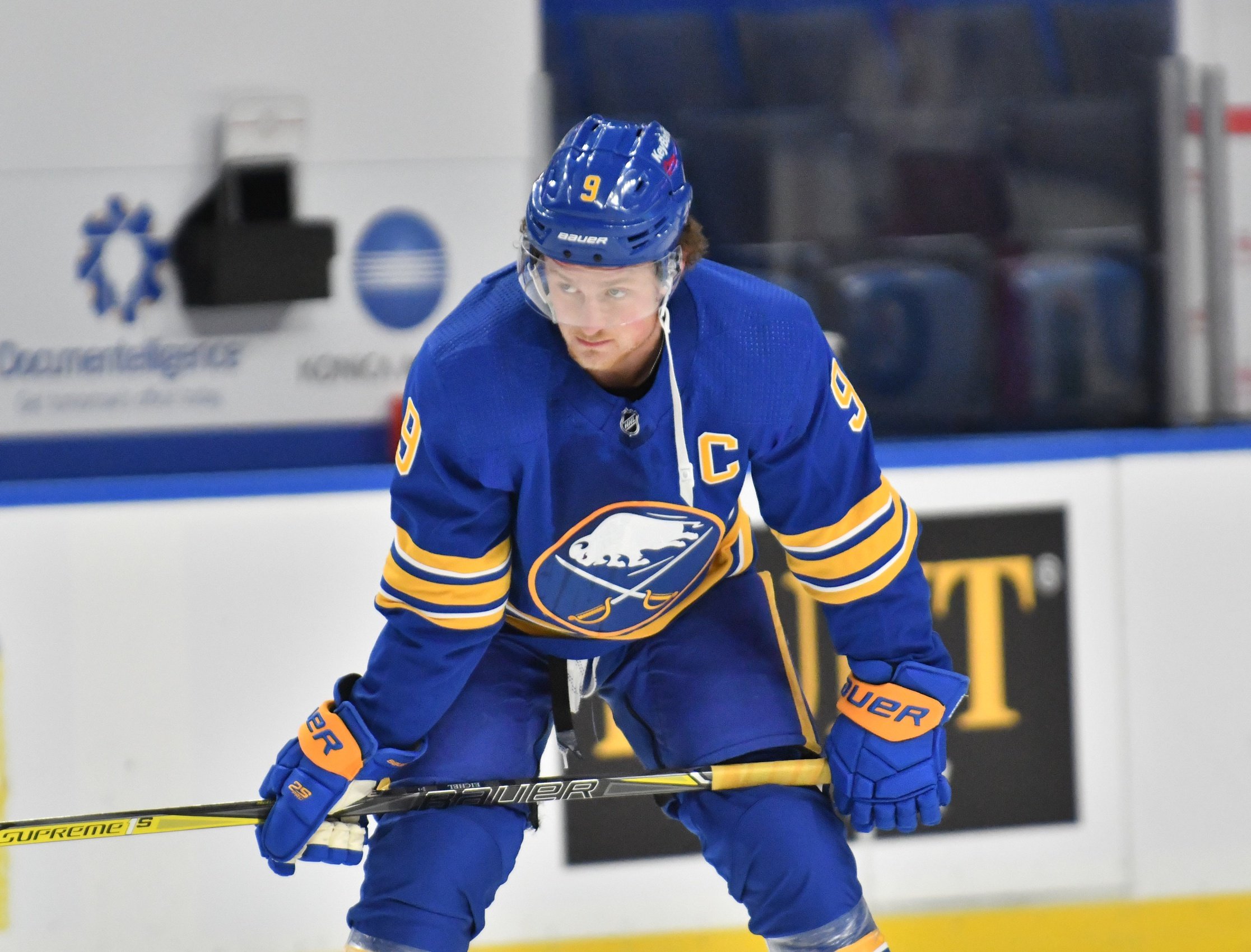 We're quickly approaching an intrigue-filled offseason for the Minnesota Wild. General manager Bill Guerin will have to navigate expansion, the draft, and high-profile contract negotiations, all while finding a way to get better.
The most logical way to do that is filling the massive crater that is the Wild's center depth. There's almost nothing past Joel Eriksson Ek, who's pigeonholed into a third-line role despite emerging as an elite two-way center. Minnesota patched this weakness up with Victor Rask and Ryan Hartman. But the Vegas Golden Knights badly exposed this in the playoffs, and star Kirill Kaprizov will surely want better center play before signing with Minnesota long-term.
This need lines up neatly with the rare availability of an elite centerman in Jack Eichel. While other centers are believed to be on the trade market, none possess the production, skills, and youth Eichel has. Landing the 25-year-old has the potential to turn the Wild into a legitimate Stanley Cup contender.
Acquiring Eichel sounds like a no-brainer when viewed through that lens, but there are concerns — notably his neck injury, cap hit, and attitude.
A new wave of concern washed over Wild Twitter this weekend: the cost to acquire him. The Athletic's Michael Russo reported that Buffalo's asking price likely includes top prospects Marco Rossi and Matt Boldy, with multiple first-rounders tossed into the deal.
In fairness to the Eichel-averse hooligans in the State of Hockey, that is indeed an exorbitant price. There's no doubt that Russo's report is correct and Sabres GM Kevyn Adams is asking for that package. He wouldn't be doing his job if he didn't try to extract as much as possible in his initial ask.
That's what it is, though: an opening offer. Buffalo has leverage in that they're trading the rarest commodity there is, but many factors work against them, too. The fact that Eichel wants out and the uncertainty surrounding his neck injury undermine Buffalo's position.
Adams is working against the clock, too. He has a year to trade Eichel before his no-move clause kicks in, allowing Eichel to pick his destination. The same thing happened with Taylor Hall, and it severely limited Buffalo's options and ability to get value back. That experience should prompt him to trade Eichel while he can still maximize his suitors.
That's not to say that Minnesota won't give up a lot, should they trade for Eichel. That outgoing package is going to hurt. The question Guerin and the Wild need to ask themselves is, "How much is too much?" Where do they draw a line in the sand?
Aside from the obviously untouchable in Kaprizov, Rossi is the only player who should be off-limits in these talks — even for Eichel, a clear No. 1 center.
Rossi missed this past season after a coronavirus infection gave him myocarditis. Before that, he was on a track that was identical to Eichel's. He compiled an absurd 120 points in 56 games in his draft year, an NHL equivalency of 53 points in a season. For comparison, Eichel's NHLe in his draft year was 55.
Health concerns aside, Rossi looked like as sure a bet as anyone. According to a model by Hockey Prospecting's Byron Bader, both Rossi and Eichel had an 82% likelihood of becoming a star player (0.7+ points-per-game in the NHL) when drafted.

A prospect like Rossi is as rare and valuable as a player like Eichel. Once you have an elite center prospect who is close to NHL-ready, you don't move them. Nobody moves them. The closest comparable prospect that's been moved in the last 15 years is Nick Suzuki, and even he had only a 19% chance of stardom at the time of the trade, according to Bader's model.
It's not just the market dictating that the Wild hang tightly to Rossi, it's basic team-building. Getting a player like Eichel would be huge for this franchise, of course, but that shouldn't be Minnesota's end goal. It should be constructing an elite center group, one that can propel them to a Cup.
This is accomplished by keeping Rossi through an Eichel trade. Eichel becomes firmly planted as the undisputed top-line, goal-scoring center Minnesota's lacked for its entire existence. Rossi and his massive two-way potential would slot on the second line. With Eriksson Ek serving on the third line, the Wild's center depth goes from bottom-five in the NHL to top-five.
That's the vision Guerin needs to try executing in an Eichel trade. The question is, can they get this deal done without including Rossi?
It depends. Adams is rumored to want someone with top-line center potential back, but will he get that? If the Los Angeles Kings are out on Eichel, they won't get Quinton Byfield. It would appear that the only remaining elite center prospect potentially in play would be Trevor Zegras.
Do the Anaheim Ducks want to move Zegras? Anaheim is firmly in rebuilding mode, and again, nobody trades elite center prospects. Are the Ducks going to part with one just to get a big name in the mix in their rebuild? Or will they try keeping their elite prospect to get that one-two punch up the middle?
If the big-name center prospects are out, Minnesota could be in great shape offering Matt Boldy. Bader's model has Boldy as the sixth-best rookie-eligible forward prospect, with a 49% chance of stardom. He's not a center, but he's an elite, NHL-ready prospect who could provide near-immediate impact. Buffalo may not be able to do better than that, as far as centerpieces go.
From then on, Minnesota has plenty of options to complement a Boldy package. They've got two first-round picks this season. They have center prospect Marat Khusnutdinov, whom the Bader model gives a 44% chance of stardom. If they change their tune about taking NHL players back, they could land Jordan Greenway, or maybe even Kevin Fiala.
Fans may still squawk about the Wild giving up too much, fearful of getting burned, Herschel Walker-style. Still, Minnesota would be in great shape. They'd have elite center depth to go with Kaprizov, their defense, and would still have intriguing prospects in their stable.
Would it be a risk? Absolutely. But is the chance of having Eichel, Rossi, and Eriksson Ek down the middle worth it? If they can pull it off, absolutely.