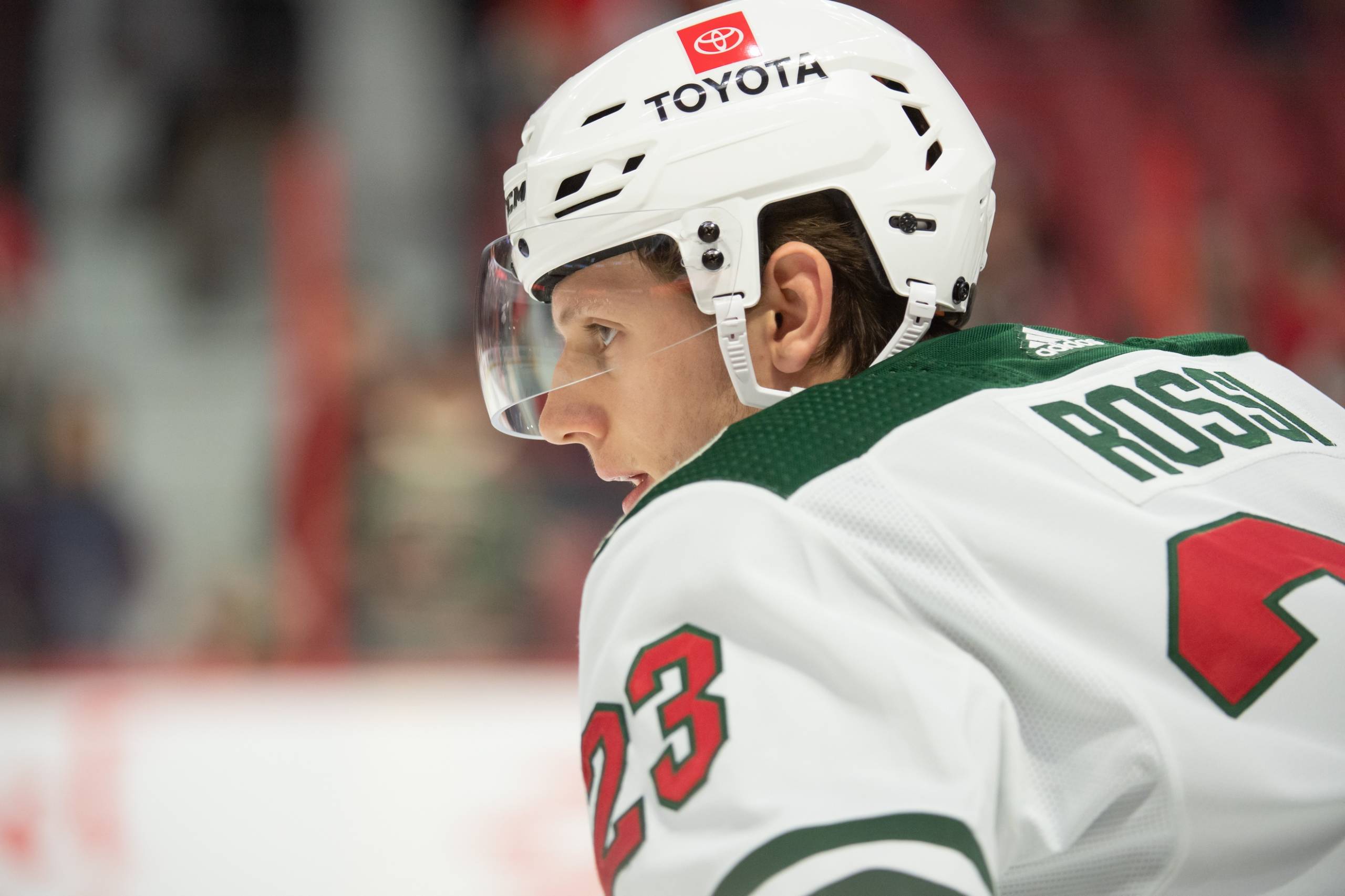 Don't look now, but Marco Rossi is on an absolute heater – again. Following his hat trick in Iowa's win over San Diego on Saturday night, Rossi now has 13 points in his last seven games, including six goals. The kid is producing at a high clip even for his already lofty expectations, with 16 goals and 45 points in 44 games.
However, we've seen him get hot like this before in Iowa with no call up. Bill Guerin was even famously quoted last year about Rossi needing "to earn" his promotion. He was hinting that while the box scores look nice, Rossi still needed to make sure he was accumulating his stats the "right way."
Guerin's comments were a little surprising in the moment. However, we did a deep dive into the film on Rossi last year to discover what Guerin was getting at. He had a case to keep Rossi down. Three games of film study showed that while Rossi truly was a gifted player with the puck on his stick in the offensive zone, he had some serious warts to his game.
Rossi lacked the ability to play through physical contact last year in Iowa. He also had a propensity to carelessly turn the puck over when he possessed the puck in space. That suggested the game was moving too fast for him following his year off recovering from a heart condition. At that time, we wondered just how much those two parts of his game would hold him back in the NHL.
Through his first 16 NHL games this year, they did. Rossi again struggled to play through contact, and his constant turnovers forced Evason to scratch him from the lineup. Eventually, they demoted him to Iowa. Rossi clearly had lost confidence in his game.
Four months later, the 21-year-old Austrian has found his confidence again. It's been a year since we wondered if he was piling up points "the right way." Perhaps it's time to dig back into the film and find out if Rossi is truly NHL-ready, or if all this offense is just a mirage.
Spoiler alert: It's not.
For this exercise, I watched the film for two of his most recent games during this hot streak (one of them an ugly team loss), and another from earlier this month in which the Iowa Wild scored five goals and yet Rossi was nowhere to be found on the score sheet.
"Sandpaper" was one of the key words Guerin and Evason used following Rossi's demotion. They were asking for Rossi to add a little more grit and toughness to his game. After watching the film, I'm not sure Rossi has done that, at least to the extent his coaches were asking.
Here you can see Rossi move into a support position for his teammate battling for a loose puck. Awesome. Full points, kid! However, he has multiple chances to engage the opponent and create a numbers advantage. Instead, Rossi elects to remain in a sort of no-man's land. He doesn't influence the puck battle, nor does he take away the passing lane. If he engages at all, there's a good chance this puck doesn't end up at the point for a good scoring chance.
That was a trend in Rossi's game on video once again. In the defensive zone, Rossi elects for good positioning between his marked opponent and his goaltender. To his credit, his stick is almost always in great position. However, Rossi tends to rely on that stick in the defensive zone a little too much. Perhaps that's the reason why he has recorded 38 penalty minutes in 44 games. He needs to find a way to use his body more effectively to influence the play in his own defensive zone.
However, his ability to play through contact with the puck has improved greatly since we last saw him in St. Paul.
Earlier this year, Rossi really struggled with oncoming defenders closing in on him as he possessed the puck. Yet recently he seems to be embracing it more in Iowa. In this example, Rossi doesn't start his spin move until he knows the charging defender is about to make contact with him. Rossi waits long enough for the contact to be made, allowing him to use the defender's momentum against him to go crashing into the boards. It buys just enough time for Rossi to spin, survey the ice, and make a seam pass to an open teammate.
Now that's the good stuff. Talk about combining your high-end skill with a little sandpaper, dare I say?
Has Rossi added the amount of physical play to his game Guerin asked for? I don't think so. And yet, after watching Rossi on film and in person these past few years, I don't think it will ever be a huge part of his game. It would be nice to see him add a little more grit when defending. Since he's added a bit of that to his offensive game, so there's no reason to think he can't figure out a way to incorporate it to his defensive style.
Besides, you can look past a lack of sandpaper in his game as long as he is producing in other areas. And it's here where he looks to have improved the most.
Nothing puts you in a coach's doghouse more than ill-advised turnovers, and Rossi had plenty of them during his brief stint in the NHL. It showed last year too. It seemed as though the game was just moving a little too fast for the 9th overall pick in 2020. To be fair, there was a good reason for this. Last season was Rossi's first full season following a long recovery from COVID, which affected his heart. It was completely reasonable to expect him to need games, and a lot of them, to get that feel for game speed back.
107 AHL games later, he's caught up to the speed of the pro level.
To me, this shows the greatest development in Rossi's game. Last year, Rossi would have grabbed that puck at full speed and turned up ice as fast as he could before surveying what was in front of him. Here, Rossi lets the game come to him this time. Instead of turning on the jets and running straight into the oncoming forechecker, Rossi calms his feet, reads the support around him, and makes a fantastic touch pass around the defender to spring the offense. That's leaps and bounds better than last year and his brief NHL stint this year.
We can see that growth from watching a similar play from last year. Back then, Rossi had even more time and space. What did he do with it? Rush forward at top speed and give the puck away, because he didn't process his options quickly enough.
Notice the stark difference in his patience? Watching the Rossi now reveals a player exuding the type of confidence in his game we didn't see before. And that wasn't the only example of improvement he showed on film. Rossi has vastly improved his play with the puck when he isn't within shooting distance of the opposing goalie.
Rossi has greatly improved the two biggest weaknesses in his game. That's eye-catching. However, improving in those areas isn't even the most exciting development concerning Rossi's potential to make an NHL impact this season.
Rossi's ability to quickly process what's happening around him has benefitted not only his play in space, but it's also added to his ability to provide quick strike offense. Rossi's lack of physical involvement leads to him often filling the role of the third guy high on the forecheck. His ability to take advantage of that role this season is unreal, and it's producing an incredible amount of chances for his team.
Has Rossi turned into a perfect player overnight? No. He's 21, and he's going to learn a lot over the next several years. What he has done, though, is taken the instructions from Guerin and the coaching staff down to Iowa and improved himself greatly since his short NHL stint. Does he need to be called up tomorrow? Not necessarily. The current forward group on the Wild is playing well and racing towards the playoffs. But if any of their top centers struggle or go down with injury, Rossi deserves to be the first call up and given the chance.
Guerin challenged Rossi to go earn his promotion. If this recent stretch of Rossi's isn't "earning it," then I don't know what is.