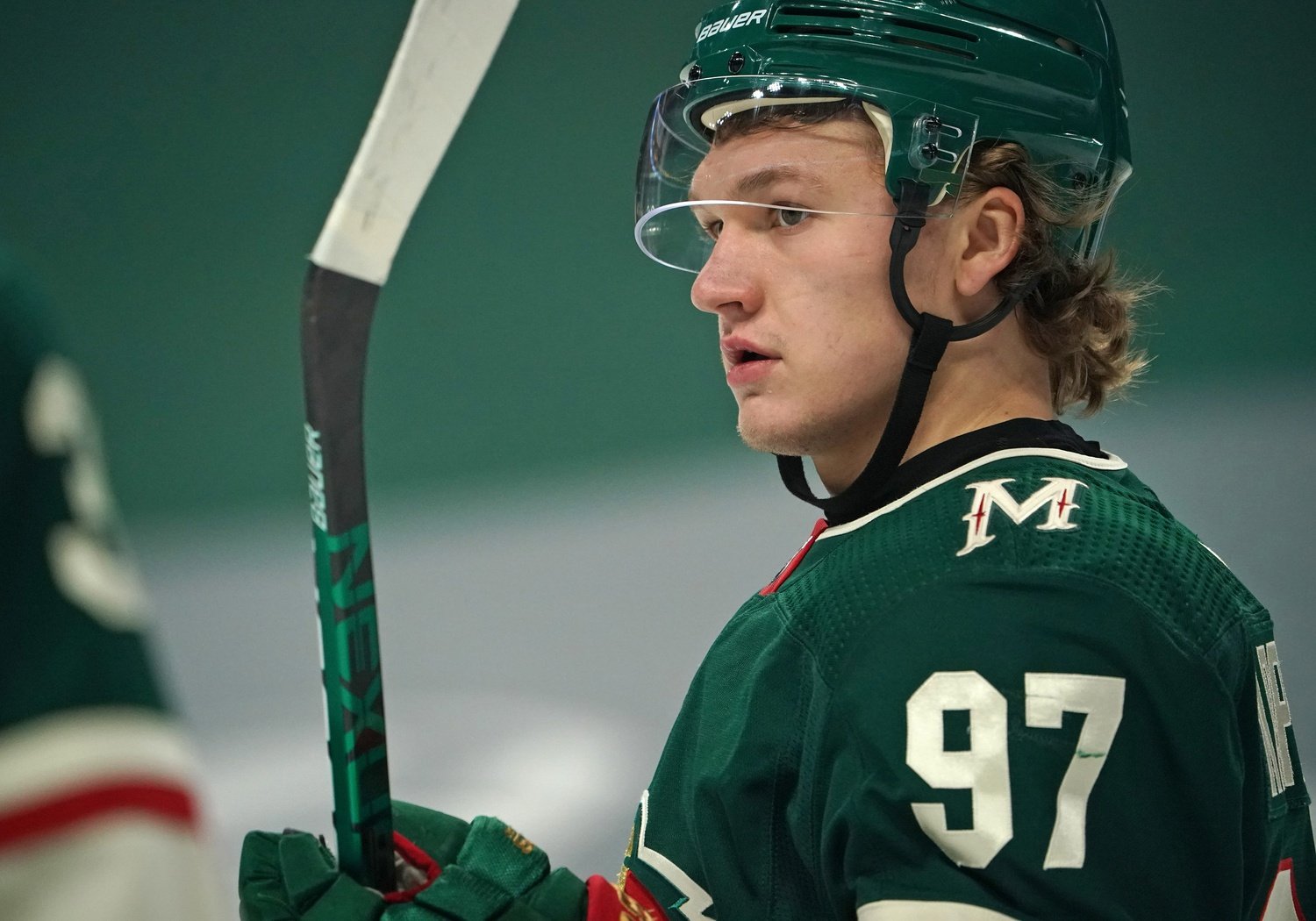 The Minnesota Wild's offseason has already had plenty of drama. In Season 1, the bombshell Zach Parise and Ryan Suter buyouts grabbed viewers' attention. Season 2 primarily focused on the Will They Or Won't They relationship between Bill Guerin and Jack Eichel. With that plotline abandoned, contracts have been the theme of Season 3. And with Kevin Fiala's storyline wrapped up, we're left with the Kirill Kaprizov negotiations for the finale.
Once Kaprizov signs, there'll only be one loose plot thread left: Who will center the Wild's star player? Casting Victor Rask in that role last year tested poorly with focus groups, and his Russian co-star apparently wasn't too keen on it either. Kaprizov and Mats Zuccarello displayed brilliant chemistry, only to see Rask often flubbing his lines. Why the writers kept showing us this particular trio, we'll never know.
Rask is poised to return in that role, even after Minnesota spent the offseason looking for a replacement. The Wild couldn't get Eichel out of his contract with Buffalo, leaving viewers to wonder who will take that spot.
The buzz is surrounding up-and-comer Marco Rossi. He was believed to be in line for a role with Minnesota last year, until myocarditis derailed his hopes. His comeback is going smoothly, as he put up two points in three Olympic qualifier games despite getting a bit part. He's announced his intentions to make the Wild with his ready-made catchphrase: #betterthanbefore.
So, can Rossi be the co-star Kaprizov needs to take him to the next level?
To answer that question, we have to understand Rossi's game. And to understand Rossi's game, we must understand Kaprizov's game. Looking at Rossi's highlights, stats, and scouting reports reveal a player who shares many of Kaprizov's best qualities.
The most obvious parallel is that they both rack up points despite being 5'9" and lacking elite speed. Instead, both create space for themselves and their teammates by being impossible to knock off the puck. They win battles in the corners against much bigger players by being agile in tight spaces and having a low center of gravity.
Once they create space, they have the skills to create scoring chances with ease. Both are dual threats, with Kaprizov's shot perhaps edging out his strong passing, and vice versa for Rossi. And in terms of pure stick-handling ability, Rossi may even surpass Kaprizov, flashing Pavel Datsyuk-type moves on the ice.
Those skills help them succeed when cycling in the offensive zone, but they're also brilliant off the rush. Underrate either Rossi or Kaprizov's speed at your own risk. Kaprizov was one of the best transition players in the game, both in terms of how many times he entered the zone, and how often he did so with control.
Thanks to Will Scouch's tracking data, we have strong evidence that Rossi is also an elite transition player. Rossi was at the top of his draft class in both controlled zone entries per hour (53.9), and percentage of offensive entries with control (82%). Like Kaprizov, this isn't done coasting on high-end speed, but with their strength, agility, and smarts.
Kaprizov impressed the State of Hockey with not just his goal-scoring but his defensive ability. He may lack the pure shutdown ability of a Marcus Foligno or Joel Eriksson Ek, but he makes up for it by his sheer determination to get the puck when he doesn't have it. Kaprizov was a puck magnet, finishing second on the team in takeaways and pouncing on loose pucks.
https://twitter.com/OhHiTony/status/1345130248682303500
Rossi's very similar. His 5'9" frame doesn't scream "TWO-WAY CENTER," but his strength and stick helps him on defense. He's constantly lifting sticks to steal pucks and immediately either goes into transition or sets up a scoring chance. Rossi is a decent and crafty positional defender, but his defense is more oriented around getting and keeping the puck.
The only real question is, can the two stars share the ice? Both of them love to have the puck on their sticks, and there's just one puck between them.
It's impossible to say anything for sure until they play together, but on paper, yes. Kaprizov and Rossi might do the same thing, but when that thing is "Everything," that's not exactly a redundancy. Either can carry the puck into the offensive zone or find space while playing off the puck. They both excel at shooting and passing, meaning they can slip in and out of those roles without making much difference.
Minnesota tried to have Kaprizov do everything himself last year, and that got exploited in the playoffs. The Vegas Golden Knights turned all their focus onto stopping Kaprizov and daring anyone else to beat them. No one did: not Zuccarello, not Rask, and not Ryan Hartman. Riding shotgun with a potential Kaprizov clone instead would make Vegas pay for that strategy, forcing them to give him more space.
There may not even be much need to "spread the wealth" throughout the lineup like there was last season. Kevin Fiala is also an elite transition player and scorer, and he may get some rookie help of his own in Matt Boldy. If that works out, it allows Minnesota to load up the top line without other players suffering.
Watching this offseason has often been a tumultuous and frustrating affair. Suppose you plan on making it all the way through, congratulations. Your reward is on the way soon, whether Rossi makes the team out of camp, or makes you wait until a few episodes into the next season. Stay tuned, because if Kaprizov can win a Calder with Rask, just imagine how much he dominates awards season when given another Kaprizov to star alongside.