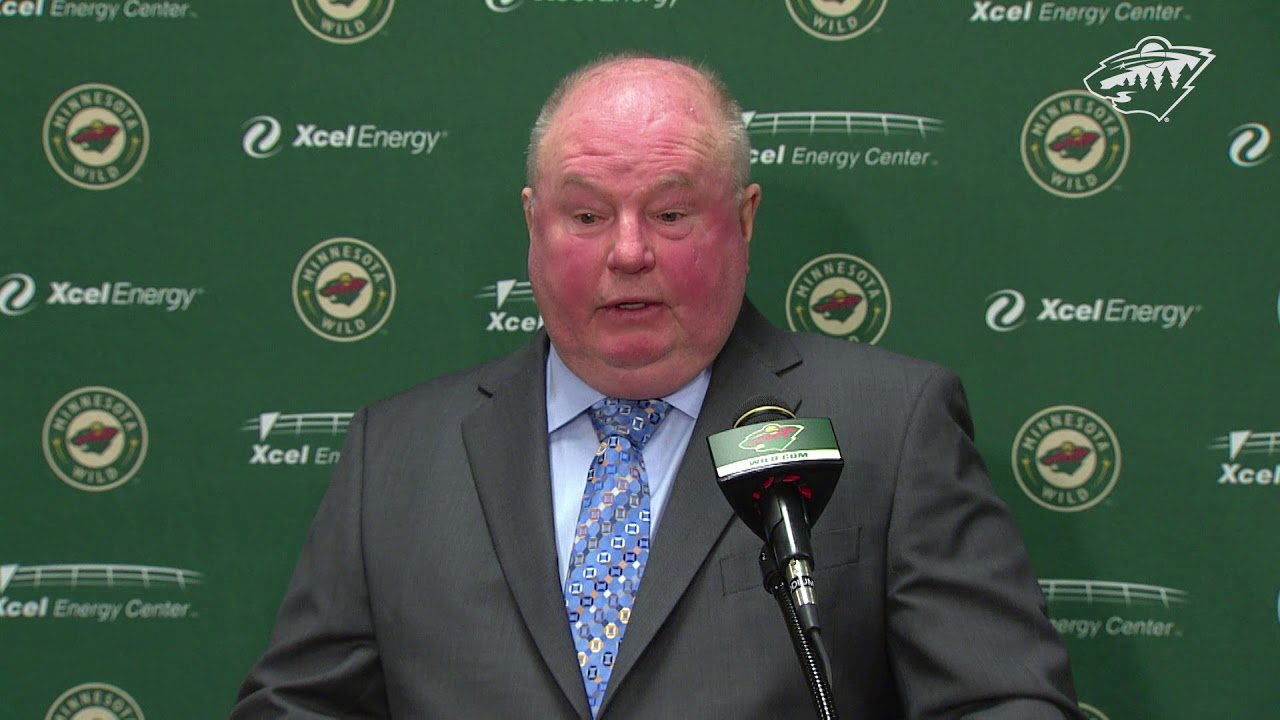 In just a little over a month -- Feb. 26, to be precise -- the NHL trade deadline will be here. If you remember a couple of months ago, we looked at what options are out there for Wild general manager Chuck Fletcher after his team got off to an abysmal start.
Now here we are two months later, and the Minnesota Wild continue to bounce in and out of a playoff spot nightly, so the question still looms large: Should the Wild buy before next month's trade deadline?
Let's answer with no, they should stand pat.
It's not an answer a guy like Fletcher -- in the final year of his contract -- might go with, but here's why he should:
First of all, there is an incredible logjam in the Western Conference standings, particularly in the Wild Card area -- where the Wild move back and forth out of daily. If you count the second- and third-place teams in the Pacific Division, there are eight teams in the Western Conference separated by six points entering play on Friday.

 

It's also worth pointing out that the Blues are just three points up on the Stars for third in the Central Division.

 

That is not exactly a great margin for error when you have that much competition for the final playoff spots. If you buy at the deadline and then you go into a slump or injuries take over, then you are pretty much screwed because you have teams right on your tail who are going to pass you by.

 

There's no swoon cushion (copyright Ben Remington) like the Wild had built up before their March nosedive last season, so any kind of prolonged slump will undoubtedly end your chances of playoff hockey.

 

Another reason for the Wild to just stand pat is that the trade market just is not that good. Just look at what the Sabres want for Evander Kane -- the best player on the market -- right now.

 

 

That's quite a request for a player that doesn't exactly have a good rap around the league.

 

Minnesota also just has too many holes to plug between now and the trade deadline to fix their roster. Last year, their need was simple: They needed a No. 3 center to slot in behind Eric Staal and Mikko Koivu. So they went out and got the best center on the market -- Martin Hanzal from Arizona.

 

We can debate the results on that some other time, though.

 

This year, the Wild trade deadline needs are:

One or two useful bottom-six forwards

A third-pair, right-shot defenseman

Speed

As you can see, Minnesota's issues will not get solved in the next month and change. These are problems that will have to be dealt with internally.

 

You could also add a top-six winger to that list if Nino Niederreiter's injury will indeed hamper him for the remainder of the season as has been said. Then again, it wasn't like Niederreiter was exactly getting top-six ice time like he should have been before his injury.

 

*chuckles*

*weeps*

*drinks*

 

Finally, the Wild head into the trade deadline with eight picks in the upcoming NHL Draft, including a first rounder and three third-round selections. While Chuck Fletcher loves to trade high draft picks at the deadline, the effects of doing so the past five seasons is sure starting to catch up with his team.

 

 

Simply put, the Wild need to hold on to their draft picks. The NHL is showing us night and night again that it is becoming a young man's game. If you need a reminder on that, please consult the video between the Wild and Avalanche from Jan. 6.

 

If the Wild do miss the playoffs this season, they will get a crack at the draft lottery for the first time since 2012 when the drafted a defenseman named Matt Dumba seventh overall. While they won't have anywhere close to the best odds in the lottery, they will still have a shot.

 

Just check on last year's draft lottery went for the teams with some of the lower odds:

 

 

You could also, perhaps, see the Wild trading into the second round for a player they really liked if they were to hold on to their draft picks. It's a stretch of the imagination to see the Wild having a second-round pick, but the opportunity would certainly be there.

 

"What's a second-round pick?" - Wild fans, probably

 

At the end of the day, it just makes little sense for Minnesota to go for it at the deadline for the second year in a row. Could they make a minor deal for a bottom-six player? Sure. But again, that's not going to solve all their problems.

 

This is just turning into a year where the Wild need to just lick their wounds, regroup and get on the attack next offseason to fix their problems.

 

That is assuming Fletcher makes it to next offseason...

 
---
Keep up with the Minnesota Wild by listening to the Giles & the Goalie podcast!