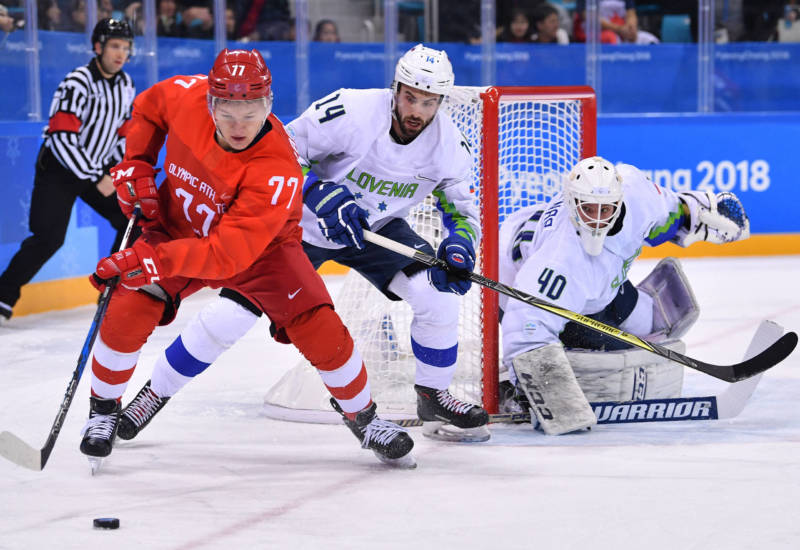 The Minnesota Wild are in a roster conundrum for next year. Don't worry -- the Wild have cap space for this year, and are projected to have cap space next year, presuming the cap continues to rise.

 

However, the problem lies in the logjam at forward. It's a logjam that needs to be relieved in one form or another. Why? Former fifth-round draft pick, Kontinental Hockey League and Russian National Team star Kirill Kaprizov is expected to sign with the Wild as early as this offseason.

 

Minnesota, according to CapFriendly.com, currently has 10 forwards signed through the end of next season:

Jason Zucker - Eric Staal - Mats Zuccarello

Kevin Fiala - Joel Eriksson Ek - Zach Parise

Ryan Donato - Luke Kunin - Jordan Greenway

Marcus Foligno - Victor Rask - Ryan Hartman

Both Greenway and Kunin are pending restricted free agents. This is without counting forwards like Gerry Mayhew, Vanya Lodnia and Connor Dewar getting looks in training camp next season.

 

Ultimately someone has to get moved to make room for Kaprizov on the NHL roster. There is no chance the team and fans have waited this long to have him spend time in the AHL first.

 

Here's another kicker. The Wild don't have any Russian players on roster who could potentially assist Kaprizov with the transition to North America. The Wild would want to make their first real shot at a star since Marian Gaborik feel comfortable in his new surroundings. They need to account for a second player on the roster for that reason as well.
Who Goes?
With Fiala, Donato, Eriksson Ek, Greenway and Kunin all 22-23 years old, seeing any of them getting traded seems unlikely. That is, unless the Wild and either one of Kunin or Greenway can't come to terms on a new contract in the offseason. That leaves the older vets as likely candidates to be moved. Parise and Zuccarello have full no-movement in their respective contracts. Zucker and Staal have modified no-movement clauses in their deals. So while Staal and Zucker can be traded, they are more difficult to move.
This leaves Foligno, Hartman and Victor Rask as top candidates to be involved in a trade. When left with these three options, the solution might seem obvious, but only on the surface. That trio makes up the Wild's fourth line, which has been a bright spot for Bruce Boudreau this season. Together they've owned the on-ice shot share as they are each over 53 percent in shots for percentage at 5-on-5. This allows Boudreau to deploy all four lines all game long and exploit other teams' lack of depth. Not many teams can boast a fourth line with three forwards with multiple goals and double-digit points.
This is all without mentioning that Foligno is the leader in the clubhouse with a 2.48 points per hour at 5-on-5. Rask is eighth on the team, and Hartman is 14th.
Foligno has the size, physicality, and is now producing enough offensively in his limited time on ice that he could be a nice fit on a contending team looking to fill out their depth. But with a team that seems as close as they've ever been with Foligno becoming more and more of a leader in the locker room, disrupting the harmony of the team might have more ramifications than a simple player swap.
Hartman is serviceable as well on a good team, but perhaps fetches less than what Foligno could bring in. Rask has been playing well this season, but is well overpaid for his role that getting a team to bite on a trade involving him would be tricky.
Ultimately, the goal is to get Kaprizov into the lineup and into a place where he can succeed early. So if moving Hartman, and buying out Rask means that Kaprizov can get a spot on the roster, that just might be the case.
Rushing to get another Russian?
Part of setting up Kaprizov to succeed might mean getting another Russian player into the lineup. Bill Guerin has a couple of internal options he could with to keep things cheap. However, with these internal options, there's way more volatility and uncertainty.
Andrei Svetlakov
The Minnesota Wild drafted Svetlakov in the 2017 NHL Draft with a sixth-round pick. At the time, Svetlakov was an over-ager, but was linemates with Kaprizov on CSKA Moscow. His development has slowed, but based off his average time on ice, he's averaging 1.61 points per 60 minutes in all situations. His game may not translate to the NHL, but the Wild could sign him to a cheap deal and control his costs for the future. On top of that, he's already got familiarity with Kaprizov, and the two could help each other adjust to the North American game.
---
Dmitri Sokolov
Kaprizov isn't the only Russian drafted by the Wild playing professional hockey. Sokolov has been signed to his entry-level contract, is 21 years old and has been playing in North America for five years. Sokolov certainly has potential. He scored 48 goals in 2016-17 in juniors and followed it up with 20 goals and 30 goals in back-to-back seasons thereafter. However, the jump to the AHL hasn't been kind to him. Questions about his conditioning and desire to get better surfaced in juniors and have only continued into the minors.
However, he's signed through the end of next season and is cost-controlled. Maybe he gets exposed in the NHL. Maybe he won't ever figure out the defensive side of things and his skating won't improve. However, if he can translate his pure goal-scoring ability to the NHL, perhaps he could be sheltered enough by a coach to be a contributor in Minnesota.
---
Alexander Khovanov
Perhaps the bigger story this season has been the emergence of Khovanov with the Moncton Wildcats. His 53 points in 26 games in the QMJHL is the second-highest output by a Wild prospect in juniors this season. He impressed in the World Junior Championships on a strong Russian team en route to a silver medal. He was second on the team in points with eight points during the two-week tournament. At age 19, he's already signed to his entry-level contract, and could try and make the jump to pro hockey by next season.
The NHL is not juniors, however, and it takes a special player to make that jump right to the NHL in year one successfully. Maybe the adversity he faced during his draft year after contracting Hepatitis A, and having a benign bone tumor removed from his leg this summer helped push this kid to have incredible drive. Time will only tell on Khovanov, but he certainly is an intriguing option to lineup with Kaprizov.
---
MikHail Grigorenko
Grigorenko's name popped up recently as a player looking to possibly make his return to the NHL. The 2012 first-round draft pick (12th overall) of the Buffalo Sabres didn't have a good run in his first stint in the NHL. After totaling just 64 points in 217 total NHL games, he went back to the KHL at age 22 and has found success playing on CSKA Moscow. Maybe he's grown up a bit and could make the jump as a now-25-year-old to the NHL. Having dealt with the culture shock of a new continent and the perils trying to adjust to the NHL, he could be a solid mentor to Kaprizov on the Wild.
The issue would be that other teams could be in the running and a bidding war could artificially inflate his value. However, his 105 points in 136 games in the KHL translates to roughly 51 points in an 82-game season in the NHL, or about what he did for the Colorado Avalanche prior to ditching the NHL.
---
Minnesota has a lot riding on Kaprizov. The Wild are trying to temper expectations, and some fans remain skeptical. With that said, they will want to give Kaprizov every single opportunity to be that player everyone is expecting him to be. Room has to be made, and bringing in a player who can help with the adjustment must be considered.