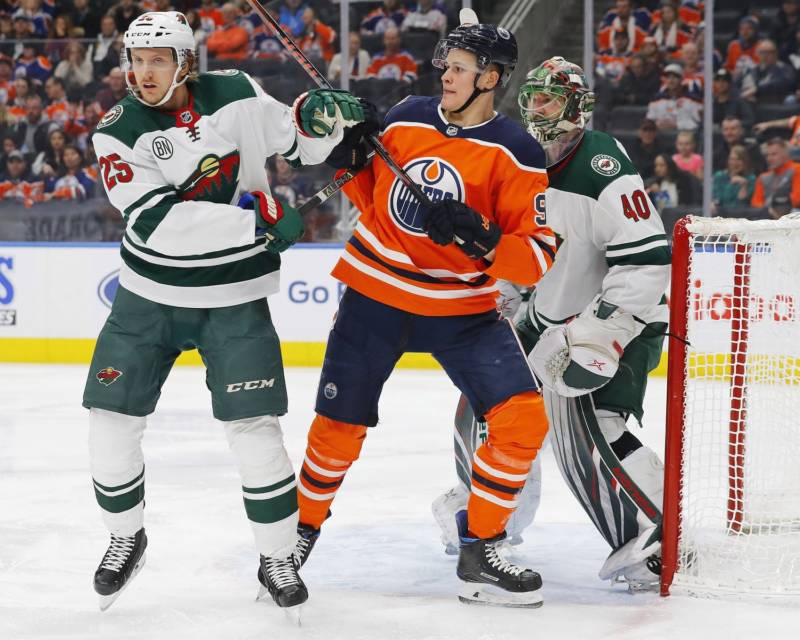 On Monday's Giles and the Goalie podcast, we took questions for a potential mailbag segment. However, the show and our guest Dave Schwartz ran long due to the news of Bruce Boudreau being let go, so we had to cut the segment. We did say at the end questions would be made up at some other point, and well, we are at that other point.
Here are the questions that never were answered. *twilight zone music*
I go back and forth on this. Goaltending has torpedoed this season, as mentioned previously, and there's really no great plan for the future in the Wild goal. However, goaltenders seem to be a bit more replaceable than finding a top center, which the Wild need badly. The team needs an elite playmaker down the middle who can feed pucks to Kevin Fiala and Kirill Kaprizov next year.
If you need a reference to what an elite center can do for a good wing, just take a look at Jason Zucker in Pittsburgh alongside Sidney Crosby.
With Jonas Brodin and Matt Dumba out there in trade talks, there's a decent chance of the Wild grabbing another first-round pick. The 2020 draft is considered to be a deep one, so having more picks early on would do the Wild prospect pool wonders. Should they land another first-round pick, anything is possible in terms of moving up, but you rarely see teams move up to high spots in the draft. Maybe the Wild won't need to with a good draw in the lottery.
If the team is set on keeping Ryan Donato buried on the fourth line or in the press box, yeah give him a chance somewhere else. It does not make a ton of sense to not at least see what he has before you send him elsewhere, but that's probably why I'm not in hockey management. Maybe interim head coach Dean Evason will give him a chance?
This might merit a post unto itself, but Devan Dubnyk is a low-key buyout candidate this offseason. The cap hit on a Dubnyk buyout would be $2.6 million in 2020-21 and only $833,333 in 2021-22. With some freed up cap space thanks to the Zucker trade and at least one expected player on an entry-level deal next season, that first cap hit might not impact the Wild at all. The Wild badly need to make some kind of change in goal, and this might be the only way to facilitate that change. You can't keep Dubnyk and Alex Stalock both for next season.
Brodin.
Why does this franchise treat "the greatest hockey fans in the world", the "State of Hockey", people who have a damn jersey number retired in their honor…as though we are stupid? – Bryan R.
Great question Bryan! I don't understand this either. Anytime the Wild make hockey moves they come out and beat around the bush when it comes to pressers and doesn't ever really seem to want to speak the truth. Like for instance on Friday when Bruce Boudreau was fired, Bill Guerin said he wanted to make a change and give this team a boost in their playoff chase. They do realize that media is an avenue to the fans, and the fans can read right through the lines of crap being given? Boudreau has the third-best winning percentage in NHL history by a head coach and had the team actually playing good hockey in recent weeks before his dismissal.
Yeah, I'm not buying that line from Mr. Guerin. No one should. This move was clearly about bringing his own guy in, whoever that may be, and low key tanking? Or maybe its to see what Dean Evason has on the bench. Who knows? But we all know the real reason for firing Boudreau was not the line we were given.
Both.
https://twitter.com/RussosSnacks/status/1229460285825671169
A better question, RussoSnacks, is why you have this card to begin with? That is pretty rare though. Remember when Alexandre Daigle had a decent half-season with the Wild?
Have a great weekend, folks and stay tuned to our continuing coverage of the Wild and trade deadline season!
---
http://zonecoverage.com/wp-content/uploads/2016/05/itunes.jpghttp://zonecoverage.com/wp-content/uploads/2017/05/Podcast-header-Image-City-1.jpg