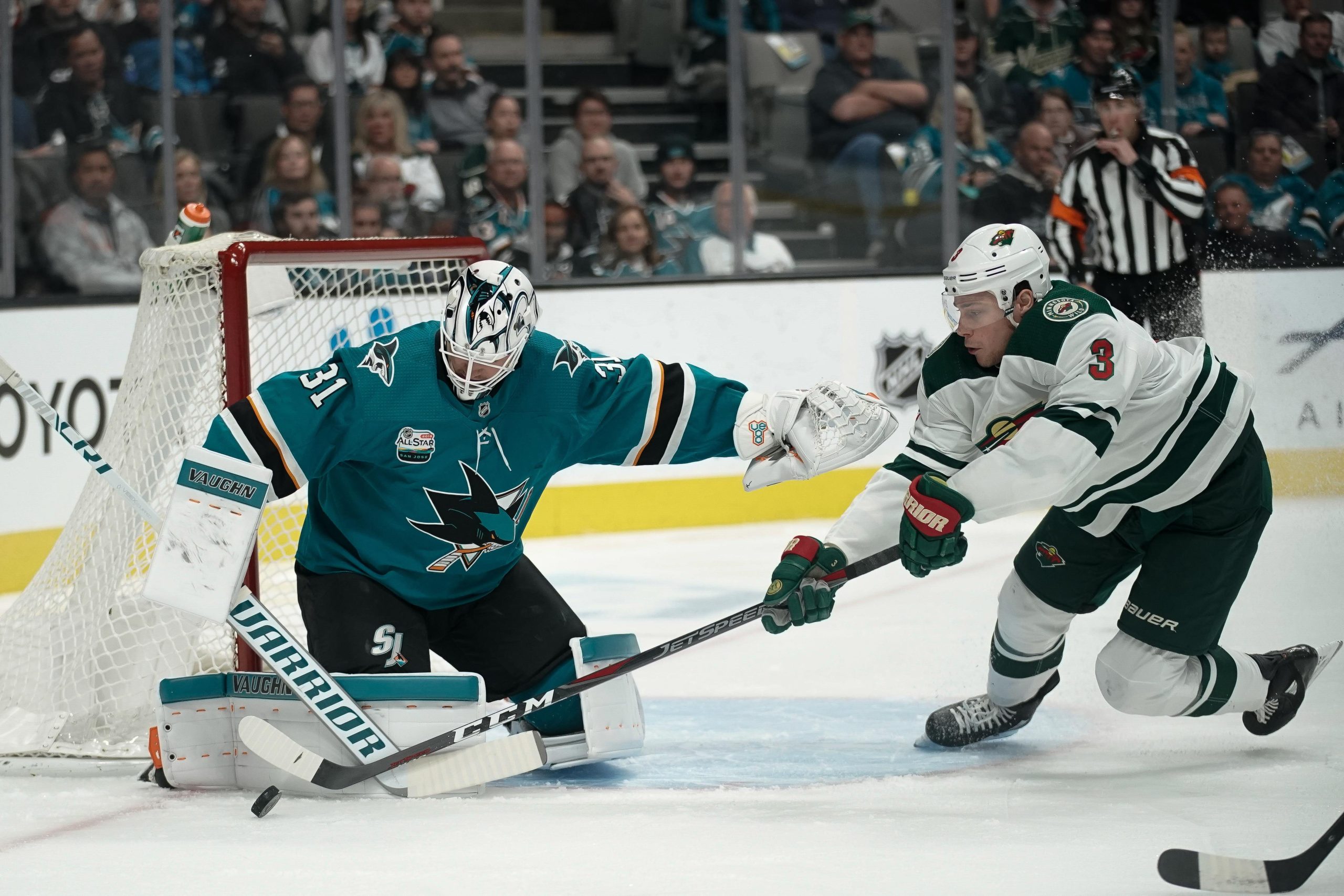 Welcome back! After I returned to social media following the election season disgustingness, I asked all of my friends and followers for questions on the Minnesota Wild and existential questions on life, as I do monthly during the season.
Here's what they had to ponder.
https://twitter.com/siriusmashup/status/1060245121243983876
I've heard juicy rumors of Wild season ticketholders being shown third jersey concepts for next season in a dark room in the bowels of the X, but being sworn to some kind of secret blood-oath as not to divulge the details. I find this silly. I understand wanting to keep things under wraps, and not over-exposing the third jersey long before it hits the market, but involving fans on a broader level to refine and have input on the jerseys can't be a bad thing, otherwise you end up with crap like this.
But as far as what it'll look like, your second favorite Wild writer actually did a series on that exact topic this August, so please enjoy this Wild example I fashioned.

 

Giles Ferrell 

 

When is too early to put up Christmas decorations?

 

Holly Thomas

 

'Tis the season, what is the Best Christmas movie?

 

I draw a line when it comes to Christmas. I don't mind hearing some Christmas music pre-thanksgiving, and even though I can't sit through a movie in general, I suppose watching a Christmas movie a ways ahead of time wouldn't be awful, especially Elf, the best of all Christmas movies.

 

But decorations need to wait until after Thanksgiving. If you must, celebrate with your family and decorate for the holidays on Thanksgiving, that's perfectly fine, but I don't want to gorge myself incontinent in the presence of ceramic Santa Clauses and felt reindeer advent calendars. Something about that just doesn't feel right.

 

I rather enjoy Thanksgiving, the gluttony and football that comes with it, and celebrating it surrounded by Christmas decorations feels like cheating on Thanksgiving. Thanksgiving doesn't deserve that. Thanksgiving has been really good to you, and you should let Thanksgiving have its day before you go nuts trying to impress Christmas.

 

https://twitter.com/hockeynpearljam/status/1060647188978647040

 

I spent much of the offseason questioning the fourth line as assembled, thinking that it would be a weak spot for this team. So far, they've proved me wrong, playing relatively well, by not being an absolute dumpster fire. While they've had some production, I wouldn't go as far as to say that it's been production beyond what was expected. Currently, Eric Fehr, Marcus Foligno and JT Brown rank eighth, 10th and 11th respectively in points by Wild forwards. They've carried their weight, but that's about it.

 

The third line might be in even worse shape compared to expectations, as Joel Eriksson Ek, Jordan Greenway and Charlie Coyle haven't produced nearly as expected so far (depending what you think of Coyle). It's well-documented that the Wild don't have a game-changing superstar, so they'll need to win through scoring depth. For that to happen, the third line absolutely needs to be more productive, and/or the fourth line needs to go from meeting low expectations to markedly exceeding them.

 

Without that, they're likely playoff cannon fodder for the teams with superstars or actual scoring depth, unless Devan Dubnyk finds a way to paint a brick wall to look like the back of the net like Wile E. Coyote.

 

 

A.) It's possible, but I think it would have much more to do with the fact that he's not Paul Fenton's "guy" than any kind of reflection on the job he's done. It's a constant in sports- new GMs firing a coach that they didn't hire, for little reason other than the fact that they didn't hire them. We literally just saw that exact situation with the Twins. Boudreau is the best coach for this team, but the long and short is that this team isn't talented enough to meet everyone's expectations.

 

B.) The Wild are still a ways from a rebuild, as much as some fans want it (which is puzzling, given the aforementioned expectations). With the contracts currently on the books, they're just trying to catch that lightning in a bottle season and get some postseason success again. Retooling is an interesting idea, and depending on what your definition of it is, the Wild could still pull that off.

 

They've got enough value on the roster that's tradeable, that they could absolutely swap out many of their current players for other players of comparable value, and get a roster that is similarly talented, just different. What purpose that would serve I'm not exactly sure, but for the folks screaming a the Wild to do something, well, that would be something.

 

Pete Leisen

 

What's actually wrong with the Wild? They can't seem to get it together.

 

Well, my Ailuropodic friend, it started a long time ago, when politicians in Minnesota decided not to support building a new arena for the North Stars, coupled with the fact that Norm Green was a philandering [censored] waffle. The state got a new team at the behest of St. Paul Mayor Norm Coleman and the late, great Bob Naegele Jr., but mistakes were made along the way.

 

First, they decided to name the team a non-plural name, which is always tough to overcome, then they decided to pander to the state's hockey history to a nauseating level, then they made a few poor choices when hiring some folks, and the team has been the picture of mediocrity ever since. It's sad really, and while it's a cautionary tale on how hard it is to gain traction as an expansion team, others have fared worse.

 

It's tough to say what could turn the Wild franchise around, whether it be the new front office, perhaps new ownership, or fans that understand syllables. Someday, the Wild may rank among the NHL's most feared teams, but regardless of what changes, it's going to be a long road to get there, and it may be fleeting once they do.

 

 

Well, probably because it's not a very good song for jazzing up the crowd. If the Wild went with a 'Wild' named goal song, they might rather go with Motley Crue's '

' or even Will Smith's '

', or maybe even that indecipherable '

' song from Rihanna and DJ Khaled. My personal favorite would be swaying back and forth to the Rolling Stones' '

', but that's just me.

 

But we all know that these changes would never happen, because fans can't mindlessly sing the same letter of the alphabet repeatedly to those songs, and that's the most important thing in a goal song.

 

Pete Leisen

 

Favorite food to eat in California?

 

Funnily enough, the food I crave the most from my time spent in California is from a taco stand in the San Jose suburbs, a town called Campbell, at a place called Taco Bravo. They're nothing fancy; a pretty straightforward menu of all the usual taco fare, but the quality of their ingredients, and the ratio of said ingredients makes them the best taco I've ever eaten. You can see me eating one of these tacos in a Giles & The Goalie Facebook Live recap from last December.

 

Aside from that, I had some greats meals in California, but wasn't really blown away by the cuisine out there. Probably because I like avocados, just not on literally everything.

 

https://twitter.com/siriusmashup/status/1060601348121616390

 

I can't imagine it's very high. Coyle had a brutal season last year, likely hampered by some mostly-unreported wrist injuries, and he's gotten off to a decent start this year, but certainly nothing that would tell you he's going to get back to the 60-point range like he came close to a few seasons ago.

 

Coyle has always been a bit of an enigma as a player, even when things were going well, so teams taking a chance on him would really be taking a chance. If the Wild really, really wanted to move on from him, they'd likely be giving him away for a mid-round draft pick. For that price, you're better off just holding on to him and hope he can still get something going.

 

Rozlynn Remington 

 

Favorite pie?

 

Pumpkin pie is always the go to. Pumpkin pie is the chocolate chip cookie of the pie world, and if you don't like it, that's OK, but you have to recognize that not liking it makes you kind of weird. There are pies that bring some different things to the party, like a good Key Lime pie if you're in the fruity-custardy mood, or one of those ridiculous oreo/chocolate/piles of whipped cream pies if you're in the 'I've lived too long, let's speed this up' mood. Banana cream pies are always a good choice too.

 

Rozlynn Remington 

 

If you could be remembered for only one thing, what's your one thing?

 

Having great opinions on food and hockey, in that order.

 
---