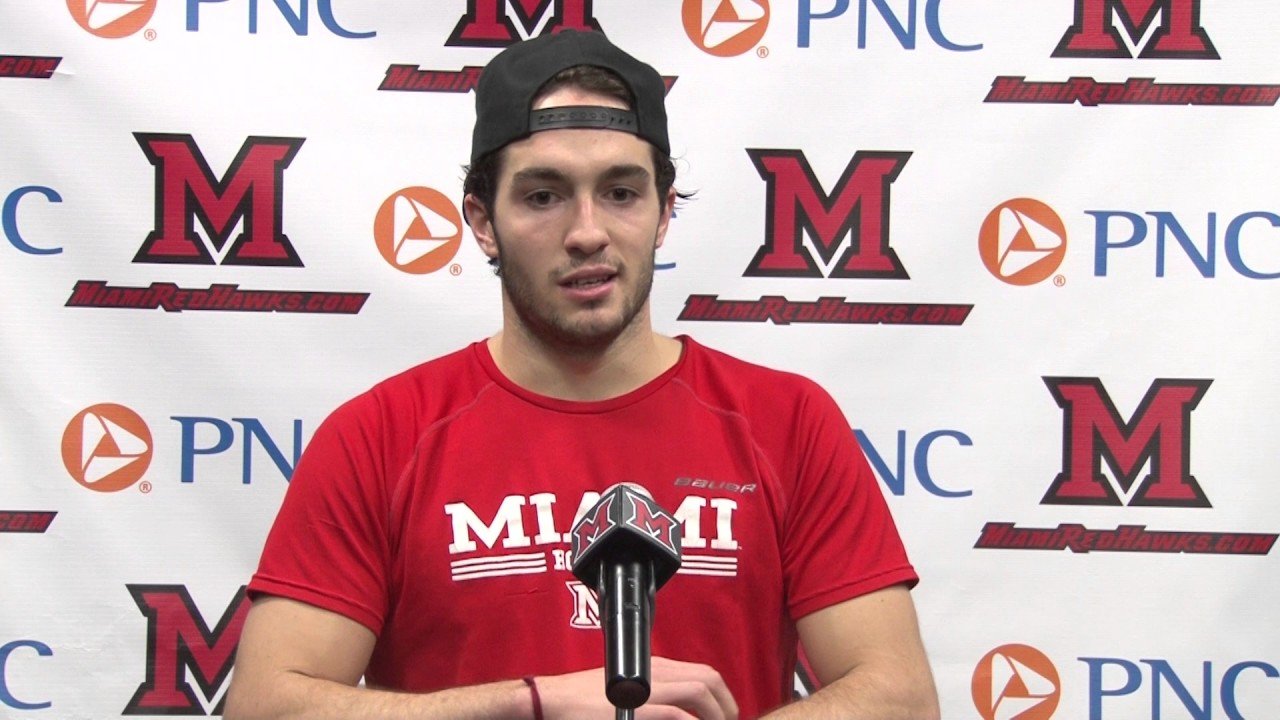 Louie Belpedio knew his time at the University of Miami (Ohio) was going to end, so he soaked up every last minute with the RedHawks he could.

 

After four seasons, 135 games and 83 points, Belpedio's time with Miami came to an end at the hands of the St. Cloud State Huskies in the NCHC playoffs two-and-a-half weeks ago. But the season, and his time at Miami, was certainly not lost on the 6-foot tall defenseman.

 

"I knew it had to end eventually," said Belpedio. "It's sad it ended that way with it being my senior year. That place means everything to me and I got everything I could have imagined out of the four years there."

 

 

Louis, or Louie, as he is more commonly called, was

. The right-handed defenseman was coming off a season with the U.S. National Under-18 team -- tallying 15 points in 26 games -- alongside fellow Wild 2014 draftee Alex Tuch and was getting set to begin his NCAA career with the Miami RedHawks in the fall.

 

In his first season with the RedHawks, Belpedio finished second on the team in defenseman points (19) while helping the team win the NCHC Championship in March. In the four seasons he played with Miami, winning the tournament was Belpedio's favorite moment with the program.

 

 

"Winning the NCHC Tournament was definitely my number one [memory]," exclaimed Belpedio. "That was a special group to be a part of."

 

While team success struggled a bit over his final three years at Miami, Belpedio had nothing but kind things to say about his teammates and coaches.

 

"I'm still really close with everyone at Miami. I'm happy with my four years and how I have progressed as a person and a player."

 

 

After Miami's season came to an end on March 11 in St. Cloud, Belpedio took a few days but ended up signing an amateur tryout contract (ATO) with the Iowa Wild five days later. He was quickly inserted into the Iowa Wild lineup as they continue to be part of a playoff chase in the AHL's Western Conference.

 

Iowa currently sits on the outside looking in, trailing Rockford by three points for the final playoff spot in the Central Division with nine games remaining.

 

While some players might not like making the jump from college to the pro team in the midst of the playoff chase, Belpedio is relishing the opportunity since joining Iowa.

 

"Its pretty fun, actually," said a grinning Belpedio. "I haven't had much time to think about it just cause we have played so many games in not a lot of time. I think that's also a good thing, go out and play hockey, do what your good at, and have fun with it. Obviously, playoff time is the best part of the year so I'm excited to be a part of that now."

 

In his first six games with Iowa, Belpedio has yet to register a point and is a minus-5. The six games have come via the back-to-back-to-back weekend variety -- meaning there has been a game played on Friday, Saturday and Sunday -- and it marks the third straight weekend Belpedio has played in three straight days.

 

It's a fact not lost on Iowa head coach Derek Lalonde.

 

"He went through his first three [games] in three [days] of the year in a very emotional playoff series," said Lalonde. "Then we turn around ask three in three of him in three different cities with no practice time and then we ask three on three of him [again the following weekend]."

 

"I feel good," Belpedio said when asked about the grind. "In college, I played a lot of minutes every night. I've learned to manage my ice time. Its just be smart, pick your spots, and do what you do best."

 

Despite the heavy game activity in the past couple of weeks, Belpedio continues to make adjustments to his game for the better while in Iowa.

 

Lalonde noted that at first Belpedio looked a bit overwhelmed considering the quick transition from NCAA to the AHL. But the Wild head coach did go on to note that Belpedio has already made some adjustments. "[saturday] was probably his best game. He looked engaged, more comfortable. [He's a] great kid, a good competitor and we will need him [down the stretch]."

 

The self-described smart player in Belpedio admitted to struggling a bit in a much faster-paced game since joining Iowa but has already recognized what he needs to do to pick up his play and help the Wild in their stretch run.

 

"Defensively its tough, you just have to be aware all the time. Just have active sticks -- and for me not being the biggest guy in the world -- it's just maintaining good body position and winning the one-on-one battles.

 

"Just know that you are never out of the play wherever you are standing on the ice."

 

But as his now-former head coach at Miami Enrico Blasi described Belpedio as hard-working and a great skater, there is no doubt that the youngster has the tools to adapt to the pro game.

 

With Minnesota a bit thin on the depth chart at right-handed defenseman, a quick adaptation to the pro game could very well earn Belpedio a shot with the big club in the not-so-distant future.

 

For a player who models his game after Penguins star Kris Letang, that ascension could come very quickly next season. Something Wild fans should now doubt keep their eye on down in Des Moines.

 
---
Stay up to date on the Wild with the Giles & the Goalie Podcast!