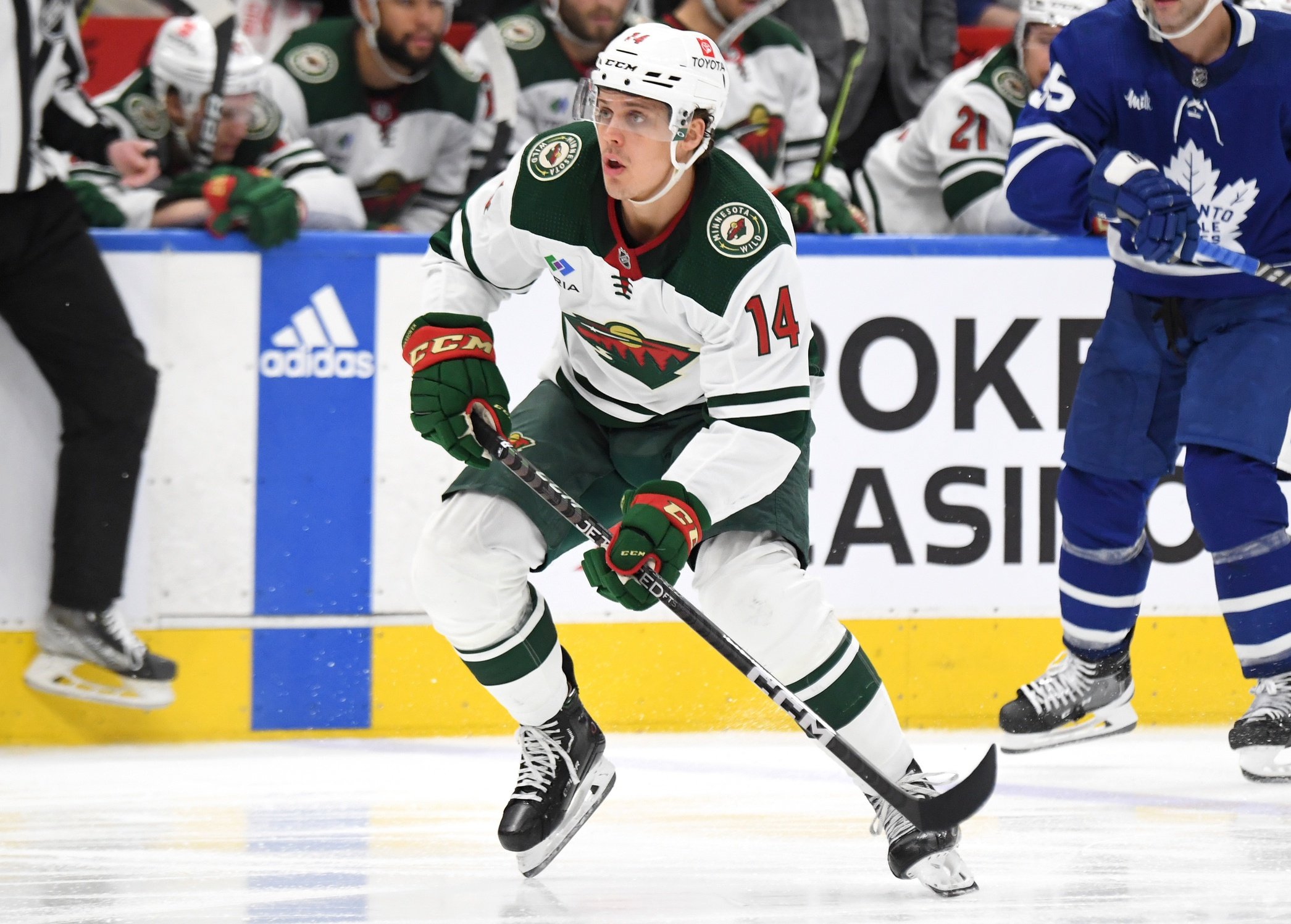 Image courtesy of Photo Credit: Dan Hamilton-USA Today Sports
The Wild survived, even thrived, without Kirill Kaprizov. Can they do the same without their do-it-all center?
The Stanley Cup Playoffs are just around the corner. The Minnesota Wild have a handful of games left and Kirill Kaprizov is finally going to draw back into the lineup after his weeks-long injury rehab. Kaprizov will be hungry to score, so adding him back with Matt Boldy and his hot streak is expected to create fireworks.
It was all coming together a little too perfectly and Wild fans knew that. That's why when the other shoe dropped, fans were bummed, but not overly surprised. Unfortunately, that "other shoe" just happens to be the player who might be the hardest player to replace -- even more so than Kaprizov.
When it comes down to it, the only thing Joel Eriksson Ek doesn't do is strap on goalie pads and get between the pipes. Not only is he part of both special teams, but he is a major part of them. Even his 5-on-5 role is crucial, centering Boldy's line, which has turned out to be a powerful scoring line for the Wild. There is no one person who can fill all of those holes. There is no player who is a one-for-one swap.
Of course, the fanbase panicked when Kaprizov went down in the Winnipeg Jets game on March 8. Everyone was convinced that the Wild were done for the season. As thought without Kaprizov, the team would fall into the 1% statistical chance that they wouldn't make the playoffs.
Instead, it ended up being a blessing in disguise. At the time, Kaprizov was single-handedly carrying Minnesota's scoring, but the secondary scoring got going once he left. Kaprizov would drag the Wild over the finish line even if he had to play all of the positions himself. They seemed to hang back at times and over-rely on their star to do that.
Fast-forward to today, and now the Wild have their star player rested for the playoffs and their secondary scoring problem cleaned up.
There is no cutesy "moral of the story" that will come out of Eriksson Ek's absence. Kaprizov might carry the team, but Eriksson Ek is a load-bearing wall within that structure. There is no simple advice when it comes to an Eriksson Ek absence. With Kaprizov out, it was put more pucks on the net and score some goals. For Eriksson Ek, it would take an entire paragraph just to scratch the surface.
One of Eriksson Ek's greatest assets is his net-front presence. His large size acts as a great screen for the goalie, but he's nimble enough to dodge the puck while still looking for a tip-in. Ryan Reaves has had success lately with a similar net-front position, but he can't match the skillful dodging.
The second line, which was functioning as Minnesota's first line during Kaprizov's absence, had Eriksson Ek anchoring it. It's a rare night where he isn't the best center on the team. Who can fill those shoes?
The other centers have lines that aren't set in stone but still seem to stay the same each game. Freddy Gaudreau could possibly step into Eriksson Ek's center role because of his previous experience with Boldy. But Gaudreau and Eriksson Ek are two very different players. Boldy and Marcus Johansson would need to adjust their style of play to accommodate that. As for someone like Marco Rossi, it's hard to know what you're going to get, let alone count on him replacing all Eriksson Ek does.
Adding the Boldy line and the Kaprizov lines together was supposed to bode well for the scoring chances through the end of the season and into the playoffs. The hope is that Boldy's hot streak can continue even if his style of play needs to adjust to a new center. At this point, no one knows until they see it in action.
The penalty kill has been clicking, sitting in the top half of the league. Kaprizov doesn't play on the penalty kill, so there was no problem when he was out. The biggest problem with Eriksson Ek's absence is that the PK is already missing Mason Shaw, another player who was capable of playing a big part. The other players on the kill will likely need to log more shorthanded time while throwing other players on the ice who might not be as skilled at killing off a penalty.
The power play is another area where Eriksson Ek played an important part by screening the goalie. While the power play units have been a revolving door of sorts lately, that important net-front presence is hard to replicate.
Generally, Eriksson Ek is that player that other teams love to hate. No one gets in more scrums while being totally innocent than him. His pest behavior is unique in that way. It's almost like the fact that Eriksson Ek exists and parks himself just outside of the crease is enough to enrage opponents. Will that pest energy be missed when he is out of the lineup?
Losing Eriksson Ek at this point in the season feels like the worst possible scenario for Minnesota's playoff chances, but don't hit the panic button yet. If the Wild can keep it together and get through what will hopefully be a short absence, his return can make for a deeper run in the playoffs. Just like when Kaprizov was injured, everyone will have to step up. This time, though, they'll all have to step up in different ways to try and make do, because no one player can totally replace him.