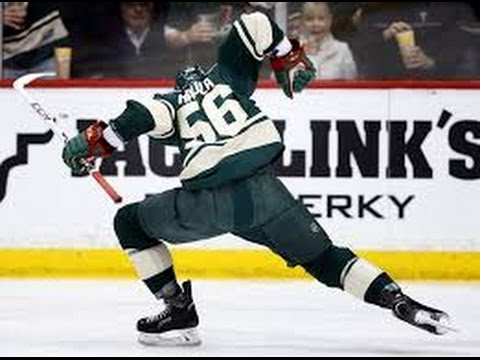 With the pending announcement of the Vegas Golden Knights Expansion Draft tonight, it was only a matter of time before it was leaked as to who the Wild were going to lose in this. As Michael Russo so quickly reported this morning (and hinted at yesterday afternoon by him and Bob McKenzie of TSN), Erik Haula will be the Golden Knights' selection.
After the Wild's protection list had been turned in on Saturday, it looked like Vegas had some very enticing options with Matt Dumba, Marco Scandella, and Eric Staal all available. General Manager Chuck Fletcher had his work cut out for him, if he wanted to steer Vegas in another direction and not take those players. But apparently (in the same Russo story from this morning) Fletcher had been working the Haula to Vegas angle since the draft combine when he and Haula's agent Jay Grossman met.
To ensure that Vegas signed Haula, who is a restricted free agent (Vegas signing any UFA or RFA during this time would count as that team's pick in the expansion draft), Fletcher is now sending prospect Alex Tuch over to the Golden Knights. Tuch had a brief cup of coffee with the Wild this past year, but he was never really given a chance to crack the Wild lineup due to their depth at forward.
All in all, this was about as good a move as Fletcher could make to protect his roster. He was going to lose a good player somewhere, and he found a way to ensure he lost a player of minimal significance compared to the likes of the three players mentioned above.
When he was on his game, Haula was an impactful player for the Minnesota Wild. He was tremendous on both ends of the ice, providing offense while shutting down the opposition's top center defensively (example: 2014 playoffs). Speed is a big part of his game, and it caused problems for opposing teams like the Chicago Blackhawks.
But the problem during Haula's tenure was him actually being on his game. For long periods of time, Haula would go invisible, and it often led to him being demoted to the fourth line. Slumps were frequent under former coach Mike Yeo, and they still popped up under Bruce Boudreau this season. Haula could just not put one consistent stretch together in Minnesota.
Haula points by season:
2013-14: 15 points (6 goals-9 assists) in 46 games
2014-15: 14 points (7 goals-7 assists) in 72 games
2015-16: 34 points (14 goals-20 assists) in 76 games
2016-17: 26 points (15 goals-11 assists) in 72 games
The other factor in this move by the Wild is that Haula was expendable. Joel Eriksson-Ek will more than likely start the 2017-18 season on the Wild roster, and before the Haula move with Vegas, it probably would have been as the fourth-line center (not a spot you want to put a prized prospect). But now with Haula out of the fold, Eriksson-Ek could start up on the third line and play some meaningful minutes for Minnesota. Luke Kunin, another center prospect, will be in Iowa to begin next season and is also high up the Wild prospect list.
Again, given all that was at stake, this was about as good a move to make for the Wild in the expansion draft. They protected valuable assets from George McPhee's club (McPhee, who was holding unprotected players for ransom this week) in Scandella, Dumba and Staal, while they lost a prospect in Tuch who might not have gotten a fair crack at the roster due to the Wild's depth on the wing. The Wild also managed to hold onto draft picks (and even picked up a conditional one in this deal), something Vegas has been accumulating this week, which is an area of weakness for the club right now.
Give Fletcher a pat on the back -- I know it's hard for some of you -- because he played this as well as he possibly could.
---
Never Miss an Episode of Giles & The Goalie!