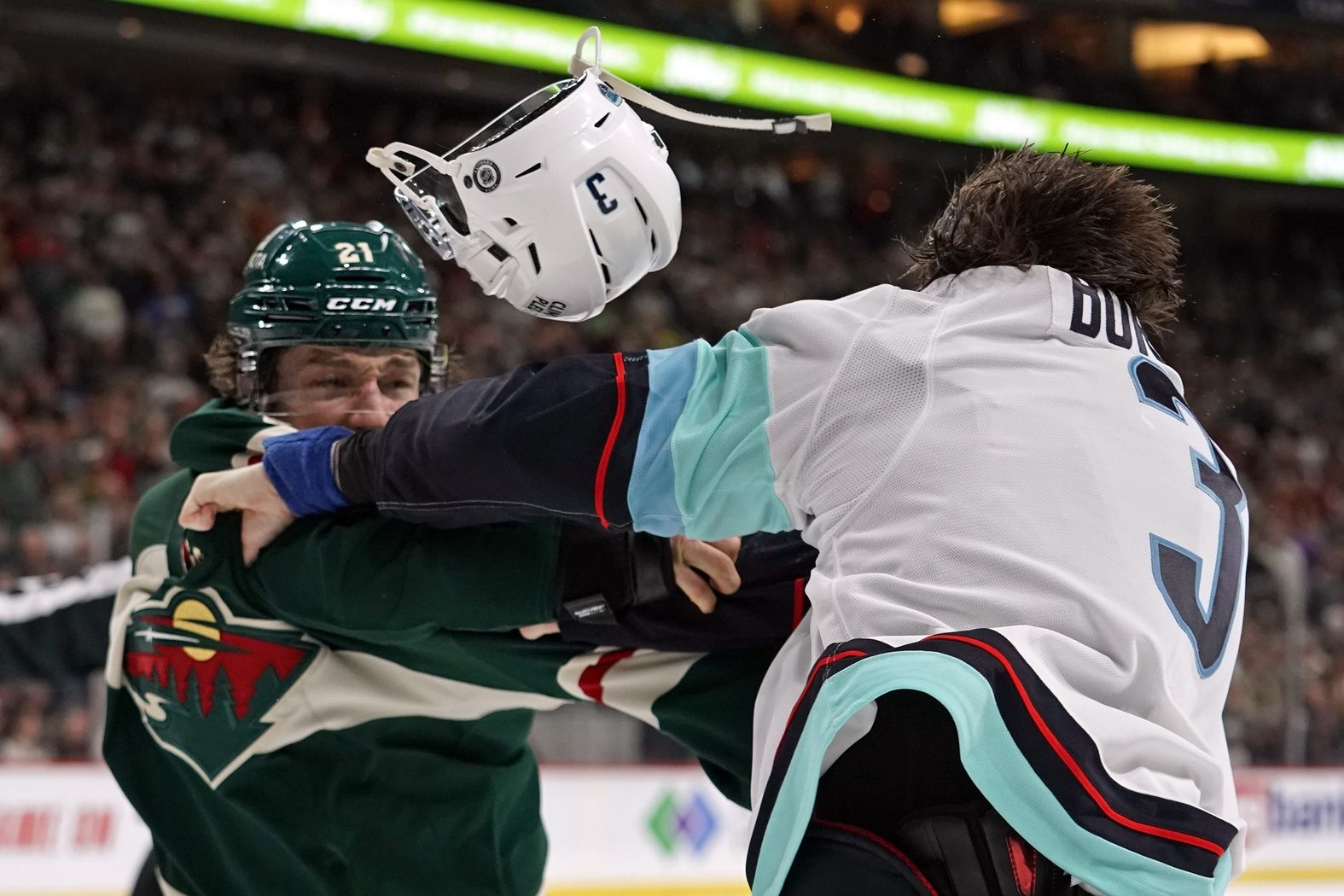 Fighting is still part of the game of hockey. It allows the players to police the games themselves and provides an entertaining dynamic to the game. It's also probably the only non-combat sport where it's normal to see players duke it out. The Minnesota Wild had a lot of memorable fights over the past year, so let's look at the ten best ones.
Duhaime showed last season that he's not afraid to drop the gloves. He's a gritty fourth-liner with a knack for fighting. This one is a pretty decent tilt for a rookie and the first of several from Duhaime on this list.
9. Everyone vs. Detroit Red Wings
These types of fights don't happen very often. A full-on line brawl broke out between the Red Wings and Wild. Things got pretty rough between Matt Dumba and Lucas Raymond, and everyone else wanted to get in on the action. Even the goalies tried to partake in the tussling before the referees broke it up. This one ended with blood on the ice and a yard sale's worth of sticks on the ice.
Fans got a two-for-one deal with this one. This fight involves four heavyweights, with Foligno squaring off with Lowry and Greenway taking on Dillon. The rivalry between the Winnipeg Jets and Wild has grown in recent years, and it has resulted in great scraps like these – and the next fight on this list.
7. Foligno vs. Lowry II: The Moose Strikes Back
Foligno continues to be a tough guy to play against. This fight was his and Lowry's second of the game. Hopefully, the Jets and Wild rivalry continues to grow and gives us more action like this.
Here is another one of Brandon Duhaime's many fights from the season. The best part of it? He's squaring off against known pest and hand-biter Brendan Lemieux. Everyone loves to see the pests of the game get lit up, and the crowd at the X got a good show here.
Deslauriers and fellow former Wild player Nick Seeler got into a great scrap here. It ended in helmet taps from Seeler. Both players always seem to be up for a fight, and this one did not disappoint. Coincidentally, Deslauriers recently signed with the Philadelphia Flyers as a free agent, so the two are now teammates.
4. Foligno's Righteous Anger vs. Trent Frederic
Here's one more from Foligno. If anyone remembers Minnesota's games against the Boston Bruins this season, it was clear that Trent Frederic should've seen this tilt coming after hitting Kirill Kaprizov hard and high. As evidenced by this next fight, he was Boston's major antagonist all season long.
3. Duhaime's Leftover Righteous Anger vs. Frederic
Frederic and Duhaime battle it out here. They continuously threw right and left hooks, and the fans loved it. Fighting is not leaving hockey, as these two young players seemed more than eager to drop the gloves.
2. A Bird? A Plane? vs. The General vicinity of Dillon's Face
Now we have one of the most talked about fights of the season: Foligno's attempted jumping Superman punch. It didn't exactly connect, but this move is rarely seen in the NHL these days. The crowd at the X got a real kick out of it too, and it was a hit on social media for weeks.
1. It's a Bird! It's a fine! It's your ex sliding into my Venmo account!
While this one isn't considered a fight, it resulted in one of the hilarious moments from the season. Ryan Hartman and Evander Kane wanted to duke it out, but the refs broke it up before it happened, and Hartman is not happy. He goes as far as showing Kane the middle finger, which resulted in a fine. However, fans (and Kane's ex-wife) had Hartman's back and Venmoed him the money to pay the fine. Hartman donated all the money he received to the local Children's hospital.
So there you have it, the ten best fights (and almost-fight) from the 2021-22 Wild season. We saw bloody noses, an attempted Superman punch, and pests everywhere being taken out. Much like the Wild's 113 points, next year's tilts will be hard to top.