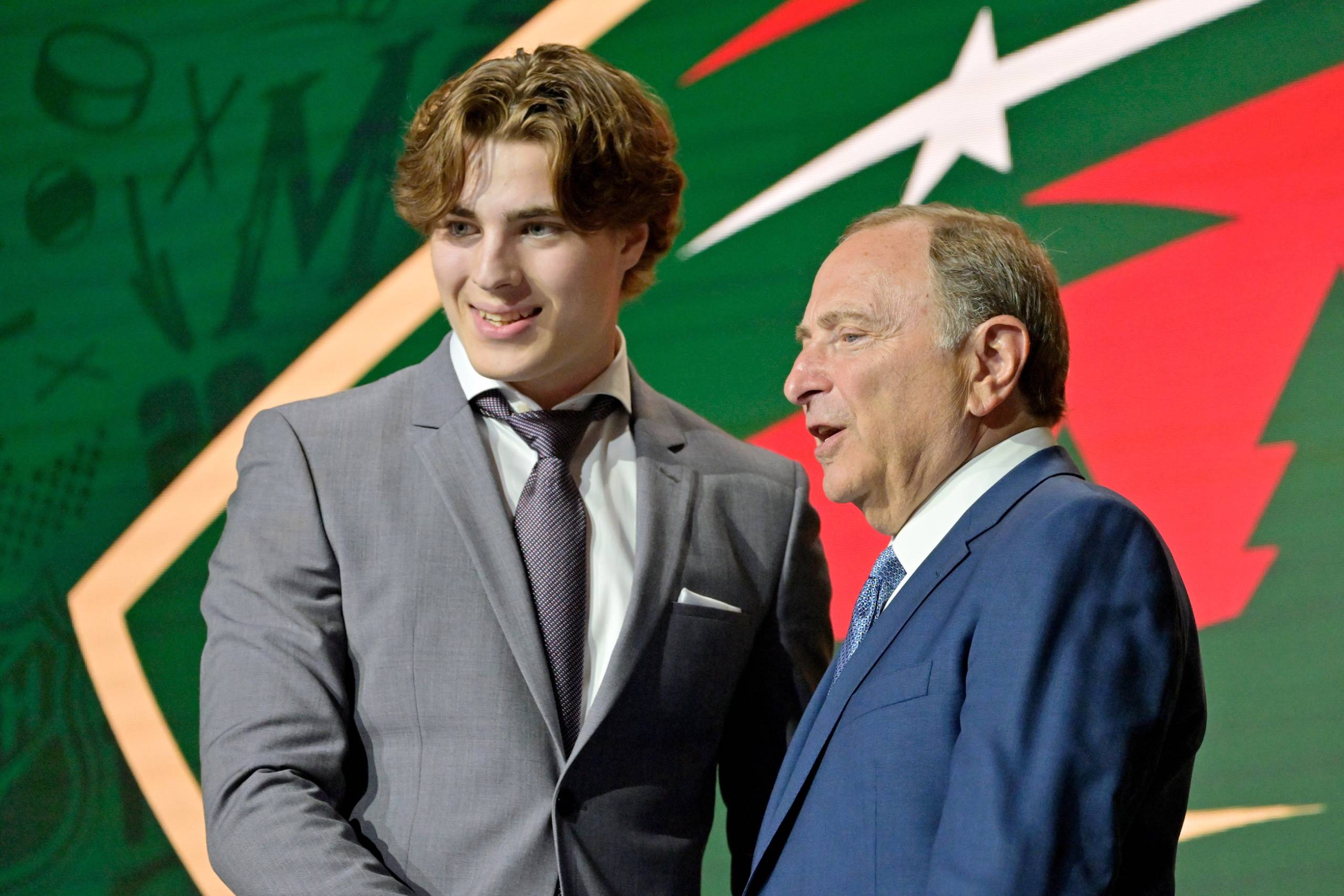 The Minnesota Wild's first of two first-round draft picks this year, Liam Öhgren, had a less than memorable World Junior Championship. In his first tournament as a Wild prospect, it was easy to forget at times that he was even on Team Sweden. The announcers rarely said his name. Öhgren managed one assist in six games in a somewhat limited third-line role. Still, fans shouldn't fret about his lack of production.
The entire Swedish team just failed to do anything this year. They weren't scoring goals or playing like the powerhouse team they usually are. Team Finland shut them out in their semifinal match-up, even with Sweden getting a prolonged 5-on-3 power play.
Still, Sweden took home the Bronze medal, all thanks to Öhgren's future Wild teammate Jesper Wallstedt.
In Öhgren's defense, he was one of the youngest players on the team, and he was one of the squad's last additions. He mostly took third-line duties and didn't play a ton of minutes. Sometimes he got looks on the second power-play unit but could not accomplish anything with that role.
Öhgren is only 18, and he'll most likely get another shot or two at a Gold Medal. He'll still be 18 at the next World Junior Championships in December because he had a late January birthday.
Despite the lack of production, the Athletic's Scott Wheeler also had nice things to say about Öhgren's tournament. "I thought Öhgren played well considering he was a late addition to the team and played limited minutes," he said. "He was skating well, and that's important for him. He had a few nice moments attacking in control and leading rushes. Liked the effort level he played with."
Wild fans have seen Swedes tend to take a little longer to reach their full potential. Just look at Joel Eriksson Ek. He played in two World Junior Championships and didn't produce much initially. He had two points at the 2016 tournament before exploding with nine points in his second go-around.
And look at where Eriksson Ek is now. He had a slow start to his NHL career but has recently been one of the most steady Wild players on the roster. Minnesota took Eriksson Ek 20th overall, and Ohgren at 19. Don't be surprised if Ohgren experiences a similar trajectory to Eriksson Ek.
Now, they're not identical, as they play different positions. Eriksson Ek is a center with more responsibilities that can require sacrificing some offense. Öhgren is a winger with more of a scoring touch than Eriksson Ek. That used to not say much, but after Eriksson Ek scored 45 goals in his past 133 games, that should perk your ears up.
"He can score goals in a variety of ways," says Corey Pronman, who recently ranked Öhgren eighth among Minnesota's Under-23 players. "He generates a lot of offense around the high-percentage areas because of his strength and compete. Öhgren also has a shot that can score from range." And much like Eriksson Ek, Pronman adds that Öhgren's game is built around shooting and hard work.
Pronman might have Öhgren's number then, considering he was dead-on in predicting how Eriksson Ek's career has played out. "Eriksson Ek was just OK in his first NHL season, but I think he has more to give," he wrote. "He may never be a big point producer, but he's a smart two-way center, and I think there's more offense to come."
It's easy to think that Liam Öhgren will follow a similar path and hopefully become a top-notch goal scorer in the league. Öhgren has been excellent in his junior career, though he struggled a bit to jump to the SHL. Maybe we'll see that pattern play out as well.
Scouts agree that he projects as a two-way winger with a dynamic scoring touch. They often note his excellent hockey sense, which bodes well for the NHL.
"A favorite among the scouting community as he plays the game with pace and urgency," says NHLrumors's Peter Harling. "Ohgren does it all – skates well, has a great shot, is smart, drives plays, is responsible defensively, and is physical. He may be a sleeper that is a top-five pick in redrafts five years from now."
But maybe not much before five years from now. Liam Öhgren might take a while to reach his full potential, and that's okay. When he's ready to go, it's clear he can be part of a future Wild roster that appears to be stacked at the moment.