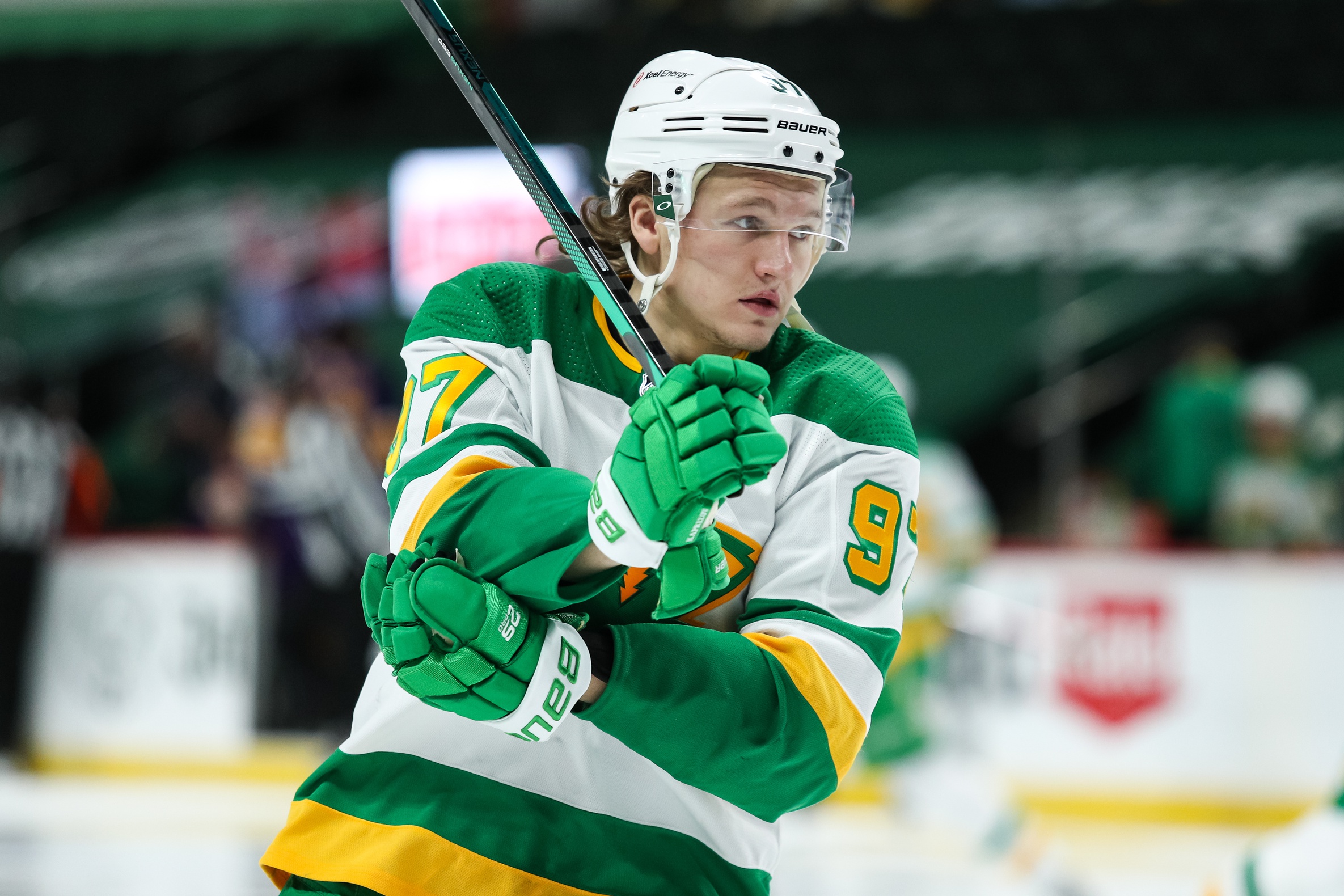 It's almost impossible to believe how good Kirill Kaprizov is. The hype that accumulated as he blossomed into a star in Russia was enormous. He arrived heralded not only as a superstar, but a savior for the perpetually dull Minnesota Wild. How could a rookie changing continents possibly deliver on even half of that?
Yet he stepped into the NHL and immediately delivered, exactly as advertised. Kaprizov has six goals and 17 points through his first 20 games, an 82-game pace of 25 and 70. His performance gets more impressive the deeper you look. He's been a monster at even strength, scoring 3.4 points per hour, fifth-most among the 341 forwards with 150-plus minutes.
Not to mention, this has all come without the courtesy of a star linemate. His most common partners are Victor Rask, Mats Zuccarello, and Zach Parise. Rask was a 13th forward last year, and Parise's game is in clear decline. Even Zuccarello, clearly the best of the bunch, never was a star player. Kaprizov has done all this while being the primary catalyst on his line.
Kaprizov has been so great, so fully formed right away, you almost wonder if getting better is even possible. Still, if this is what he can muster during his "adjustment period," what happens when he's fully acclimated? It's exciting new territory for Wild fans who haven't seen a player this good in a generation.
The only feedback that he gets nowadays is to be more selfish and shoot more. The Wild press core is in universal agreement that he passes on too many opportunities to shoot. Kaprizov's own father apparently joined the chorus. So on Tuesday, Kaprizov vowed in his media availability to try shooting more.
That sounds like good advice on the surface, as Kaprizov had only taken 35 shots (1.8 per game) thus far. He also stayed true to his word on Wednesday, putting five shots on net on a whopping 10 attempts. He didn't score, but the blame for that rests more on Marc-Andre Fleury's great goaltending than Kaprizov.
However, asking Kaprizov to shoot more ignores that he's been shooting frequently, and getting dangerous shots off regularly. He entered Wednesday third on the team with 5.32 expected goals, trailing only Kevin Fiala and Joel Eriksson Ek. Kaprizov was also second on the team with 66 unblocked shot attempts (known as Fenwick).
Kaprizov has about 11.7 Fenwick per hour in all situations this year, a strong amount, but not elite shot volume. But top-notch shot volume isn't a prerequisite for being an explosive offensive player, or even an elite goal scorer. Since the start of the 2018-19 season, Connor McDavid (11.4), Artemi Panarin (11.2), Elias Pettersson (10.8), Leon Draisaitl (10.6), and Brayden Point (10.3) have played at MVP-caliber levels without shooting as frequently as Kaprizov does now.
Kaprizov's low shots-on-goal total isn't the result of him not being willing to pull the trigger. When he made his promise to shoot more, he was already responsible for 26% of the expected goals the Wild got with him on the ice. His issues have more to do with missing the net. Just 53% of his Fenwick attempts have been on net.
What does that say about his play? Is he too focused on perimeter play and not getting to the net? His shot chart suggests that's not the case.

The vast majority of Kaprizov's shots come either in the "home plate" area or the high slot. Additionally, Kaprizov's misses tend to come within those high-danger places, not from the outside. His accuracy issues appear to stem from him trying to pick corners and simply missing his spots. Whatever the case, Kaprizov is perfectly fine dialing his own number.
None of this is to say that it's bad if Kaprizov shoots more, necessarily. He's got a great shot, and if he finds more space to use it, more power to him. But what makes Kaprizov different from any Wild player we've ever seen isn't his talent. It's how he sees and thinks about the game.
The best offensive players in team history — the Marian Gaboriks, Fialas, Parises, and Jason Zuckers — are generally north-south types who generate offense via their shot volume. Kaprizov routinely sees and exploits passing lanes those players didn't. Neither approach is better or worse than the other, just different.
"I think there's a balance between shooting and passing. At the end of the day, I just try to make the right play on the ice," Kaprizov told the media. After 20 games of racking up points, all while rehabilitating Rask and Zuccarello's reputations, you'd be hard-pressed to find many examples where he didn't make the right play.
Being a playmaker is foundational to Kaprizov's game. It's what makes him special. It's essential that he not lose sight of that, especially with promising offensive prospects in Marco Rossi, Matt Boldy, and Alexander Khovanov potentially joining forces with him very soon. It's a good bet that passing to high-end young talent is going to pay off more than passing to Rask.
Who knows? If those players can come in and actually draw some defensive attention away from Kaprizov, he might even shoot more.
All stats from Evolving Hockey unless otherwise stated.