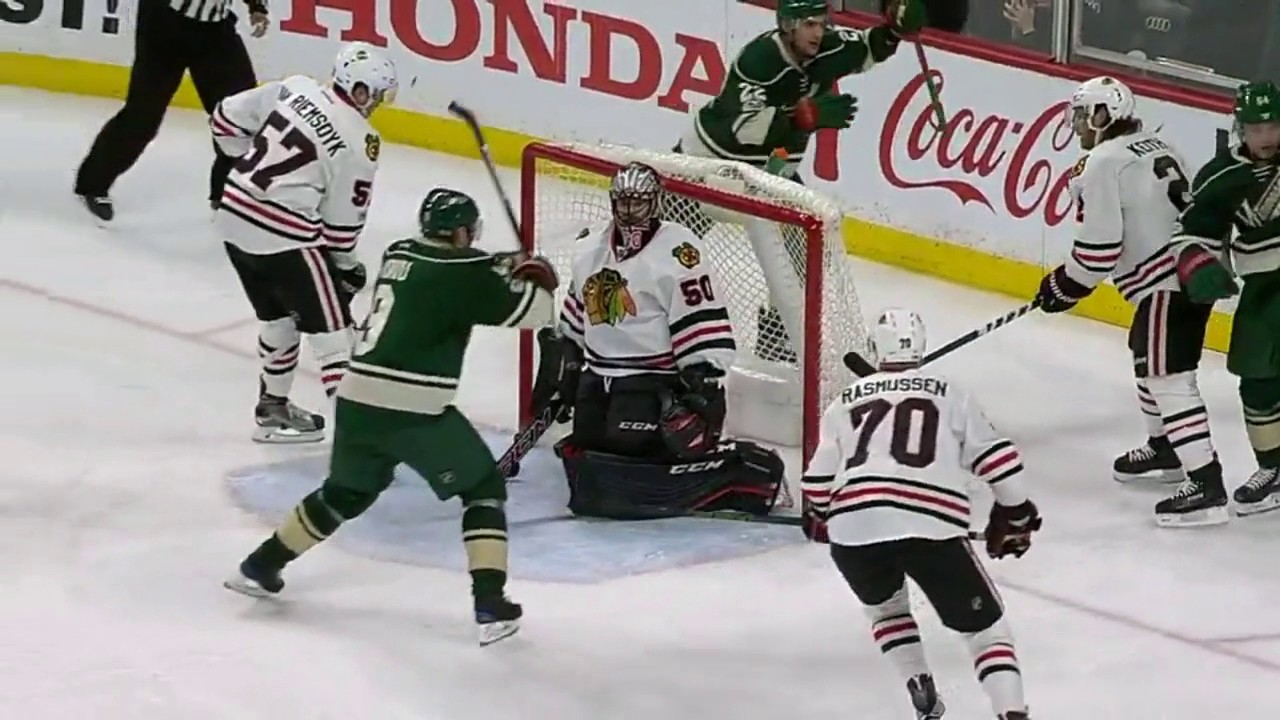 We got asked this week on the Giles & The Goalie podcast about dealing with the possibility of the Wild being good.
While our friend Dan was being somewhat tongue in cheek, he brings to light the real struggle of Minnesota sports fans.
You know, dealing with even occasional success.
Minnesota sports fans have been ground into the dirt a tad, especially recently, and the combination of that continual beat down and the depth of their suffering makes it difficult to trust again. The rollercoaster Twins, the enigmatic Wild, the mostly historically bad Wolves and that football team have done a number on this market's psyche.
How can they be expected to love again?
The Wild provide an interesting opportunity this season. They've been perplexing to say the least for quite some time after the blockbuster signings of Zach Parise and Ryan Suter, the biggest free agency coup this state has ever seen in any sport. Insert a proven winner as the coach and the rocket ship has been attached to a formerly frustrating club. They've quickly become a team that's on the elite end of the NHL right now, in a market crazy about that sport more so than even the team itself, and making folks pay attention to them.
Currently, the Wild are atop the West during their bye week, sitting five points ahead of the Blackhawks and seven ahead of the Sharks with a game in hand on each. Finally completely healthy again, the Wild aren't showing any signs of slowing down from their solid pace right now, although the trade deadline could change a variety of factors for this team. It seems like a lock that this team will not only make the playoffs, but do so in fine shape.
It seems like a lock that this team will not only make the playoffs, but do so in fine shape
So should one invest their faith in this team? It's a tough ask given history, believing in a team that looks like it's either finally putting things together, or just managing to prolong a hot start to the season, depending on which parts of their games you're watching. Is this team for real? That's tough to say, but also varies greatly on what 'for real' means to you, and how you want to use that.
This team looks to be, from all indications, for real. The depth that has been heralded for years is finally all coming together, as indicated by the number of double digits scorers on the team. The defense is good and deep as well, as evidenced by being without two top-four defenders for a stretch, and not really missing a beat, record wise. The goaltending has proven to be reliable, as Devan Dubnyk is holding up his end still after an absolutely dominant start the season, not to mention Darcy Kuemper's recent successes.
The statistics tell either story, as either a team that's really playing well, as evidenced by their league-leading Scoring Chances For percentage (56.79%), or a team just waiting to regress, as evidenced by the league's second highest PDO, a stat that combines shooting percentage and save percentage to give a bit of a measurement to 'puck luck'. The PDO isn't as concerning to some, as Dubnyk's save percentage has already come down to earth a touch from its early season ridiculousness, but still remains high. The Wild's 103.15 PDO is only slightly higher than last season's top PDO finisher, the Rangers, at 102.44. It is entirely possible to have relatively high shooting/save percentages and not come crashing down to earth at some point. Further evidence of that might be the only team ahead of the Wild in PDO right now, the Washington Capitals, who have likely earned their high percentages as well.
This team looks to be, from all indications, for real
Aside from this team being actually good or not, the real question is what's at risk for fans following this team at the behest of their exemplary record? Sure, there might be some heartbreak involved if said team doesn't win the Stanley Cup eventually, but is that really the requirement for fandom being worthwhile? If they're defeated by the Blackhawks in the second round of the playoffs, again, will following this team up until that point be less enjoyable? Possibly, but that's really subject to interpretation. At the very least, this team will very likely be hosting one playoff series, and perhaps more, and that should provide for some tremendous spring television.
Enjoying watching a good hockey game is about as easy as finding political opinions on the internet, so the recommendation here would be to go ahead and invest a little time, regardless of the eventual outcome. Playoff hockey can be an absolute blast, and that's magnified when there's an actual rooting interest. Sports can be a great seasoning to life, and all of this positivity is still operating under the assumption that a very deep playoff run isn't necessarily in the cards. Which, it totally could be.
The probability of the Wild finding its way to the Stanley Cup Final is no lock, but actually the best probability in the Western Conference, according to MoneyPuck.com's projections (but don't ask me to explain their love for the Bruins).
There's plenty of fair weather fans out there. Plenty of fans willing to jump on the bandwagon. The casual fans. While some of the more dedicated fans hate that kind of thing, it's not only inevitable, but absolutely craved by teams themselves. The NHL creates midseason rule changes for the sole purpose of attracting non-hockey fans, do you think they don't want their dollars in addition to the season ticket holders'?
So if you might be a 'casual fan' or 'bandwagon fan,' feel welcome. Regardless of what some fans will tell you, there's never a shortage of room on any bandwagon, and the Wild are no exception. While the relative safety of only being a bandwagon fan is understandable, and the relative hesitance to jump on the bandwagon is also understandable, depending on what you want out of your newfound fanhood, anytime is an appropriate time to join the fun.