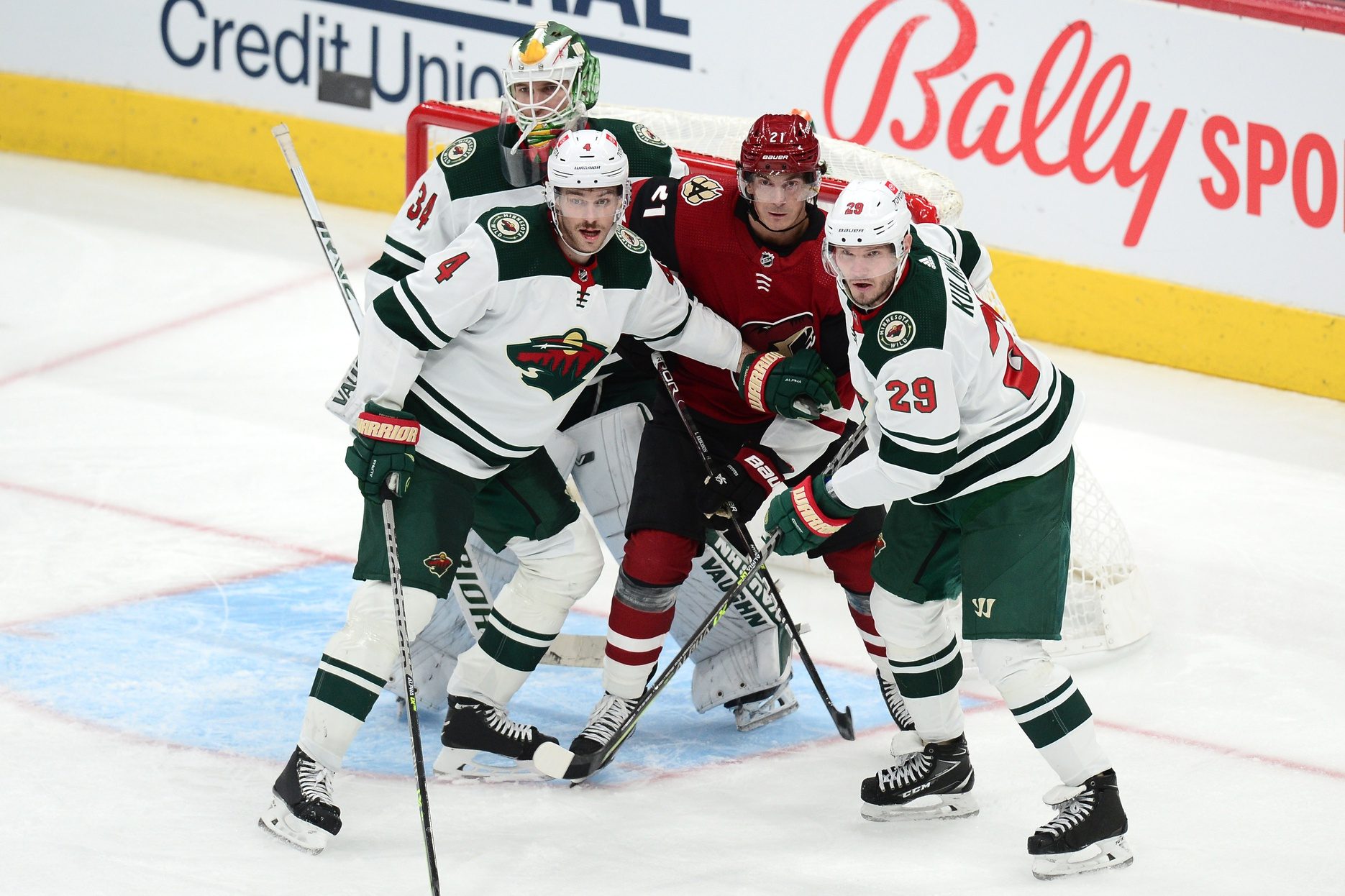 Just as everyone expected, the Minnesota Wild sit atop the Central Division standings at the quarter-mark of the 2021-22 season. All the more impressive considering the slow starts of Kirill Kaprizov, Kevin Fiala, and Cam Talbot. The Wild have embraced a "next man up" mentality, finding scoring up and down the lineup. However critical one may be of coach Dean Evason's individual decisions, he's pushing all the right buttons at the moment. He's firmly in the Jack Adams conversation as the coach most important to their team's success.
General manager Bill Guerin faced some tough decisions this summer. His buyouts of Zach Parise and Ryan Suter, in a moment with a flat cap that doesn't appear to be going up anytime soon, meant Guerin had to find cheap value for roles further down the lineup. The Wild had some holes to fill on the blueline. Ian Cole was a tad more expensive than the Wild could afford, and the Seattle Kraken selected Carson Soucy in the expansion draft.
Enter Jon Merrill and Dmitry Kulikov. Both veteran left-shot defensemen were brought in to man the third pairing that was such a strength for Minnesota the year before. So far, that excellence has continued. While the signings seemed underwhelming at the time, they've shut up critics quickly and are playing some of the best hockey of their careers this season.
Merrill had been with four teams before landing in Minnesota this summer. The University of Michigan product is on pace to obliterate his career-high in games played (66) and points (15). So far this season, he has 8 points in 23 games played. Barring injury, he'll easily top both of those career highs. He's driving play well, with positive possession numbers in nearly every metric at even strength.
He's even stepped into a top-four role in the absence of captain Jared Spurgeon, who's still working through a lower-body injury suffered against the Florida Panthers two weeks ago. While his partnership with Alex Goligoski is not as effective as the pairing with Kulikov, he's still a reliable presence on the back-end. His game is far from flashy, but he's effective at what he does and doesn't reach outside his strengths.
This summer, Kulikov made the Wild his sixth NHL club when he signed a 2-year, $2.25 million deal. Florida's first-round pick in 2009, Kulikov has exceeded all expectations of him this season. Evason's system, which relies heavily on defensemen jumping up in the play, has Kulikov on pace for a career-high in points.
He isn't just lucking into points, either. He's putting himself in a position to get on the score sheet. For example, watch how he enters the zone, grabs his rebound from mid-air, and dishes to the point, leading to a Mats Zuccarello goal.
Against the Devils on Thursday night, he once again found himself in the right place at the right time to slot home his second goal of the season. We've seen Kulikov be very active in the offensive zone, and he's much more skilled than he gets credited for.
And then last night against the Edmonton Oilers, Kulikov again demonstrated his offensive prowess. Kaprizov re-directed a Jordie Benn stretch pass to spring Kulikov on a breakaway, which he buried with an elegant move to beat Mikko Koskinen for his third goal of the year.
Much like Merrill, Ryan Hartman, Rem Pitlick, etc., Kulikov has been an excellent value for Guerin, whose offseason moves look savvier each passing day. Kulikov is the type of depth piece that Guerin will have to continue finding as he navigates the dead cap hits and stagnant NHL salary cap these next few seasons.
Merrill and Kulikov have been good for Minnesota individually, but they've been money when paired together. In just over 184 minutes together, the duo has an expected goals rate of 60.4%, the highest of any Wild pairing that has played more than 50 minutes together. They also lead all pairings with 2.86 expected goals per 60 minutes.
Not only are Merrill and Kulikov bringing their A-game on the ice, but they're also bringing it in the style department as well. It's a struggle to think of a defensive pairing in the entire league with as much flow as these two. Kulikov is bringing frosted tips back in a big way, and Merrill rocks the mullet and mustache combo to perfection. Look at these lads! Both deserve a spot on the All-Hockey Hair Team.
https://twitter.com/AlexMicheletti/status/1468443668029792258
It's impossible to understate the role these two have played in the Wild's red-hot start. They've provided stability on the back end while contributing at a career-high pace in the points department. Spurgeon, Goligoski, Jonas Brodin, and Matt Dumba will get most of the credit, but Kulikov and Merrill ensure Minnesota stays strong defensively all game long.